Your Favorite Local Bookstores for Small Business Saturday
SoLoMo.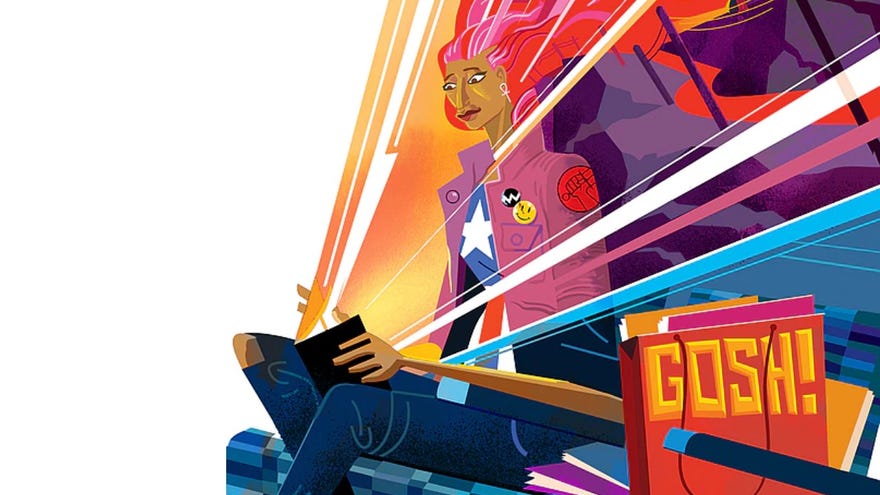 Small Business Saturday – the day set aside to support small and local businesses across the US – is quickly approaching on Saturday, November 28.
We asked you which local bookstores were your favorites and we were overwhelmed with the response! If you're interested in picking up a good book, comic, or gift, check out these local businesses below. And if you've got a recommendation, let us know on Twitter. You'll find direct links to each show's tweets below.
Important: Reach out to these local bookstores and comic shops to find out how their hours have been impacted, whether or not they offer delivery or contactless pickup, and other options to make socially distant purchases.
United Kingdom
Got a suggestion? Let us know here.
With lockdown looming, its more important than ever to support local! Leave the name of your favourite local bookshop/comic seller below pic.twitter.com/h5FrAh13KC

— MCM Comic Con (@MCMComicCon) November 4, 2020
Recommended by T.W., Gosh Comics is a mean little comics shop in the heart of London. Sounds great!
Recommended by Trent, The Portal Bookshop in York "is beyond cool and a bright spark of joy in a dark time line."
Recommended by Ellie, Dave's Comics sells graphic novels, comics, and has a 'brother' shop, Dave's Books.
Tokyo Toys, Birmingham & Glasgow
Recommended by Dudge, Tokyo Toys has two stores located in Birmingham and Glasgow, and have a ton of collectibles as well.
While not a bookstore, Bookshop has recently launched in the UK, and sales there support independent bookstores. Recommended by Grace.
Seattle & the Surrounding Area
Got a suggestion? Let us know here.
There's nothing like a good read What's your favorite local bookshop? Tell us below pic.twitter.com/IcTeRVXUvC

— Emerald City Comic Con (@emeraldcitycon) October 30, 2020
Recommended by Andreth and Michelle, Third Place Books is an independent bookstore with three locations in the greater Seattle area.
Recommended by Rhi, Fantagraphics sells comic, graphic novels, and badass books from the publisher of the world's greatest cartoonists.
Recommended by Rhi, Ada's has books, and also COFFEE. What goes better with a book than a nice warm mug?
Recommended by Rhi, Queen Anne Book Co. stands out supporting other businesses, schools, and donating to other causes.
Recommended by Rhi, Powell's Books isn't in Seattle, but earned a mentioned regardless.
Recommended by Rhi, Destiny City Comics is a local hot spot for comics, graphic novels, collectibles, and wrestling merch.
New York & the Surrounding Area
Got a suggestion? Let us know here.
spending my weekend surrounded by books what's your favorite local bookshop? pic.twitter.com/R4nd5vBtnA

— New York Comic Con (@NY_Comic_Con) October 30, 2020
Recommended by Jay, Midtown Comics is perhaps one of the most well-known comic shops in the US. You can find them in Times Square, Grand Central, Downtown, and of course, online.
Recommended by Rhi, Bookstocks is a queer, trans, and sex worker collectively owned activist bookstore and cafe. They'll be opening a pop-up on November 27-29, be sure to stop by!
Recommended by Rhi, Forbidden Planet has a ton of deals on comics, collectibles, and games. It's a paradise for geeky gifts.
Recommended by Rhi, Book Revue is Long Island's largest independent bookstore, and has a strong variety of gift guides on their website.
Recommended by X, Buffalo Street Books is located in Ithaca, and is wholly owned by the community.
Recommended by FunkToTheO, [words] Bookstore engages readers of all ages and interests. Check their website for info on how to order.
Recommended by Leah and Rhi, RJ Julia Booksellers is an amazing place to discover new books. Look for staff recommendations throughout the store, they will lead you to your next favorite read.
Recommended by Jaym, Book Barn is located in Niantic, CT, and purchases used books as well as selling them. It's a bit of a hike from NYC, but if you're in CT, it's a great place to check out.
Recommended by Leah, Atticus Bookstore Cafe is located in New Haven, CT, and has books and baked goods in equal supply.
Chicagoland Area
Got a suggestion? Let us know here.
if anyone needs me, i'll be spending this weekend snuggled up with a good book what's your favorite local bookshop? tell me below pic.twitter.com/l6fyS8zrbz

— C2E2 (@c2e2) October 30, 2020
Recommended by Kei, Book Table is an independent bookstore in Oak Park, and has been a part of the community since 2003.
Recommended by Gabrielle, The Book Cellar is located in Lincoln Square, and offers books, a cafe, and a wine bar. Yes, a wine bar.
Recommended by TurboSamus, Bookie's has locations in Homewood and Chicago, and sell new and used books.
Recommended by Gary, Graham Crackers Comics has multiple locations throughout Chicagoland, and sells comics, graphic novels, CCGs, and a ton more.
Recommended by X, Brilliant Books is located in Traverse City, MI. Take a gander through their Holiday Gift Catalog to find a great gift for someone you love.