How to navigate conventions with a disability
A guide to navigating conventions with disabilities
Conventions are a cornerstone of fandom, and there's a convention for just about everything. From Harry Potter to Supernatural, conventions have been a good way for fans to gather and share their love, and indulge themselves over a three-day weekend. Fans come in all shapes and sizes, and many fans are disabled – such as myself! For the last 20 years, I've been attending a multitude of conventions ranging in all sizes, and I've learned a few things here and there when doing cons with a mobility disability. From renting wheelchairs to bringing a friend along for help, I've had some unique con experiences!
Keep in mind that everybody is different, and what might work for one person may not work for another. These general guidelines can help you or your friend/family member better navigate the exciting world of conventions, regardless of it's your first time or your 100th. These guidelines can be adjusted and modified to fit any need, and as always, check the convention website for more detailed information.
Start small!
If you're new to the convention world, start with a smaller convention that's local to you. This is a great way to get your feet wet in the convention world and to see what the fuss is about. Small conventions are less overwhelming and less crowded, making it easier to do anything you'd want to do over the weekend.
Get a disability pass!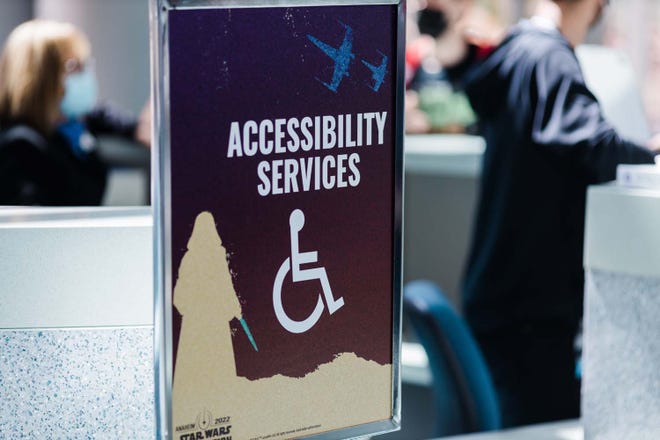 Many larger cons offer an ADA pass for guests with disabilities. These passes can help guests with priority seating, special lines, elevator use, and can let staff, volunteers, and security know you may need additional help. Every con treats their ADA passes differently, so be sure to check the convention's website to see what it entails. ADA passes are also not convention passes – you will still need a regular convention badge to get into the con.
Book a hotel room!
Booking a hotel at a convention might seem pricey, but it gives people a chance to take breaks, rest, and eat. If you use mobility aids as I do, having a hotel room means you also don't need to drag your convention purchases (or anything else) around with you, causing your body or mind unneeded stress.
Bring a friend!
If you are able to go with someone this can be a huge help in navigating cons, making sure you don't forget anything, and in the case of an emergency a friend can help volunteers and security better help you. I've been going to cons with my best friend for well over a decade now, and her familiarity with my needs and body has been more valuable than gold. Some cons also offer companion stickers or bracelets, letting security, staff, and volunteers know that they are with you. Plus, conventions are more fun with friends!
Do not forget medication!
This seems like a no-brainer, but I've witnessed many people forgetting important medications. Triple check your bag to make sure you're bringing exactly what you need. A majority of conventions also have a first aid or medical station, so if you forget something such as Advil (or need medical assistance), these kind volunteers will most likely be able to help.
Study maps, pictures, videos, and the convention guide!
I like to study a convention or hotels layout before a show. This gives me a better handle on where elevators are, how far panel rooms are from the dealer's room, and where the ADA entrance is if the con offers one. I personally like watching videos to give me a better idea of what everything looks like, and if it'll be easy for me to move around. Many conventions now offer their guidebook online prior to the event, giving guests enough time to plan out their day accordingly.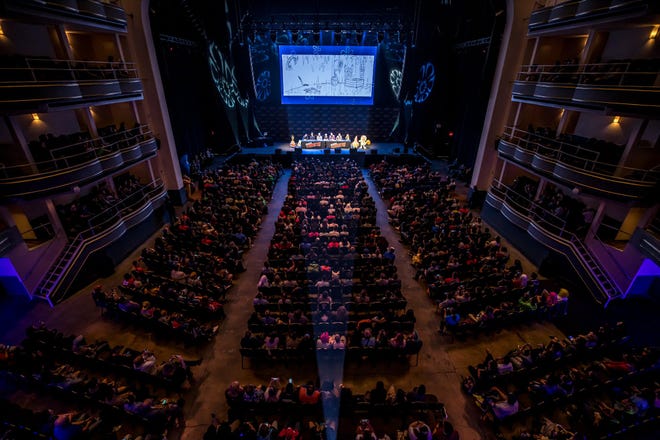 Inquire about American Sign Language or other assistance!
Many conventions offer ASL interpreters at panels, closed captioning at screenings, and many offer braille or large font guides as well. A majority of conventions require these types of assistance to be made a few weeks prior to the event, so it's important to check the convention's website for more information.
It's ok to take breaks!
Conventions can be overwhelming, especially for first-time congoers. Many conventions offer quiet rooms for people to take breaks in, and you absolutely do not need an ADA pass to use these rooms. Check the convention's website to see if they offer this. If they do not, study the maps and layout and find hallways off the beaten path – most convention centers and hotels have seating throughout their buildings. Finding a quiet spot to recharge in is absolutely a lifesaver at cons!
Wheelchair rentals?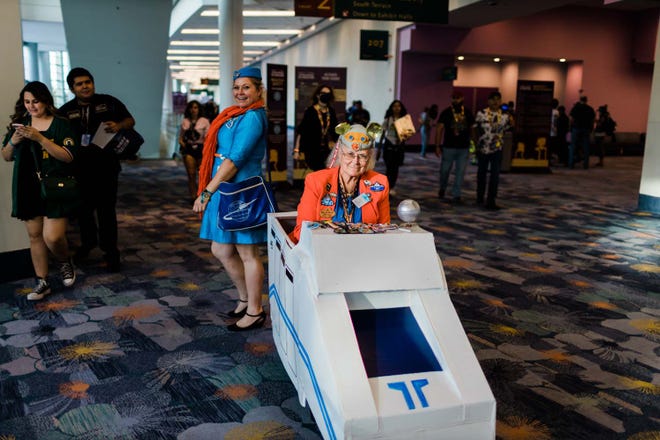 Some convention centers have third-party vendors that rent wheelchairs out for the weekend. Before I got my own mobility aide, I had rented wheelchairs at Star Wars Celebration and even San Diego Comic-Con. Not every convention center offers this, and a majority of hotel conventions I have attended do not offer this. If this is something that might interest you, it's always best to check the convention centers website ahead of time. You will need a deposit to rent a wheelchair, and they are on a first come first serve basis.
Service animals are ok!
Yes, your service animal is welcome at conventions per the Americans with Disabilities Act. If you're still unsure, it's always a good idea to call the convention center or hotel ahead of time or check the convention's website for more information.
Do you need a doctor's note?
This one is tricky. While 'no' is typically the go-to answer, some conventions state on their website they will ask questions to make sure an ADA badge is right for you. Sometimes a doctor's note will help bypass any questions convention staff might ask – if you're unsure, check the convention's website and contact them accordingly.
Have fun!
This is the most important rule with any convention – have fun! Conventions can be stressful, but with the right tools and planning, you can have an absolute blast.
At the end of the day, conventions are about you, the fans. Making sure each fan has a great experience is why convention staff and volunteers are there. If there's something I missed here, be sure to check your convention's website, or just ask a staff or volunteer when you're there! Have fun, be safe, and I hope to see you on the con floor.
---
Cosplay and conventions: how being a fan helped me rediscover myself
.