Cosplay armor: How to make armor look shiny using foam and paint
Here's the best way to make shiny armor for your next costume.
You have figured it out, finally! You've made your foam armor choice and you want to shine like a diamond. You want your armor to reflect sunlight into a laser beam to aim at your worst enemies. PERFECT, now can we make this type of reflective armor using craft products from Michaels? Yes we can and I have the tutorial for you! Let's make your armor shine with some simple painting technique and tips.
Products used:
Sandpaper in 220 and 2000 grit
Various paintbrushes
Let's start with some 4mm foam. Before you start to paint the foam, you'll need to seal the foam. Foam is porous and if you paint directly onto the foam, your paint will seep into the pores. Then you'll have to paint more layers than you want. Now the new PlaidFX paint series has been created to not need the sealer and you can paint directly onto the foam.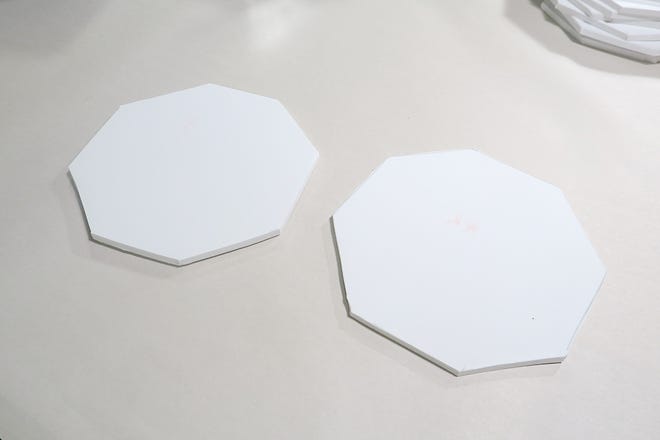 I will suggest however, for you to seal your foam before you paint no matter what, plus having a flat color like black underneath your paint will make the colors you choose, pop! Go ahead and spray 3 layers of sealer onto your foam, I suggest Plasti-Dip in Black. Plasti-dip is an air drying, speciality rubber coating that can come in a spray foam. Many cosplayers and prop makers use this fantastic sealer as a starting point to all their foam painting projects.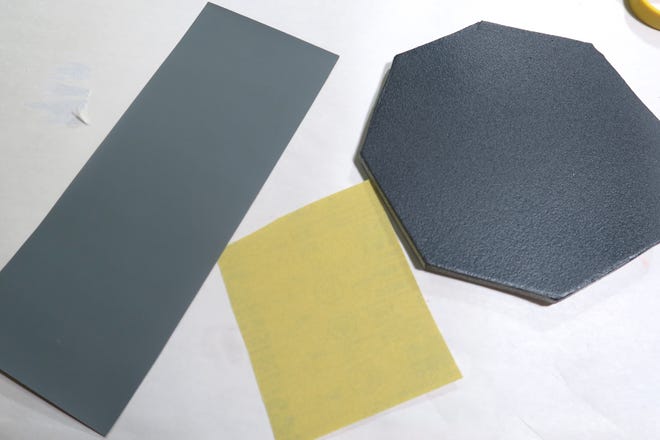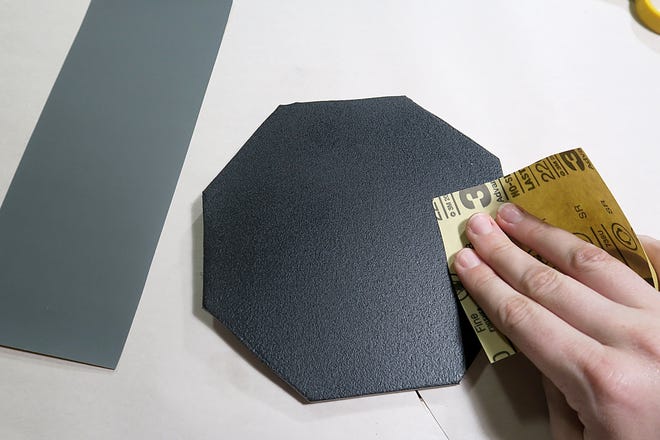 Once your foam is sealed and dry, we are going to sand it now. Here I have two examples to show you why sanding is important when trying to make your foam armor shiny and reflective. You can use various grits of sandpaper on your foam, just make sure you finish with a buffing sandpaper, something in the 1,000+ grit range. I'm using a 220 grit first then finishing the foam with a 2000 grit. You will begin to see the difference as soon as you start grinding on that foam.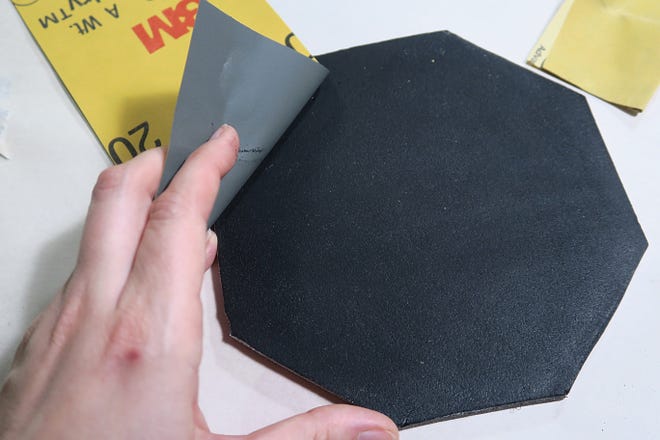 This sanding technique is key! Don't skip it unless you want the texture of the foam and sealer combo. Totally up to you, but in my opinion, let's try to get that foam looking seamless. The bottom foam piece pictured here is not sanded. The top foam piece is sanded.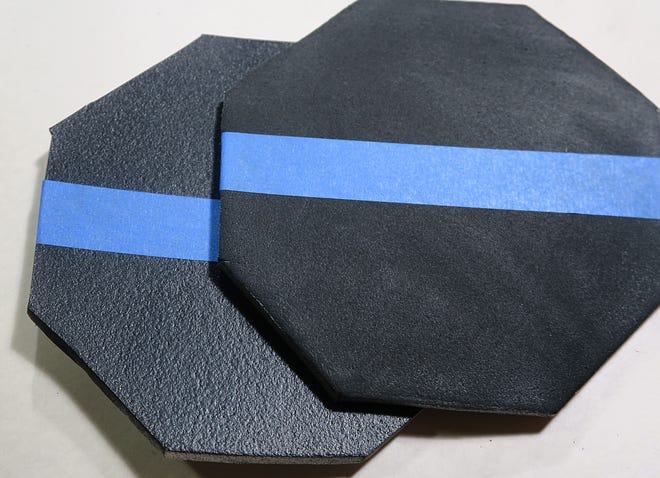 Next grab your paint, I'm using PlaidFX's metallic FX paint in Gold Coin and Chainmail here. The rest is down hill, just start painting!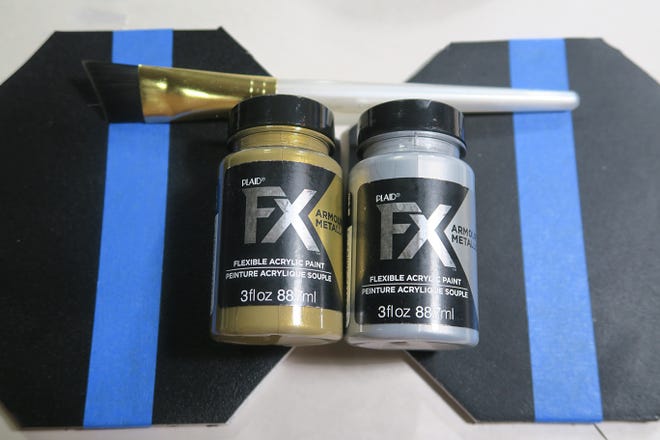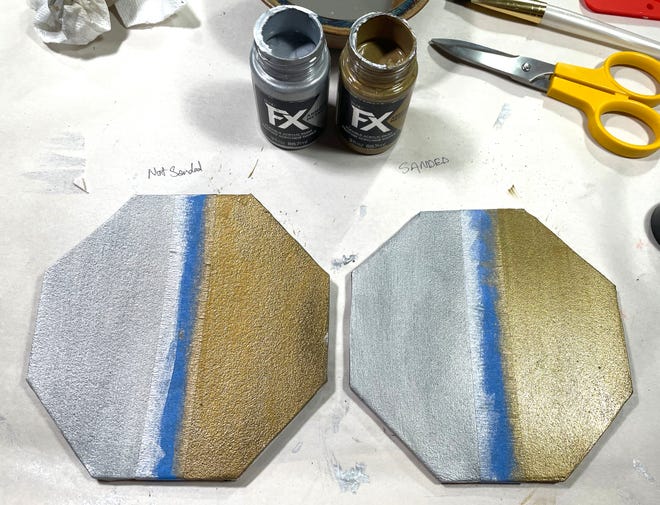 I did 4 to 5 coats of paint and waiting each layer to fully dry in between. I used a flat edge brush to apply the paint. I worked the paint to the best of my ability to get it looking seamless without too many paint-strokes. If you are finding that your paint is leaving too many paint strokes, try an airbrush! Click this link here to view a tutorial from PlaidFX on how to push their paints through an airbrush.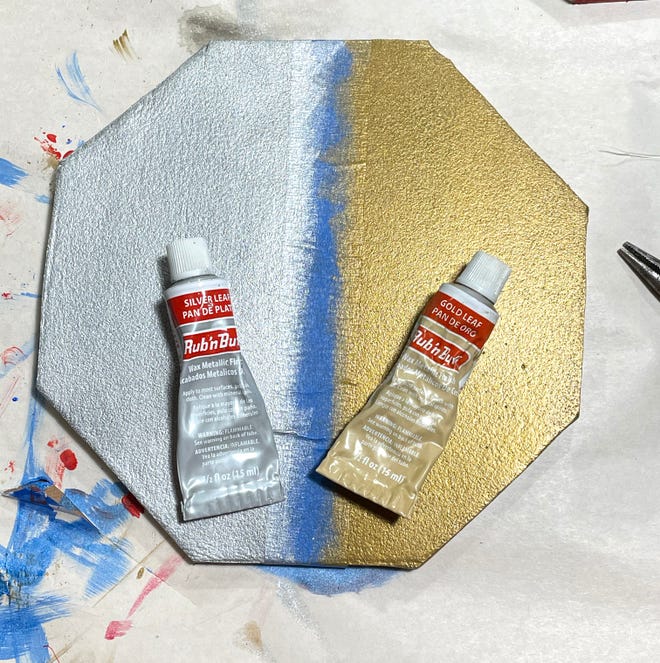 The last detail I did is purely optional but I love the look of a complete seamless finish. I took some Rub n Buff wax paint in the similar colors to my base paint and applied it to the center, see below.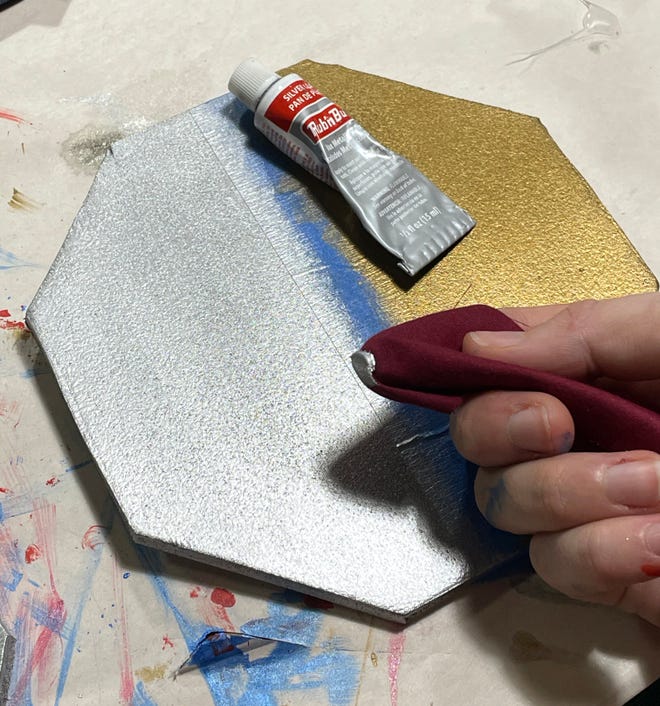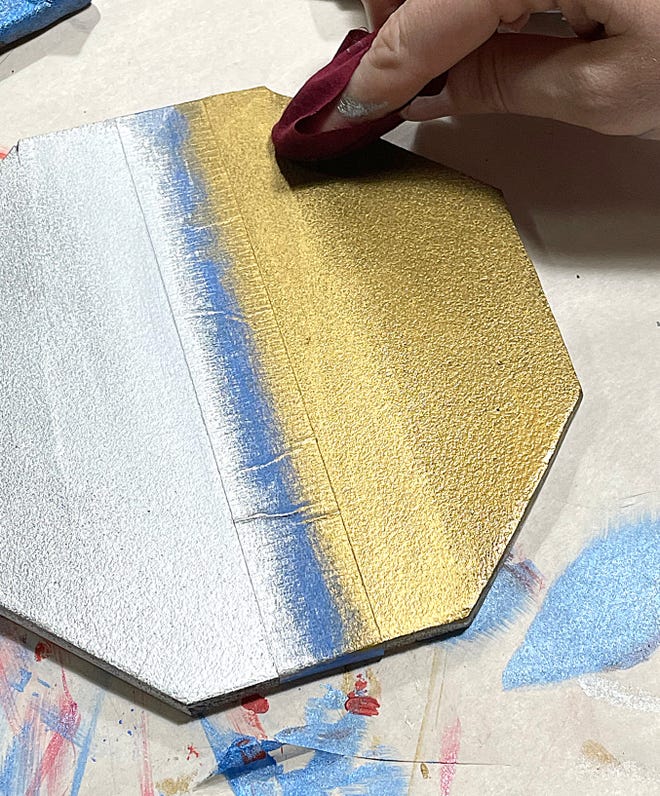 Rub n Buff is a wax based paint that is meant to be "buffed" on. With the buffing motion, you will fill in all the leftover pores and any imperfections your foam is bearing. You also will want to wear a respirator while using Rub n Buff, the paint can give off fumes and no one wants a chemical headache.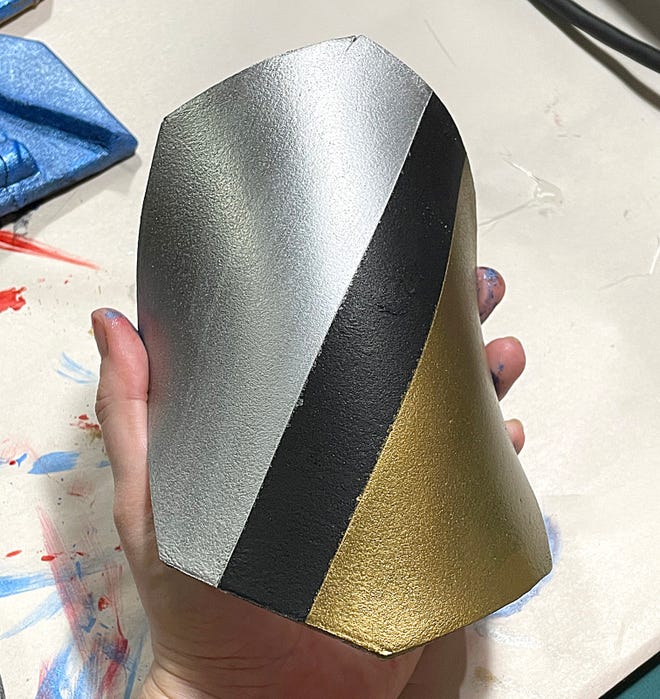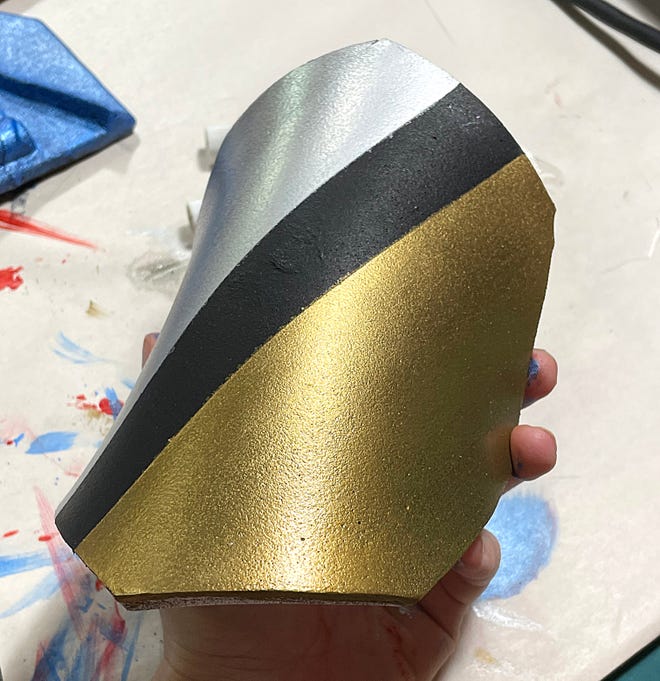 Take a look at that shiny piece of foam! Wow! Last bit, give it a spray with a shiny top coat of your choosing and your armor is ready for battle or just the convention floor. Happy painting!