Best cosplay pattern resources for conventions, photoshoots, and more
If you're looking for patterns for a future cosplay, you may want to check out these resources.
There's such a satisfaction to completing a custom sewn garment but getting started can be the most complicated part of the process. Patterns are a crafter's best friend and take away a lot of the guess work with estimating fabric needed, shaping pattern pieces and figuring out exactly how to fit all the pieces together. Let me give you a list of ten places I recommend you check out to find even the most obscure patterns.
1. JoAnn Fabrics

The obvious choice for finding patterns is Joanns. They carry multiple brands like Simplicity and McCalls with patterns from complex to the Kwik-n-Easy line and because JoAnn's has started catering more and more to cosplayers, they generally carry a huge selection of costume patterns. Patience is the key to getting patterns at a great deal. Keep checking their weekly sale ads to find out when patterns are $1.99 to $3.99 and stock up, especially on basic garment patterns that can easily be modified for other pieces later.
2. Mood Fabrics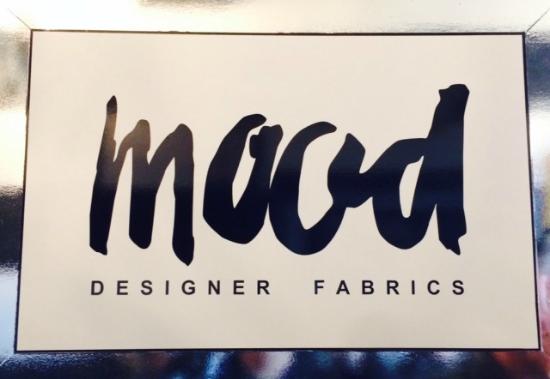 The official sponsor of Project Runway not only carries fabrics to die for but also hundreds of patterns, many of which are available for free. One of the perks of their patterns is that many of them embrace current fashion trends for those that want to get extra creative. Why not take the character you love…and make it fashion?
3. The Fold Line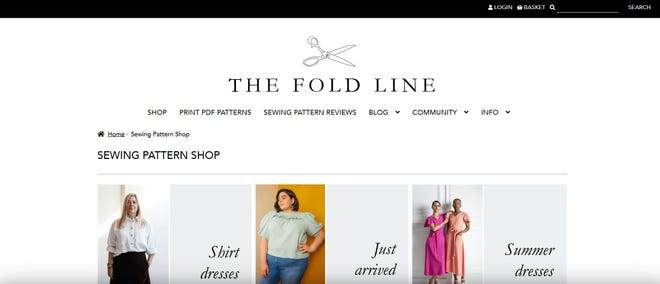 This website puts the power of pattern making into the hands of independent pattern designers. With over 10,000 patterns to search through you can find a pattern for any style garment imaginable though they don't have a large inventory of costume or specialty patterns, yet. For those that create their own patterns, this website makes it simple for designers to upload their patterns and then get paid for their work.
4. Pattern Company Websites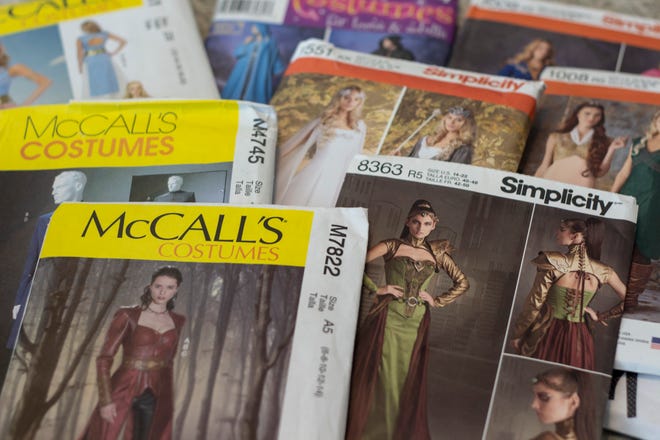 Every major pattern company has at least a few cosplay patterns available with some companies collaborating with cosplayers and/or working directly with specific movies and shows to create official costume patterns. The "Big 4" companies are: McCalls, Simplicity, Vogue and Butterick. Check these websites to find a large selection of cosplay patterns that might not be available through other fabric stores. Be aware that some official sewing patterns can be discontinued and thus more difficult to find or more expensive later. Sometimes it's good to pick up a pattern for a cosplay you may want to do in the future, so long as you are able to find it on sale or for a good price.
5. Folkwear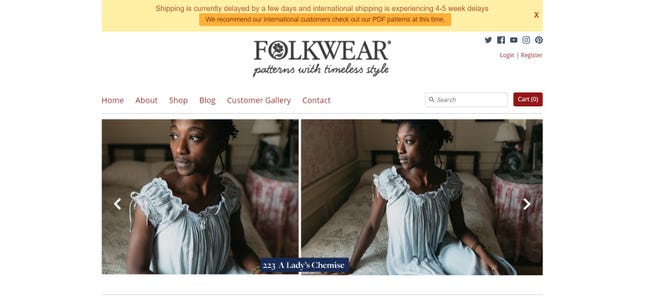 Historically and culturally accurate patterns can help make a costume into a true garment piece. Folkwear offers a selection of folk costumes from around the world as well as some culturally specific pieces and accessories all in one website. Many costumes have a basis in traditional garments, for example, Klaus' cult outfit on the new season of Umbrella Academy is based on traditional sherwani jackets from India.
6. How To Books (Etsy)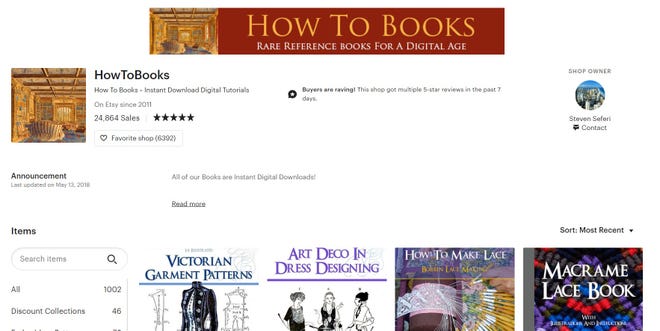 Speaking of historical patterns, How to Books on Etsy not only sells incredibly elaborate historical patterns but also hundreds of tutorials on every topic from pattern designing to specific techniques like hand-embroidery or creating lace. The patterns here can range from simplistic art deco dresses to intensely decorated Victorian ball gowns.
7. Lady Marlowe Patterns

Lady Marlowe Patterns has a large selection of patterns ranging from the 1920-1960s and are high quality reproductions of actual vintage patterns. Now you can sew outfits from the same patterns your mothers and grandmothers may have used.
8. Patternsandcosplay.tumblr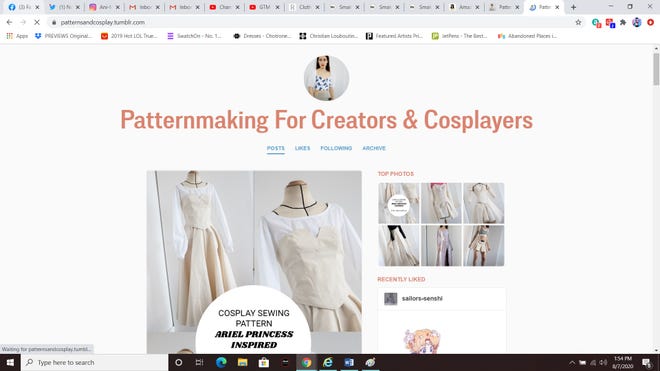 I stumbled across this Tumblr account a few years ago while looking for a pattern and have watched the evolution of the patterns offered by this cosplayer. The first patterns offered reminded me of the very simple ones shown in cosplay magazines from Japan. Since then, the patterns offered have grown to full detailed patterns and each illustrated with lovely, clean muslin mockups of the end design.
9. Cosplayer Created Patterns

A number of incredibly talented cosplayers create their own patterns for purchase online. This is a great way to spend money within the cosplay community as well as help support a cosplayer owned business. Here are a few IG handles of cosplayers who all have patterns online for purchase: @indigo_jinjo, @kinpatsu, @maridah, @anachronisminaction, @momokurumicosplay, @pretzlcosplay, and @downen_creative_studios.
10. Etsy and eBay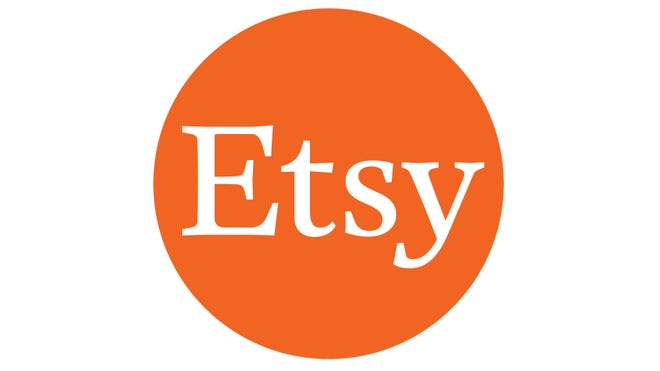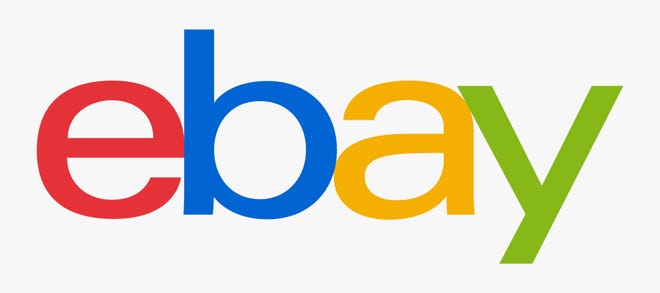 Finally, I list these two resources primarily to find more obscure or discontinued patterns. Earlier I touched on the fact that some major pattern companies only carry specific designs for a limited time (usually while the franchise is popular). For example, many older Star Wars costume patterns are no longer produced and can only be found through third-party sites, particularly reselling sites. Just make sure to thoroughly check all seller reviews and feedback before clicking the purchase button.
Happy pattern hunting and hopefully a few of these sites will inspire the next cosplay pattern designer.