Cosplay foam: What thickness of foam should you use for your cosplay?
When should you use 5 mm or 2 mm foam? Find out here!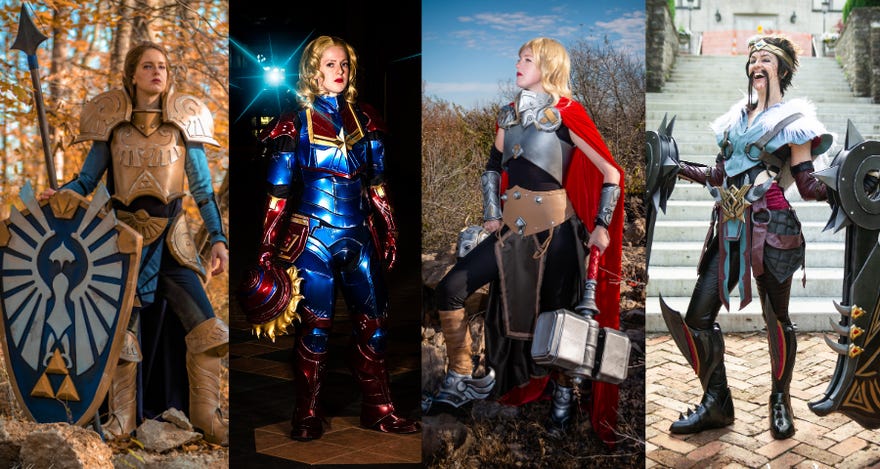 How in the world do you know what thickness of foam to use for what?! My very short answer may not be satisfying, because I genuinely believe that there are no rules - use what feels right! I know that's a tough place to start, though, so here are some general guidelines. ⁠Feel free to use this guide as a starting point for forming your own habits.
2mm foam (craft foam)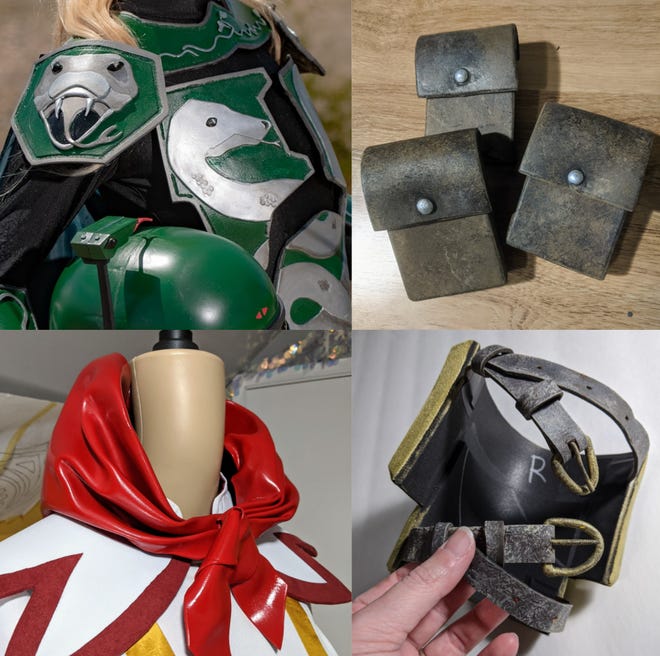 2mm craft foam is my go-to for detailing on armor. I also like to use it for visible strapping (it can be made prettier than something like nylon webbing, but is way less strong!). It's perfect for replicating leather, can be sewn through when you need stability in a fabric garment, and can even replicate fabric when sculpted. It's great for the inside of Worbla sandwiches to provide an initial base for the thermoplastic. Finally, I love to use it as seam and attachment reinforcement on the inside of armor pieces.
3mm foam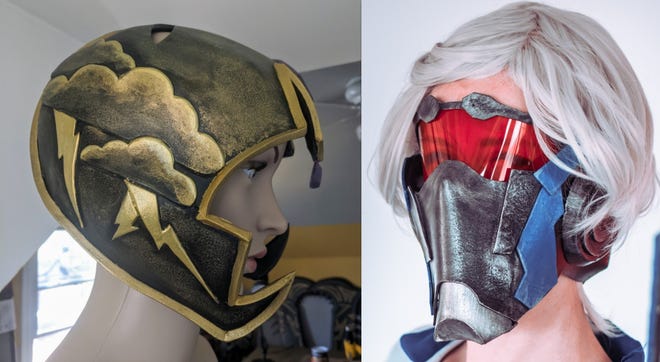 3mm foam is a little bit of a specialty product and can be tricky to find, but I think that it's the perfect thickness for helmets and other delicate armor - it's thick enough to stand up to wear, but thin enough to not overwhelm your face. It also works great for details which need to be a little more prominent than craft foam allows for.
4mm foam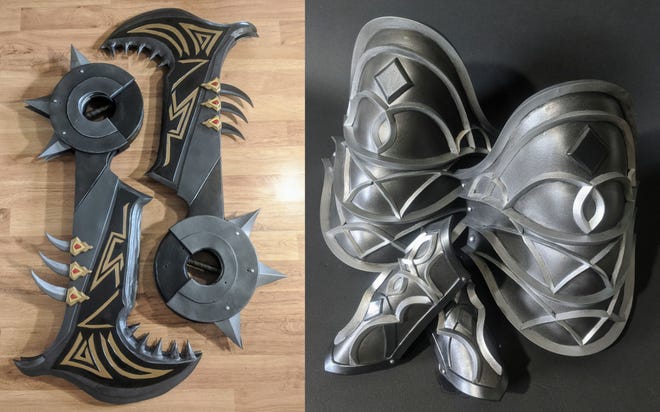 4mm foam is my go-to for almost all armor: bracers, greaves, cuisses, upper arm armor, etc. I find that it's thick enough to hold itself up and provide the illusion of protection but thin enough that it can be reliably heat formed and doesn't overwhelm my body. It's also a good option for skinning very large props which have a rigid core (such as wood or PVC pipe).
6mm foam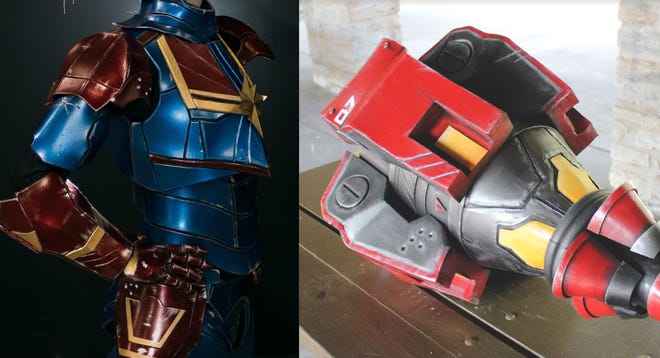 I love using 6mm foam for my "core" armor - namely, breastplates - and other bulky pieces of armor. It's also great for creating complex but not weight-bearing shapes because it's sturdy enough to hold itself up and of course remains very lightweight! (Often floor mats are 6mm thick, but I've seen some serious discrepancies so I recommend measuring for yourself!)
8-10mm foam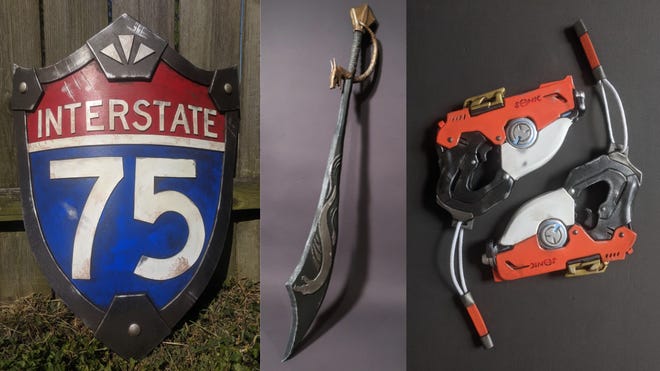 8 and 10mm foam is great for small or squat props, since the foam is thick enough to maintain a small heat-formed shape without reinforcement. Like 4mm foam, it's great in large or long props with some structural element (such as a PVC pipe or metal rod) embedded inside. For myself, this is the thickness where foam begins to be too overwhelming to wear as armor.
THE THICK STUFF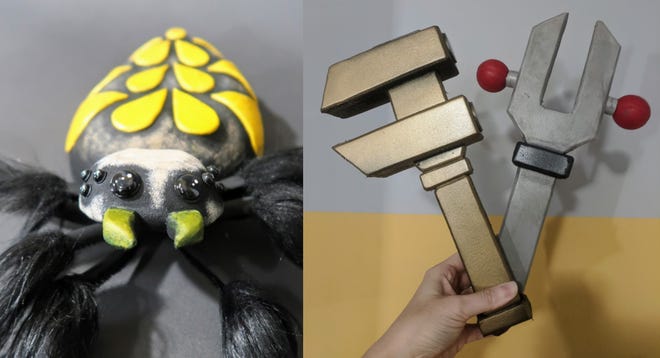 Did you know EVA foam is available in options thicker than 10mm? I like having 1", 1.5", and 2" in my arsenal for the occasional prop or detail where reinforcement doesn't make sense or wouldn't work at all. It's great for carving large shapes, is very rigid, and needs no reinforcement..
Worbla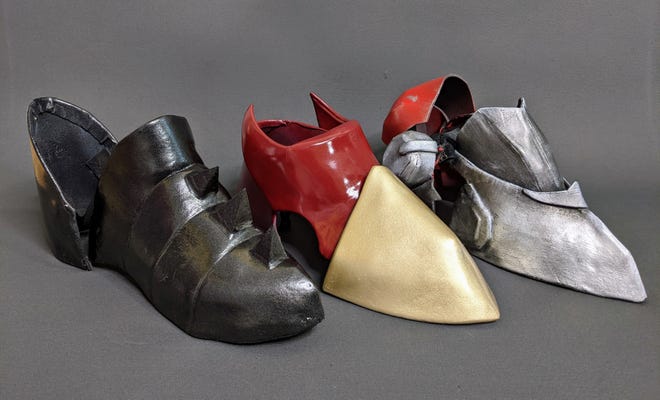 For myself, Worbla is an absolutely invaluable material but is not what I make my entire suits of armor or props from - I find it too heavy and inflexible for my own personal taste. I go to it when I want a delicate detail which must support itself but cannot have internal support, such as a protruding part on a prop or a pokey pauldron. More often, I use Worbla for pieces which will take a beating, such as boot covers.
I usually create my boots from 2mm foam and then make a "Worbla sandwich" to create rigidity and durability. When you want rigidity in your piece - whether that's because it will take a beating, or it needs to support its own weight, or even if it needs to support the weight of other pieces of armor - Worbla is a great choice.
Are all of these options really necessary?
In a word - nope! I love using cosplay-specific foam such as that from TNT Cosplay Supply, SKS Prop and Costume Supply, or CosCom Cosplay Supplies. However, specialty foam isn't necessary at all! You can make a super suit of armor or awesome props with just craft foam (2mm) and floor mats (often 6mm).
How does it all come together?
Of course a completed costume will incorporate different materials and kinds of foam depending on your needs and the costume's designs. As examples, here are some completed costumes I've made from various thicknesses of foam: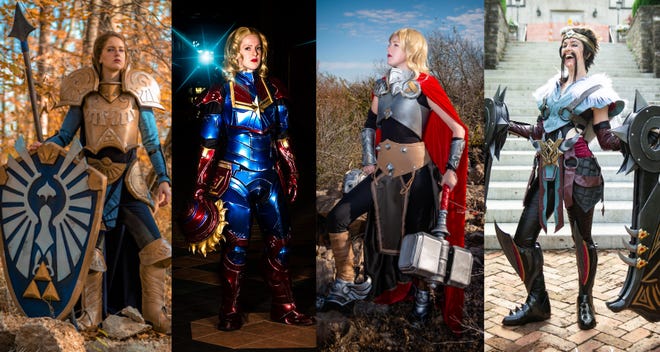 Zelda is entirely what I could consider my "go-to" thicknesses. Her breastplate is 6mm and all her other armor is 4mm. The details on her armor are 2 and 3mm. The shield is 8mm sandwiched around a cardboard core and detailed with 6mm and THICK foam.
Since I wanted Captain Marvel's Stark-tech suit to be quite bulky and thick, the majority of her armor is 6mm foam. Her helmet, boots, and gloves are the exceptions at 3mm.
Thor's helmet is 3mm, her breastplate is 6mm, and the basis structure of her hammer head is 8mm. All her other armor is 4mm, and all details are 2 and 3mm.
Draven's armor is 4mm with 2mm detailing. His boots are 2mm and Worbla sandwiches, and his crown is 3mm with 2mm details. His axes are skinned (over light wood) with 4mm and detailed with 6, 4, and 2mm.
Now go out there and make all the foam things!