Cosplay: How to texture EVA foam to upgrade your cosplayer game
This tutorial by Plexi Cosplay shows you how to create textures on EVA foam.
As arguably the most widely used crafting material by cosplayers today, foam has taken a front-seat in the cosplay community. Foam armor and props have likely risen to popularity for a multitude of reasons such as its low price point, light weight, and comfort.
Due to its preferential use, cosplayers are continuously finding new ways to 'up their game' with foamsmithing techniques. If foam is chosen for the positive properties listed above, then balancing out the 'cons' of foam requires a little more skill and ingenuity. What you gain in positives, you miss out on in:
Finer Details: With thermoplastics, for instance, you can melt and mold surfaces into intricate details. Although foam clay has helped with some of this, foam simply can't beat the sharp detail abilities you can get with resins or thermoplastic molding.
Natural Textures: Leathers and metals, for instance, have their own intricate textures. Foam comes in a smooth surface that must be altered to mimic these appearances.
When purchased, foam typically comes in sheets or rolls with a smooth, pliable surface. Fortunately, when you mix a little heat in the crafting process, therein opens a multitude of options for texturing foam surfaces.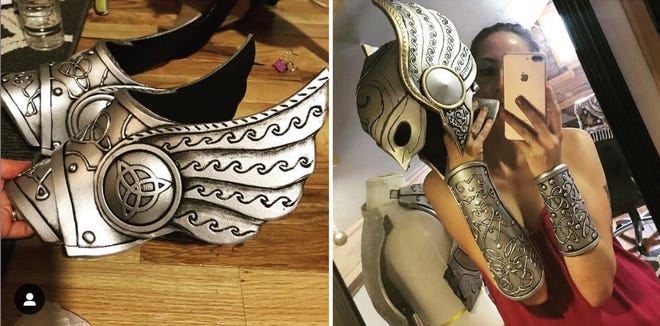 While the possibilities are truly endless with texturing foam, there are some basic textures that are relatively easy to achieve and are pivotal in many styles of armor and prop fabrication. Here's a breakdown of some popular styles and the techniques you can use to achieve them.
1. Wood Grain
An extremely popular texture needed for druids, elves, and other natural or earthy characters is wood grain. This can be used for armor or even wood stave props.
The idea here is to first create the base shape of your piece. For instance, a wood stave would likely begin with a PVC core wrapped in a layer of 5mm or thicker foam. As a rule of thumb, always use 5mm or thicker foam for wood grain textures, as you'll carve the grain into the foam, so you need a little depth to work with here.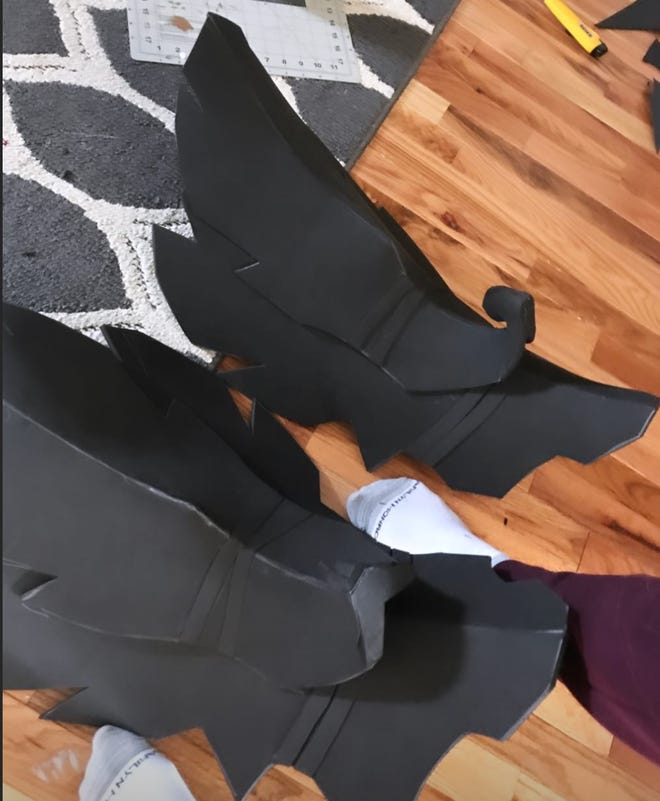 After you've crafted your base piece, it's time to have a little fun! Organic textures only need a framework for the direction of the grain. Because it's a natural texture, my recommendation is to simply free-hand the carved grain texture rather than planning out every grain, as this looks a little too 'neat'.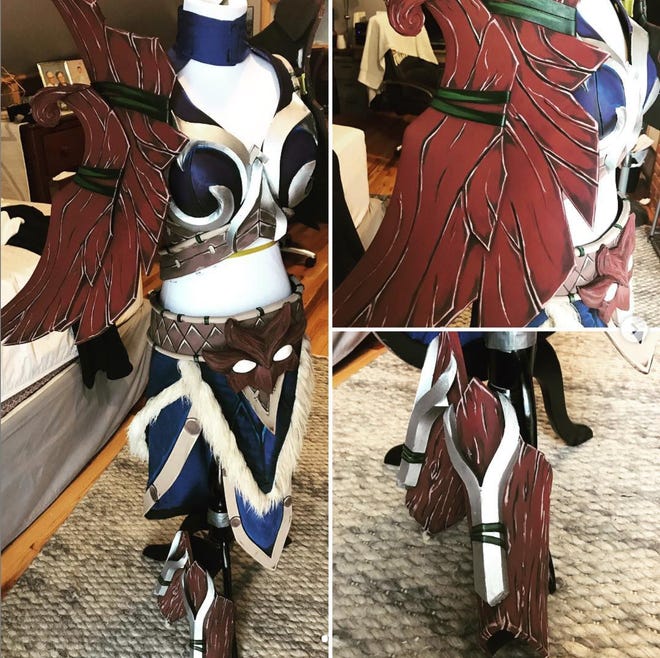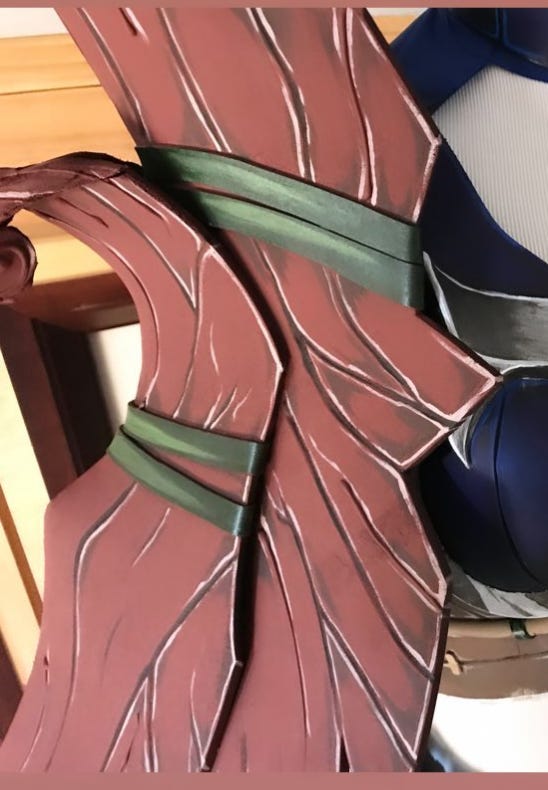 The tools you need here are:
Dremel or sandpaper: I always start with a dremel with a wider barrel sanding tip to carve larger swaths of texture along the grain of the armor. Do this sparingly, but feel free to dig a little deeper into the foam to get some nice changes in elevation.
Woodburning tool: For the bulk of your grain textures, you'll use a woodburning tool. Drag the tool along the grainline, making sure to taper the beginning and end of your 'drag' so it doesn't start or end abruptly. Every so often, swing the grain a little wide and create loops to mimic grain swirls. Follow previous grain lines as you go, but don't always start and stop your burning etches at the same place. Again, the key here is to be organic and light-handed!
When you're finished, prime your foam. The key to keeping your nice textures is starting with a dark (maybe even black) base to fill all of the crevices. Then, you can either sponge or paint lightly over the areas, being sure to avoid smushing paint into the crevices -- or finish up your paint job with a sweep of oil-based dark paint in the crevices, wiping away the excess on top.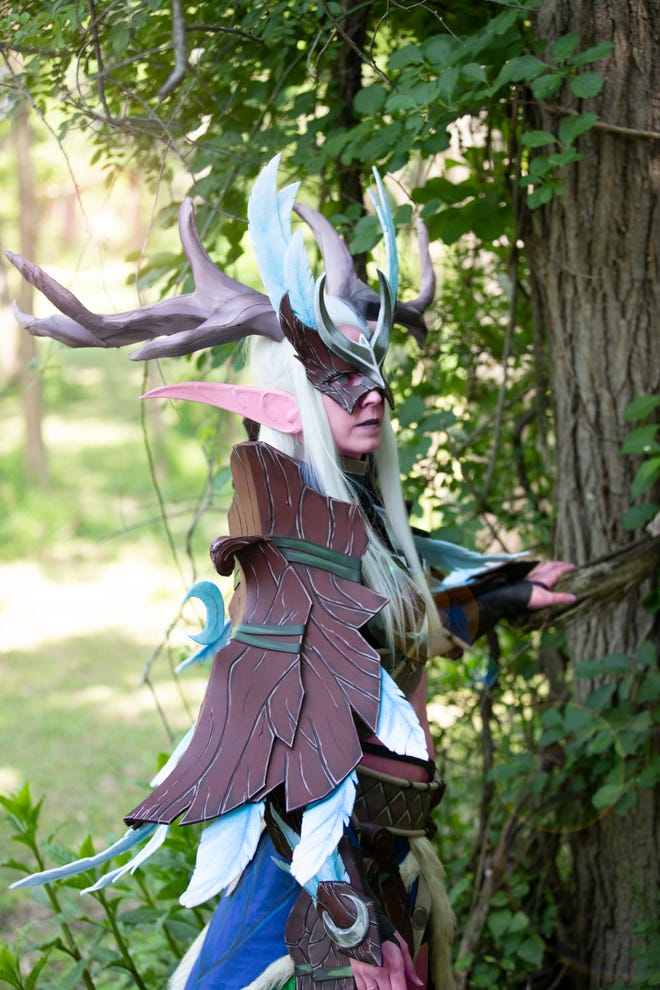 2. Battle Damage
This one can be both fun and heartbreaking, as you are taking a perfectly crafted piece of material and damaging it for effect. To achieve a battle damaged appearance, sweep your woodburning tool or Dremel over raised parts of your armor (naturally, pieces that 'stick out' from a suit of armor are the ones most likely to become damaged).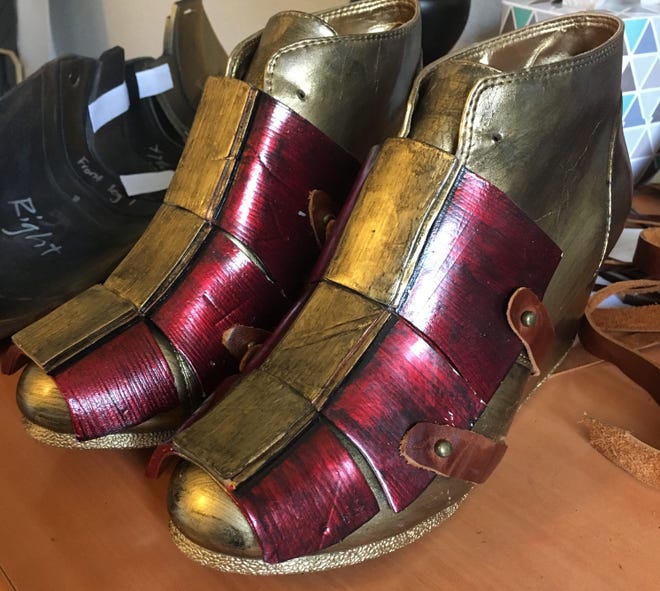 You can also heat up a section of your armor with a heat gun and press a ball of Aluminum foil into the foam to texture small sections as if they have been impacted in battle. Ratain your damage with the same light-handed painting technique mentioned above!
3. Filigree (Raised and Etched)
Personally, this technique has become a real favorite for me, as it has a big impact after you learn to master it. Let's start with raised filigree:
Raised: If you're aiming to create filigree that is raised off of the armor, then you are basically looking at adding to whatever base foam piece you're starting with. You can do this by adding carved Cricut shapes, but with a lack of Cricut machine, my go-to technique is the use of Hot Glue.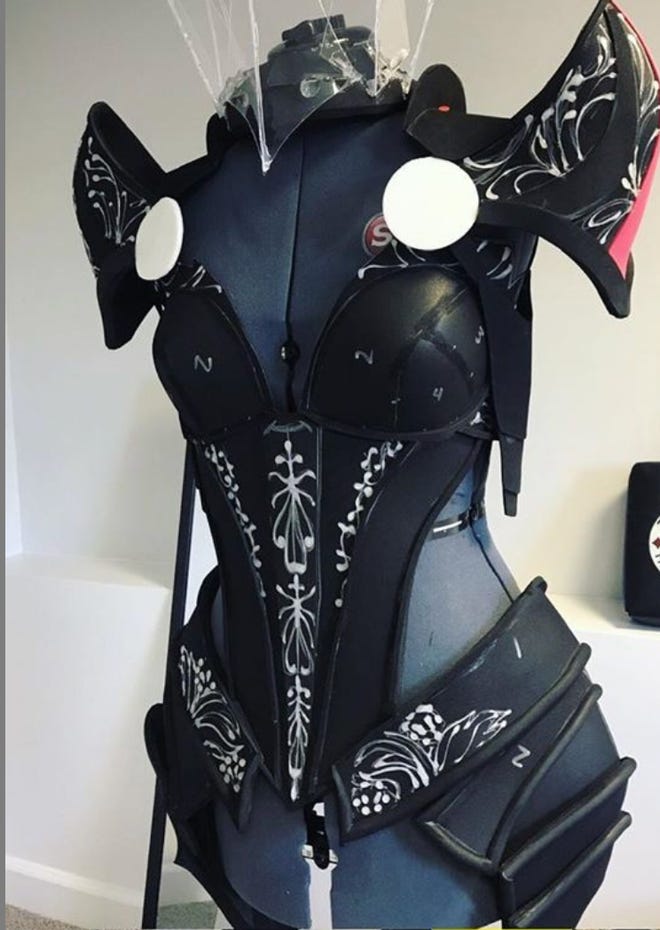 I draw with silver Sharpee a simple outline of where I'd like the shapes to form. Then, with a Hot Glue Gun, begin at the sections with the thickest details (typically at the beginning of filigree swirls) and extrude hot glue in a thick dot. Rather than using equal pressure to extrude glue for the length of the filigree, I begin with a thicker section at the beginning, and as I detail down the length of the 'swirl', I release the pressure from the hot glue gun and drag.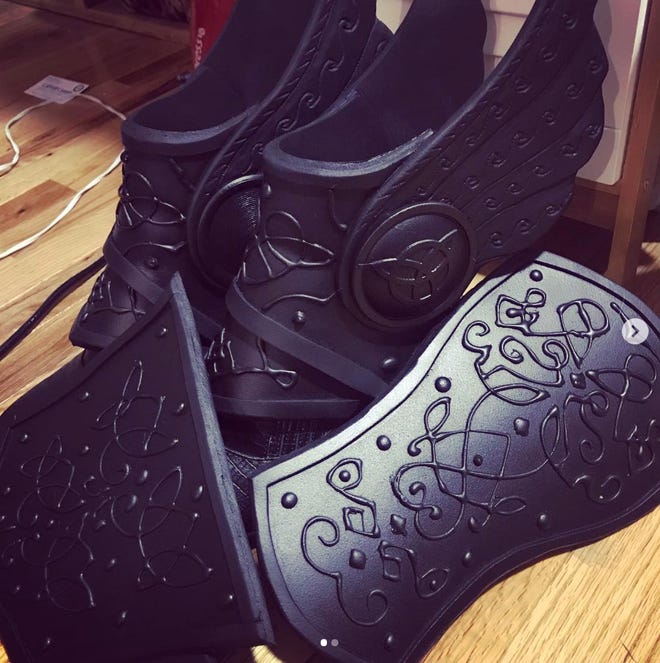 This gives the texture a thicker beginning that tapers down to a thinner ending. Be sure to keep the tip of the glue gun up off the foam except for the beginning and end. Rather, glue 'in the air' and allow the glue to fall and lay on the foam. This will give a smoother filigree swirl.
Embossed: To give filigree more depth, use a woodburning tool to 'carve' the designs into the foam. The painting technique that will be most effective is the same as mentioned for your natural textures.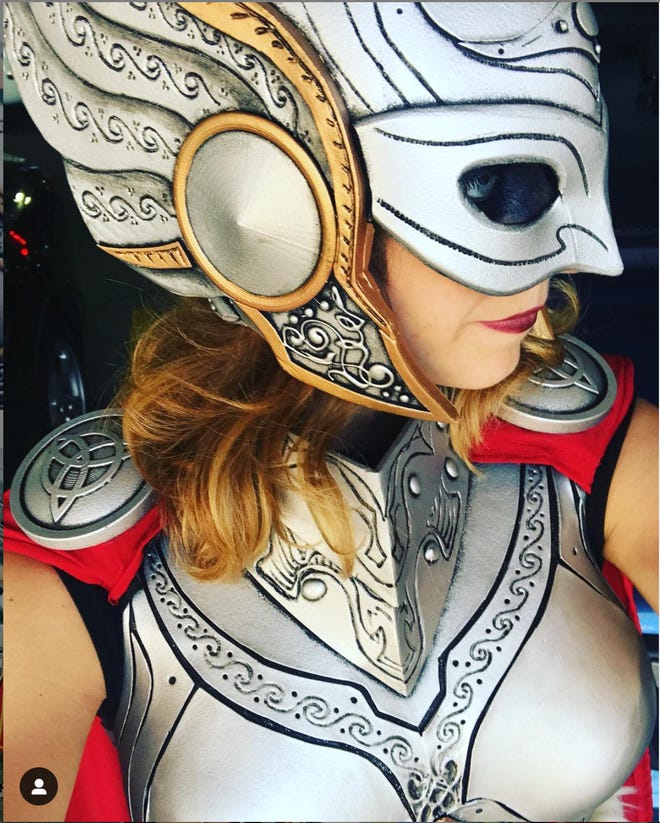 4. Leather
To save on cost and ease of use, many cosplayers will replace leather with foam. The great part is that it's pretty easy to achieve a leather look on foam. To do so, heat sections of your foam with a heat gun and press large, crinkled balls of Aluminum Foil into the foam for texture.
Additionally, you can use almost any textured, sturdy material pressed into heated foam to create leather-like pieces. Beverly Downen of Downen Creative Studios recently released a tutorial on using a pizza stone for crafting leather textures, and the results are impeccable: Click Here to Watch!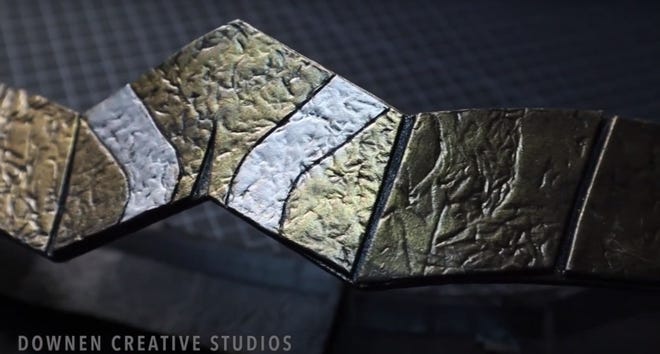 The simplicity of foam materials for crafting is balanced heavily with the intricacy of texturing techniques evolving in costume design today. There are countless ways to mimic the appearance of wood, leather, metals, and more with the mixture of a little heat and other materials.