Cosplay: Winged heroes and villains take flight in this gallery
These pro cosplayers are ready for the skies with their handmade wings and harnesses!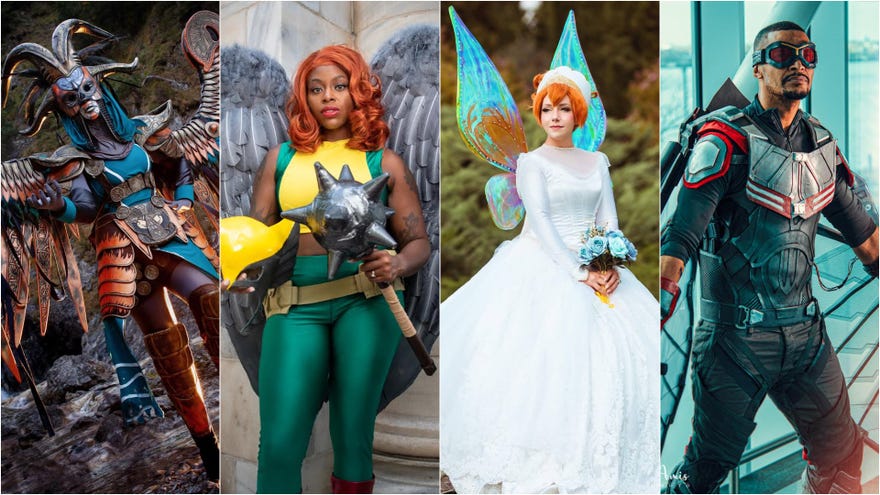 For a long time, cosplayers and costume makers have been creating amazing, awe-inspiring wings for their costumes. From fairy wings to dragon wings, cosplayers have had no end to their creativity and ingenuity when making their winged costumes!
Below, we have ten cosplayers who created amazing wings for their cosplays, utilizing incredible feats of imagination and persistence to bring their wings from fiction to reality. They have all created different wings, using different techniques, strategies, and methods, but the one thing they all have in common is that the end results look incredible!
Z.ebbie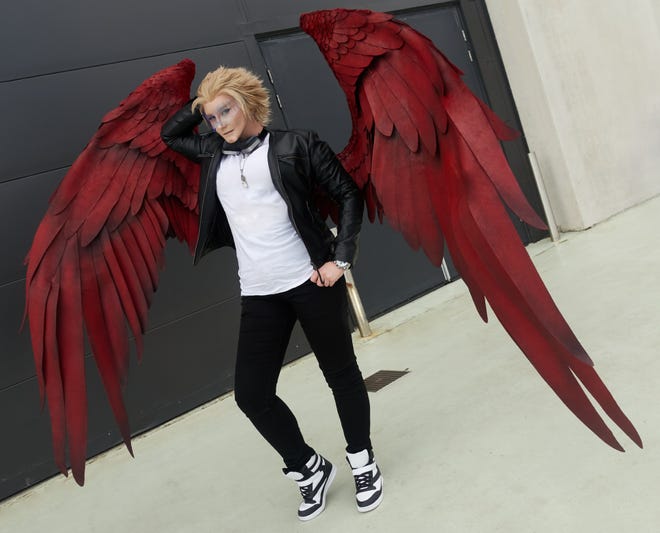 First off we have z.ebbie, who created these incredible wings for his Hawks cosplay from the popular anime My Hero Academia. Z.ebbie originally decided to cosplay Hawks because he "fell horrendously in love with his character, and naturally with his wings being such an integral part of his design and brand, I just had to make them!" He says he was also excited to finally give wing-making a try.
After making the wings, z.ebbie says his favorite part about the cosplay is the individual feather layers: "Cutting out each feather individually was a tedious process, but when I look at how the individual feathers add depth and dimension to the wings, I'm glad I stuck with it!" We can't say we disagree — the end result of the layered wings look amazing, and they immediately caught our attention.
When asked if he would ever want to make another set of wings, z.ebbie says one is probably enough for him, though he said it depends on whether the character catches his interest enough to invest his time and effort into him again, adding, "Watch me eat my word if Hawks ends up with a new wing design." New character designs can be a temptation for all of us, and we know we personally would love to see any new wings z.ebbie would ever want to create!
Raahega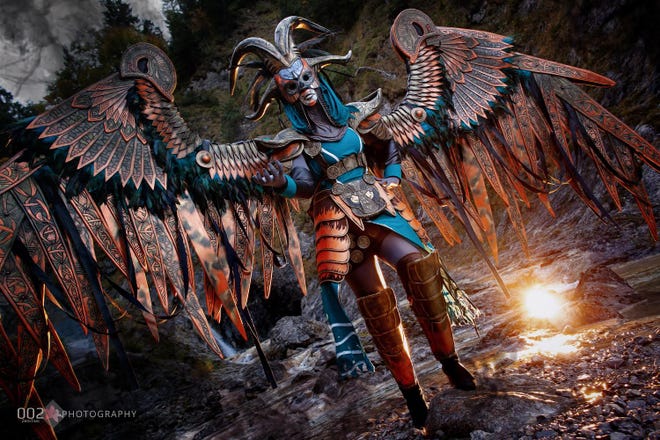 Next, we wanted to showcase Raahega's amazing foam wings, for her Valkyrie cosplay. Raahega has actually made multiple sets of wings, for several different cosplays, and it was hard to choose just one to talk about!
For these Valkyrie wings, Raahega started out by printing out an image of one of the wings, full-scale — it took up almost 50 pages! She then traced all the feathers, made patterns, and cut everything out of foam, using a wood burner and foam clay to add more details. Overall, she made about five hundred individual pieces. Finally, she created the frame. "I made the frame last, which was a mistake because it didn't really hold well, and fell apart. I had to make three wing frames before one held up!"
Relating to this, Raahega also says "My best advice is to not give up when it fails and doesn't hold. Usually, the first few tries will end up with your wings coming off or falling apart. But that's okay, it happens to everyone! Pick yourself up, and try again!" Definitely some great advice, from a very experienced wing-maker. Raahega has some truly impressive work, and we highly encourage you to check out her other cosplay builds as well!
Paisleyandglue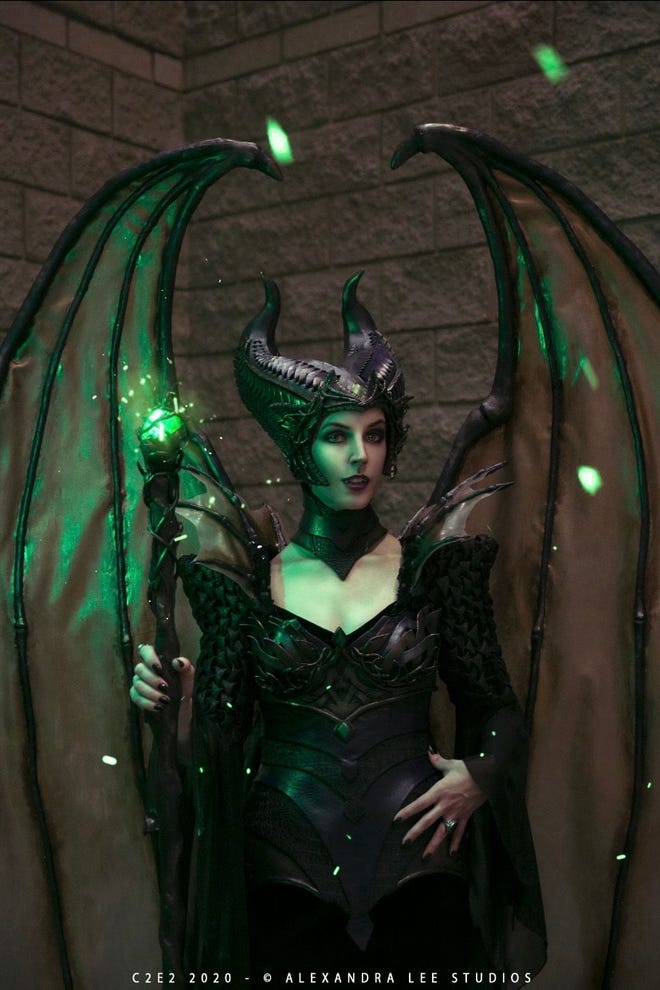 The incredible wings that Paisleyandglue created for her original-design Maleficent cosplay immediately caught our attention, and we knew we had to feature them! She created this cosplay design for the Crown Championships in 2020, and decided that, for the costume, she wanted to incorporate wings into the design.
To make them, she used PVC for the structure, organza netting for the wing membrane, and foam clay and EVA foam for the rest of the 'bone' portions of the wings. In the end, each wing only weighed 3lbs!
Comparing these wings to a previous pair she had made, Paisleyandglue says, "I'm proud of myself for accomplishing my goals of making the wings more lightweight and comfortable to wear than my last pair." Comfort can definitely be an important factor in cosplays, and we're impressed with how well Paisleyandglue pulled it off, while still making it all look amazing!
Deanna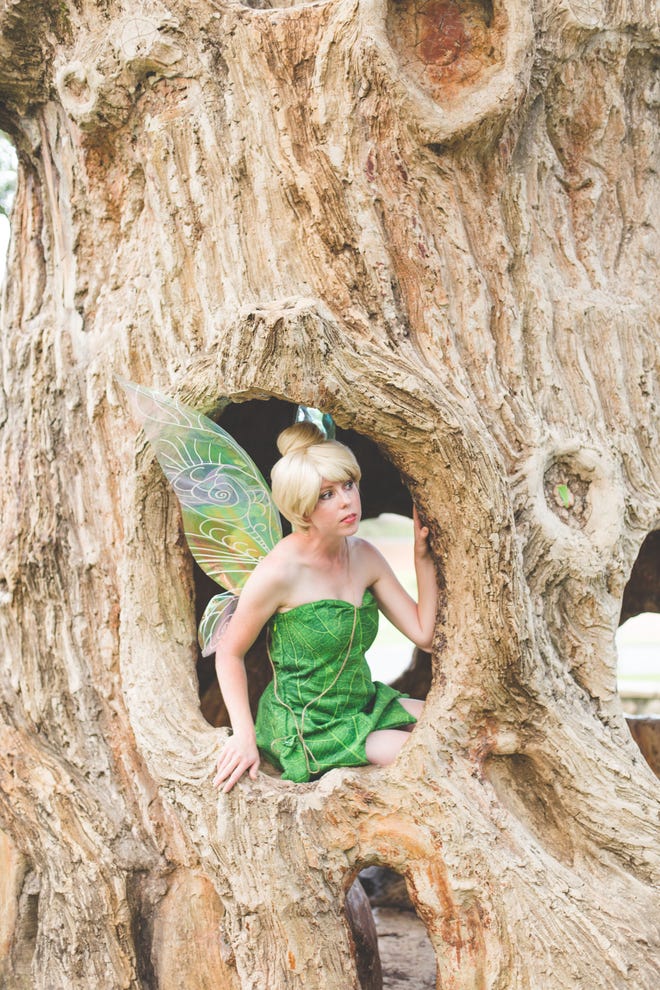 We first found out about Deanna because of her lovely winged Tinker Bell cosplay, but little did we know that these are far from the only wings she has made! Deanna actually runs her own business, where she creates a ton of fairy wings for other peoples' cosplays and costumes. How cool is that?
Deanna made her first pair out of cellophane and a wire coat hanger, and eventually sold them through a Facebook group. She continued to work to improve her wings, and sold over 100 pairs in her first month of opening her business! "God really flung that door wide open for me!" she says. The most difficult part about the whole venture, she adds, is juggling family life with her business. She loves to make the wings, and has been working hard to find a balance with home and business life.
To anyone wanting to make their own wings, Deanna had this to say: "Be patient with yourself. I went through probably five different ways of making wings before I found what I like, my style. And have fun! ...Find your passion, and go for it!"
Martyokcosplay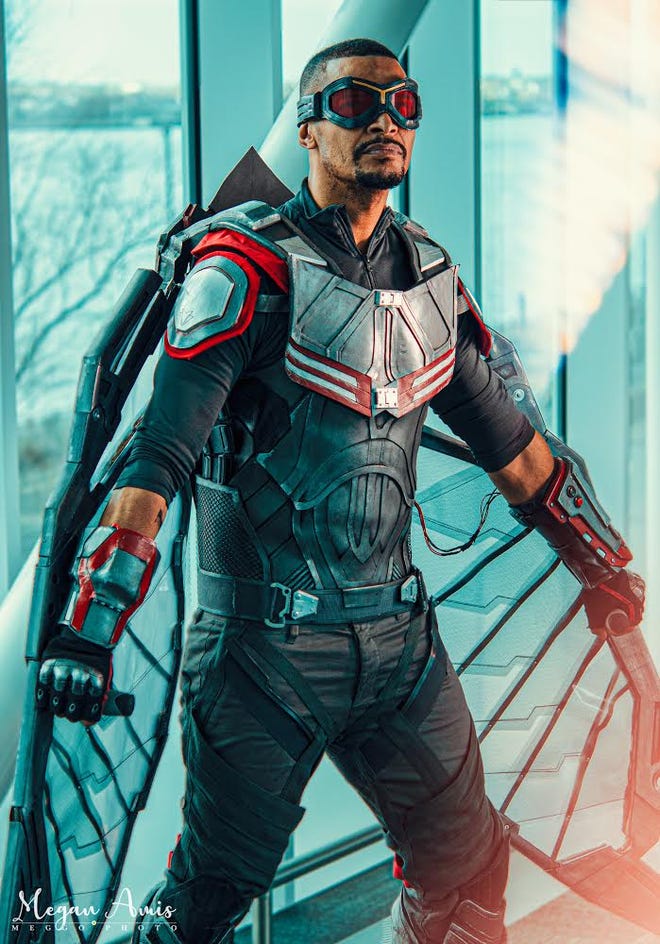 Not all wings are scaled or feathered — some are intentionally man-made, as demonstrated by these incredibly detailed wings created by martyokcosplay for his Falcon cosplay. He's actually created the wings twice now; once for himself, once for a commission, and both versions look amazing! He made them out of layers of sheets of gray and transparent plastic, overlapped to create different shades. Mosquito net is sandwiched between them to add more texture.
About the cosplay, martyokcosplay says "I really like the character, and the reception that this cosplay gets, even from people who aren't massive fans of Falcon." He says there's also the added bonus that, since it's not a super popular character, he is almost guaranteed to be the only Falcon cosplayer at a comic con (which could change now that he's Captain America).
To anyone wanting to make their own winged cosplay, or just a more difficult cosplay in general, martyokcosplay says "Don't shy away from challenging projects. Give it a go, and you may surprise yourself with what you can achieve!" Definitely some great advice! Cosplay can be challenging, but, like martyokcosplay said, you shouldn't shy away from a challenge!
Misacosplay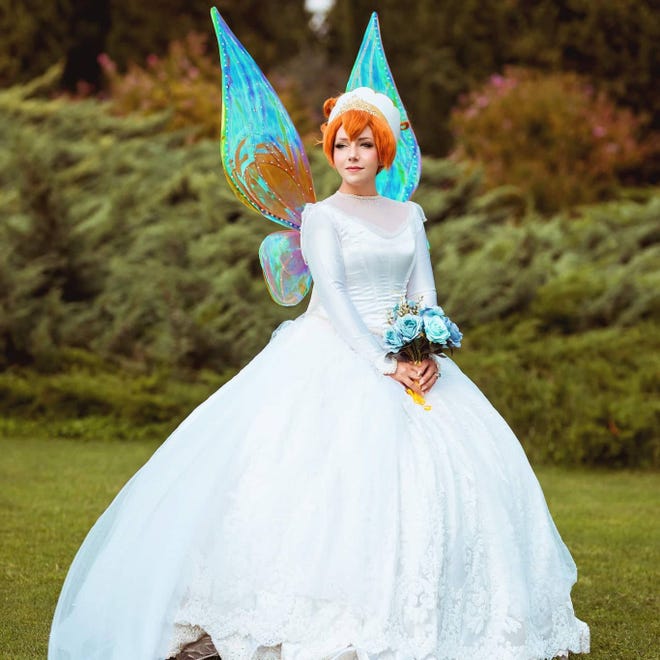 These delicate, gorgeous fairy wings were made by Misacosplay, for her Thumbelina cosplay. She used a combination of digital techniques, drawing the structure in Illustrator, and using an Arduino to program the sequence of lights and colors, and physical techniques, gluing a laser-cut wooden frame to iridescent film. And the end result looks spectacular!
About her cosplay ventures, Misacosplay says that, although times can be difficult, cosplay helps her get distracted, and have fun even while staying at home. "I love doing cosplay, and for me it is simply a hobby, though I really hope that my work is always appreciated, because I do it with a lot a love." While we can't speak for everyone, we can absolutely say that we think her cosplays are amazing!
Toonibug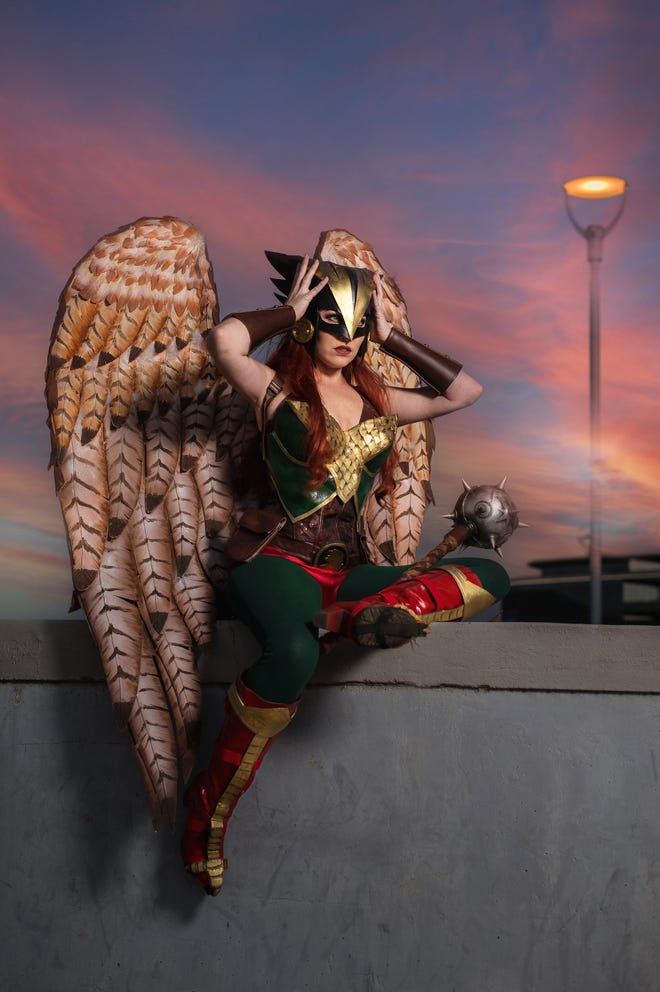 Hawkgirl is a popular character in the DC Universe, and there are a ton of amazing cosplays for her, like this one from Toonibug on Instagram! Toonibug says she loves making wings, and Hawkgirl's looked like they would provide a challenge, given how detailed they were. "I loved her look, and wanted to cosplay her for my big 'wow' cosplay for Comic Con 2019."
She constructed the frame using PVC pipe, heating and bending it into shape. For the wings themselves, she cut each feather out of fabric, carving, painting, and then gluing them down. For an extra layer of texture, she added real feathers in between the fabric ones. The wings also have adjustable shoulder straps, to make them more comfortable!
After having completed the wings, Toonibug says that her favorite part about them is their being accurate to a hawk's wings — and we agree! The detail on each individual feather is incredible, and really make the whole cosplay come to life.
Plexicosplay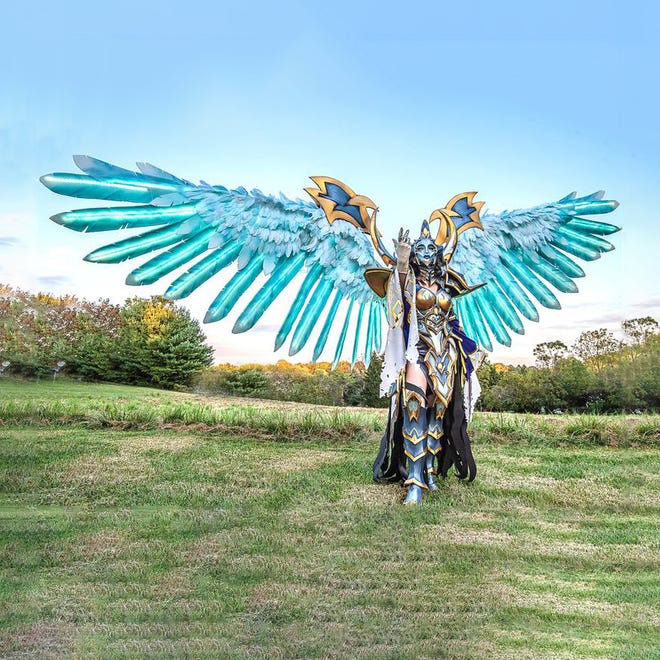 Plexicosplay loves a good challenge, and decided to make this cosplay after searching for winged characters, eventually deciding on Pride. The wings themselves use an incredible amount of ingenuity and complex mechanics, where Plexicosplay utilized things like a battery-powered pulley system, a car window crank, and LED light strips. With all these mechanics, the wings open and close, and can also glow! Talk about taking your cosplay to the next level!
Plexicosplay took these wings with the rest of her Pride cosplay to New York Comic Con, wearing them on stage for their cosplay competition. She says her favorite part about them is the lights — "It's just got that extra 'wow' factor!"
To anyone who wants to make their own wings, Plexicosplay says to "consider weight first, and work from there. Big wings are lovely, but you want to not break your back wearing them." Definitely some great advice! Safety should come first. And after making such huge, gorgeous wings, Plexicosplay definitely knows what she's talking about!
Frogs_cosplay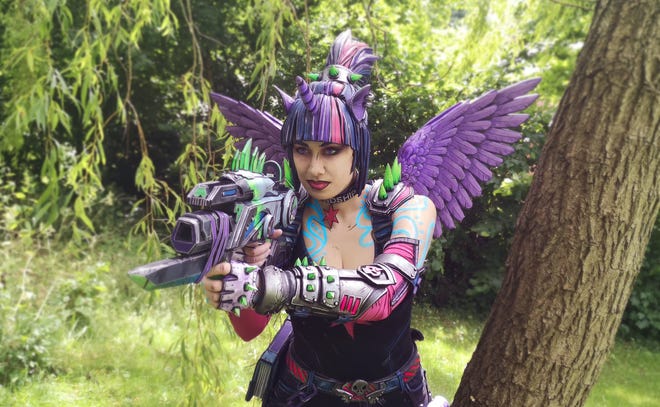 Sometimes, the character you want to make a cosplay out of just doesn't exist, so you have to design it yourself! And that is exactly what frogs_cosplay did, creating her own original-design cosplay by mixing the My Little Pony character Twilight Sparkle with the iconic Borderlands style. The result was this truly unique, incredible cosplay, complete with some amazing feathered wings!
The wings themselves are made entirely out of EVA foam, including the harness that holds them on. After completing the construction for them, frogs_cosplay sealed the wings, and then painted them with the Borderlands technique. About the painting, she says "It's a very slow process, but worth it for the end result!" The wings actually ended up being one of her favorite parts of the cosplay: "I'm so pleased with how they turned out for a first try. The wings are comfy and lightweight, which is ideal for something so big, too!"
Her advice to anyone wanting to make their own wings is to think about constriction first — "Where are the wings situated? What angle do you want them to sit? How big are they? All of these things will help you make other important construction and material decisions later on." In addition, she adds, "There's no right or wrong way to make something! The sky's the limit." Great cosplay advice, from a cosplayer who has made some incredible cosplays.
DeconstructingCosplay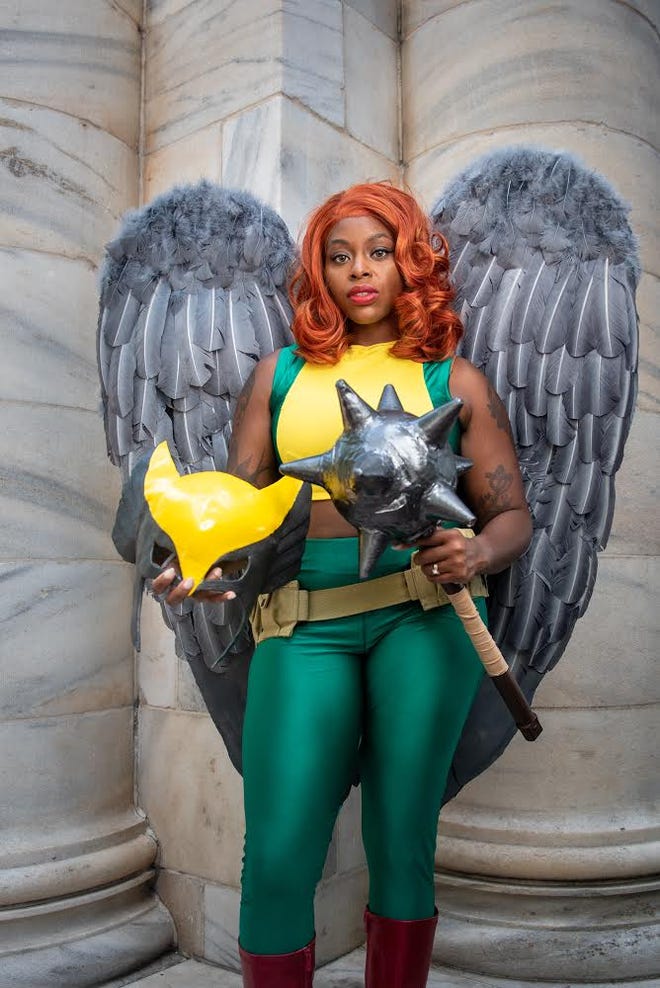 We may have already shown one version of Hawkgirl, but there are so many different variations and designs of her out there, and we just had to show this amazing cosplay of her as well! This version of Hawkgirl was created by DeconstructingCosplay, after she got reinvested in the character from her son watching the animated Justice League series. It brought back a lot of nostalgia for her.
The wings themselves are made with a PVC frame, then covered in plastic and buckram fabric, followed by the feathers. "The hardest thing was the feathers! When you work with adhesives a lot, everything gets a little sticky, and feathers got stuck to all sorts of things. It was 3 years ago, and I'm still finding stray feathers in my craft room," DeconstructingCosplay says, looking back at the process. It may have taken a lot of time (and glue) but the end result looks amazing!
Her advice to anyone wanting to make wings is to give it a lot of thought: "Planning is essential." We absolutely agree — doing some planning beforehand can save you a lot of time and effort in the long-run. And it probably helps contribute to the end result — these wings really do look amazing!