Announcing Cosplay Central's Virtual Competition
Take the digital stage and battle it out for prizes and bragging rights as the cosplay champ.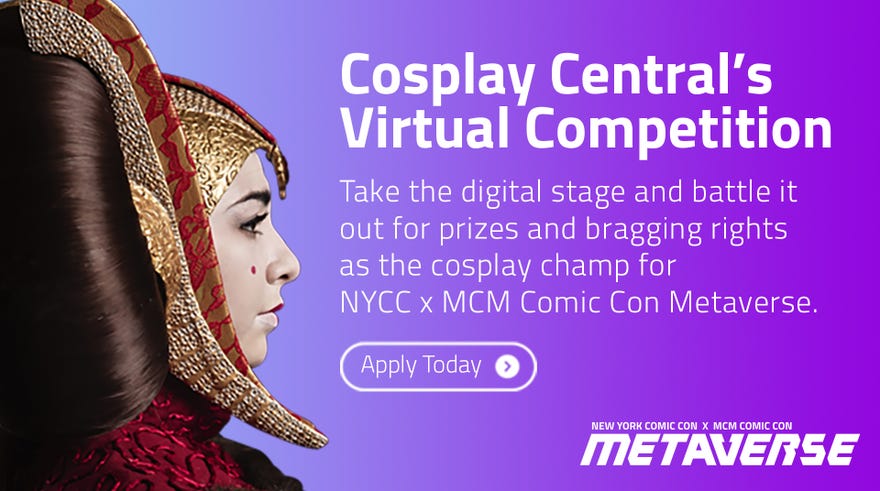 Metaverse's Cosplay Central Virtual Competition is back! In this second rendition, cosplayers will get to show off their crafting skills to our international, digital audience and our hand-picked panel of judges. Contestants will compete for the title of victor and cosplay supplies worth up to $300!
@teaniedeanie as Jester Lavorre from Critical Role
Cosplay Central's Virtual Competition
The virtual competition is a craftsmanship show with a pre-judging session and virtual showcase. Cosplayers of all experiences and skills are encouraged to apply!
You'll be asked to register for one of the competition categories including: Needlework, Embroidery, Armor, and FX. We'll also need to see photographs of your costume upon entry, so have those ready when you fill out the registration form. If selected to participate in the showcase, we'll ask to see footage of your cosplay creations so the judges can see your hard work in all its glory.
The Cosplay Central Virtual Competition showcase and results will stream on Saturday, October 10th as a part of ReedPop's next release of Metaverse.
While we won't be taking over the streets of London at MCM Comic Con or Gotham City for New York Comic Con again this October, we hope you'll equip your past cosplays or your favorite nerd attire and sweatpants as we beam NYCC x MCM Metaverse directly to you!
You can find more details on the competition's rules, skill categories, and participation requirements on Cosplay Central.
Submissions are open Friday, August 28th - September 8th. Get your application in now!
Didn't tune in for the Cosplay Central Virtual Competition in August? Catch-up on the cosplays you missed here.