Cosplay Day and Cosplay Central's Virtual Competition 2021
Fire up those heat guns and dig out those sewing kits!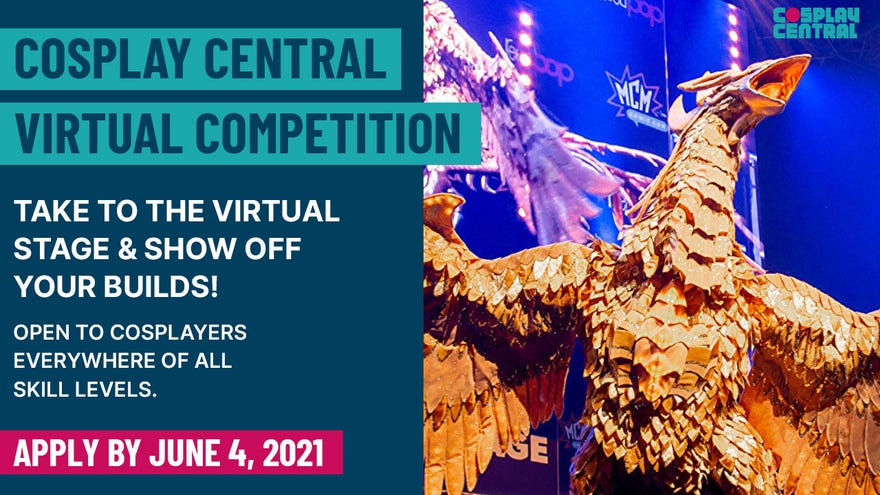 One of the things that we love the most about our cons is the hugely diverse talent of fans who make and showcase their inspiring cosplay outfits.
To celebrate cosplay and its community as one of the pillars of our events, we're excited to launch our very first Cosplay Day on Saturday, July 10.
Whether you're a beginner or a cosplay veteran, this event is one not to be missed, it'll be jam-packed full of tutorials, a virtual cosplay competition, guest panels and fan meet-ups.
Cosplay Central Virtual Competition 2021
As part of Cosplay Day, we are back with the 2021 edition of the Cosplay Central Virtual Competition! This celebration of cosplay craftsmanship is open to cosplayers everywhere and of all skill levels. Take to the virtual stage and show off your lockdown builds!
There will be prizes for Best in Show, Best Beginner and three Runners Up (including one notable sewing and one notable armour entry). To check out how the competition works, competition rules and, most importantly, how to enter, click here for more information.
Registration is open from May 7 through June 4 and is completely free, so what are you waiting for?
Judges & Guests
Alyson Tabbitha is our first cosplay competition judge to be announced! Known throughout the cosplay community as the cosplayer with many faces for her incredible transformations such as Wonder Woman and Jack Sparrow, she will be featuring in her own Cosplay Makeup and Transformations panel - if you want to submit a question to her in time for her panel, stay tuned!
Xephyr Studios is our second cosplay competition judge we're excited to announce! An amazing cosplayer specialising in sleek, highly engineered costume builds with high precision, who won 2nd at the C2E2 Crown Championships 2020 with their Moira costume. Xephyr will also be featuring in their own panel on how to finish and paint 3D prints.
Bakka Cosplay is the final judge for Cosplay Day! 'Bakka' is a French-German special effect make-up artist and professional custom wig maker who has been cosplaying since 2005. She joins the judging panel for the Cosplay Central Virtual Competition 2021 and will be sharing her skills and knowledge in a very special Cosplay Master Class on 'The Art of Cosplay Wig Making'.
There's more coming soon on a special edition of our Cosplay Master Class series with a new episode every day from Tuesday to Friday, including a live Q&A with our cosplay expert on Cosplay Day itself, so they can answer those burning questions of yours. We will also have a special update on competitions at our ReedPop physical shows and some social events on Discord, so stay tuned.
Cosplay Clinic
9:00 AM PST / 12:00 PM EST / 5:00 PM BST (1 hour)
Discord - #cosplay-clinic
The Cosplay Doctor is in! Cowbutt Crunchies will be on hand in the #cosplay-clinic to solve all your cosplay emergencies! Just join the #cosplay-clinic channel to ask advice.
Perfecting 3D Prints with Xephyr Studios
9:30 AM PST / 12:30 PM EST / 5:30 PM BST (30 mins)
Cosplay Central YouTube
Xephyr Studios will guide you through getting a perfect finish on 3D prints for your cosplay, taking you through his process from sanding to how to make them really shine with airbrushing and how he uses 3D prints in combination with resin casting to create an alternative effect.
Live Q&A with bakka cosplay
10:15 AM PST / 1:15 PM EST / 6:15 PM BST (30 mins)
Cosplay Central YouTube
Whether you have a question about bakka's 'Art of Cosplay Wig Making' master class or want to know more about this creative cosplayer's approach to making her incredible fabrications – join the live chat on YouTube to ask your questions and bakka will answer all live on stream.
Cosplaying Over 30: All Levelled Up, with SheProp
10:45 AM PST / 1:45 PM EST / 6:45 PM BST (1 hour)
Discord - Cosplay Stage
Designed to support female, non-binary and transgender cosplayers, artists and makers of all skill levels across the globe, the SheProp community will be taking over our Cosplay Stage channel on Discord! Join Deela Designs and the panel (including Downen Creative Studios, OrangeGoFish from Over 30 Cosplay, Geeks A GoGo and Cons of Pros and Cons Cosplay) as they talk about the joy and pitfalls of cosplaying when you are that little bit older. Join the stage channel to hear what their panel has to say and discuss in #panel-chat!
Cosplay Makeup with Alyson Tabbitha
11:00 AM PST / 2:00 PM EST / 7:00 PM BST (30 mins)
Cosplay Central YouTube
The queen of cosplay makeup transformations, Alyson Tabbitha, answers fan questions and gives advice on how you can transform into your favourite characters through the magic of makeup.
Cosplay Competition News from ReedPop
11:45 AM PST / 2:45 PM EST / 7:45 PM BST (10 mins)
Cosplay Central YouTube
We can't wait to see you and your incredible costumes on stage again at our shows! Tune in to this special panel to hear from the ReedPop Cosplay Team about what we have coming up at the shows this Fall and news about our cosplay championships.
The Cosplay Central Virtual Competition 2021
12:15 PM PST / 3:15 PM EST / 8:15 PM BST (1 hour)
Cosplay Central YouTube
Join our host Jaremi Carey and our esteemed panel of judges, Alyson Tabbitha, Xephyr Studios and bakka cosplay, to hear what they thought about the fantastic cosplayers in our virtual competition this year and find out who will take away the title of Best in Show.