COVID Cop: Dean Haspiel introduces a satirical hero for the pandemic era
Prolific comic book creator Dean Haspiel launches a Kickstarter campaign for COVID Cop, a blending social satire with pulp superhero action.
Prolific comic book creator Dean Haspiel has channeled the collective anxiety, anger, and frustrations stemming from the COVID-19 pandemic into his latest project COVID Cop. With a crowdfunding campaign launched through Kickstarter to self-publish the inaugural COVID Cop story, Haspiel introduces post-apocalyptic hero Lincoln Bio in a world where the global pandemic has eradicated much of humanity and mutated the survivors. Drawing from the toxic waters of Brooklyn's Gowanus Canal, Lincoln faces off against enemies working for the federal government to doom humanity, crossing paths with his old flame Fate Majeure.
COVID Cop marks the first major solo project Haspiel is crowdfunding through Kickstarter, with the campaign now live through the end of March. Balancing sharp satirical hero with the kind of pulp superhero action Haspiel is known for from series like Archie Comics' The Fox or Spider-Man, Haspiel isn't so much dwelling on the real-life pandemic as using it as a thematic springboard to explore his own feelings about it. With COVID Cop, Haspiel provides a self-aware wink at the reader as they watch this post-apocalyptic romance play out, with plenty of freewheeling action set pieces to power the story forward. And with stretch goals announced, now's the perfect time to get in on the ground level of Haspiel's latest project.
In an interview with Popverse, Dean Haspiel shares the inspirations and influences behind COVID Cop, explains the series' themes and how it speaks to the wider pandemic era, and unveils a look at the pulp hero in action for the upcoming crowdfunded comic book.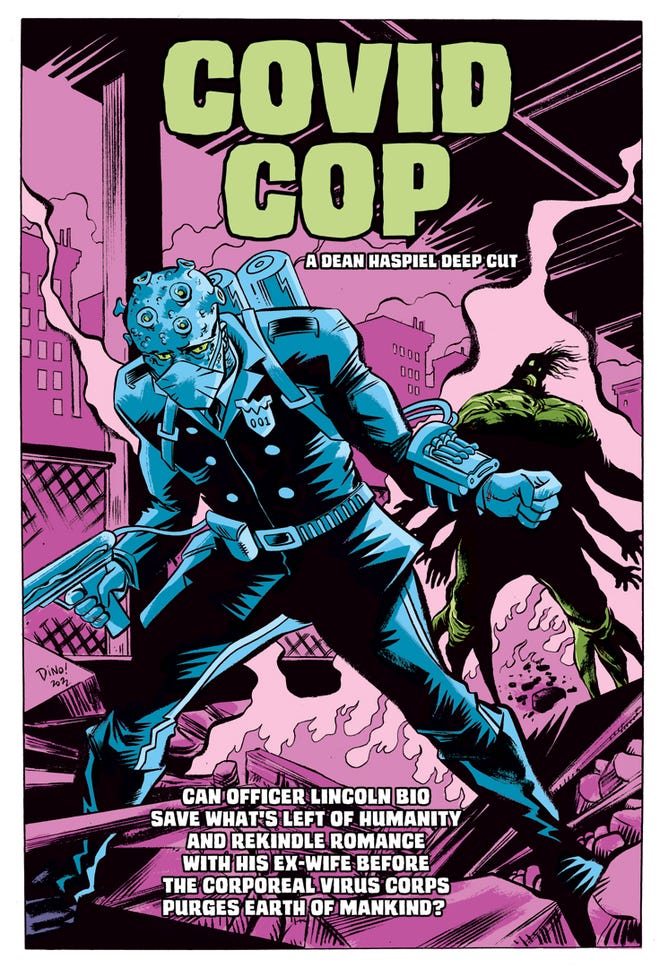 Popverse: Dean, how did the idea for COVID Cop come about?
Dean Haspiel: My idea for COVID Cop was born in Brooklyn, NY during the lockdown of 2020. I'd sneak outside every day and bike to my studio to write and draw comix. While finishing up the last season of The Red Hook at Webtoon, I was compelled to create a pandemic inspired antihero. An officer of the law named Lincoln Bio who's job shifted from saving lives to taking them once the American government realized it had no cure for a deadly virus and decided the worst thing to happen to earth was mankind. A mandate was issued: "Eliminate humanity." COVID Cop followed orders until he found another way to save what was left of society...and his marriage.
You've explored the impact of COVID-19 with the Pandemix anthology. What was it about approaching it, satirical tongue firmly in-cheek and with the backdrop of a masked hero in this story?
I discovered a long time ago that the best way to confront horror is with humor. It makes the scary stuff easier to deal with and jokes help impart important messages in difficult times. Plus, one of the things comix do best is to spin bombastic yarns. One could posit I'm just following a tried and true, traditional trend of making comix. If I hadn't concocted COVID Cop, someone else would have – starring Sylvester Stallone!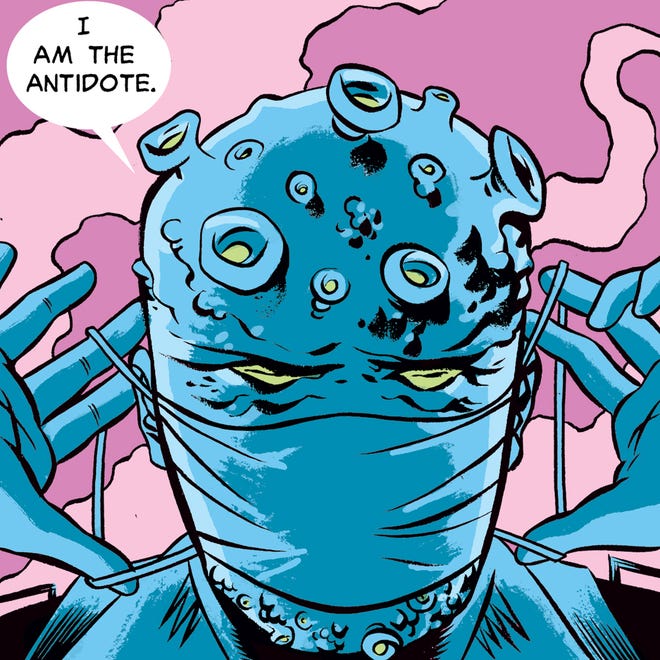 This comic has a very distinct color scheme, from its pink backgrounds to blue and green characters. How did you want to incorporate the use of color into the storytelling?
Since the characters are mutating, I wanted the color scheme to boldly acknowledge that. I chose a few colors: pinks, purples, blues and greens to convey a near future NYC where the virus has exploded like a nuclear bomb. I was also inspired by Heavy Metal magazine and 2000AD from the 1980s and black light poster art from the 1970s.
How did you want to design some of the characters, particularly the enemies that COVID Cop faces off against?
COVID Cop was visually inspired by the likes of Judge Dredd, Toxic Avenger, Mad Max and Marshall Law. The backdrop is a Sin City-esque Gowanus Canal. A toxic waterway I've lived near the last 25+ years of my life. One of my ideas for the story is that the government has weaponized the holidays. Military men dressed up as a Bad Santa or an evil Easter Bunny with a chainsaw, mocking the last vestiges of a civilized society with their unholy terror.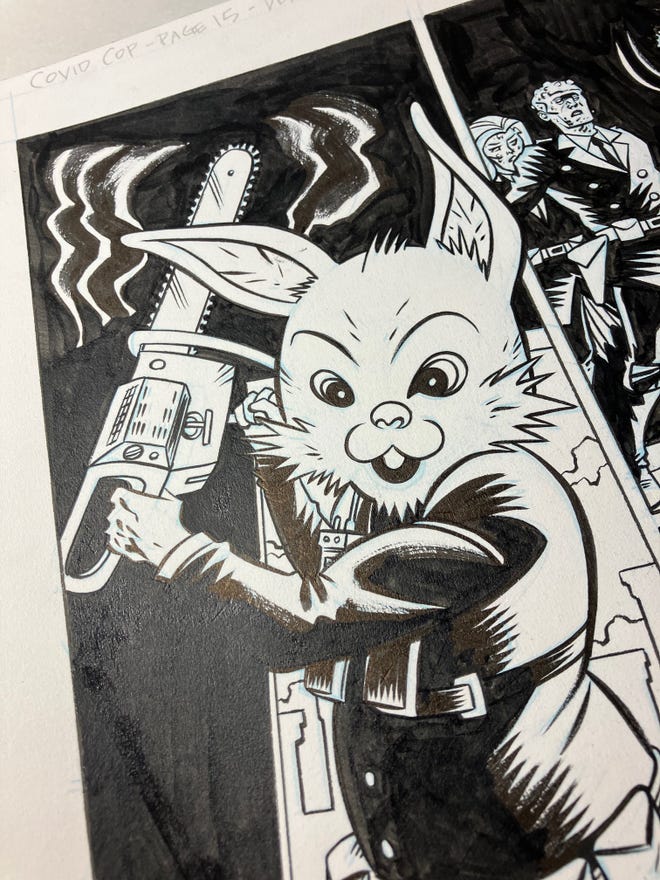 At the core of COVID Cop is a love story between Lincoln Bio and Fate Majeure. How did you want to build this romance and frame it against this post-apocalyptic setting?
No matter the genre, the root of most everything I care to write is a love story. But because there's so much backstory to set up, I didn't have a lot of space to dedicate to romance. So I developed a sentimental shorthand for everyone who comes for the chaos and rage but will leave feeling heartfelt and hopeful. Besides, who hasn't fallen back in love with their Ex while beating the heck out of each other during an acid rain storm?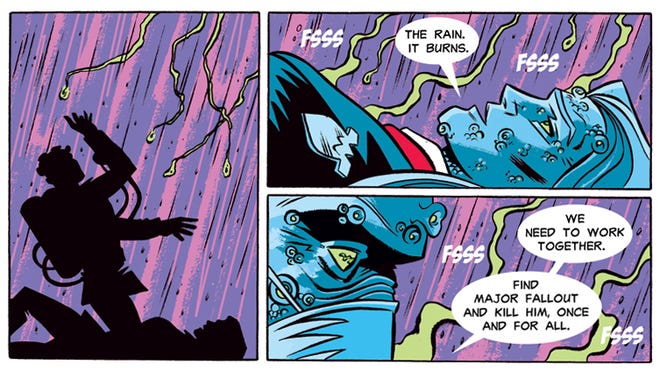 This is the first solo Kickstarter comic book project you've spearheaded. What was it about taking that on with COVID Cop and how has the experience been so far?
Truth is, the few publishers I showed my script to in 2020 loved it but were too afraid to publish it. The word "COVID" is still synonymous with "death," and I respect and understand why a publisher would hesitate to pursue it. I tried my best to come up with other titles but none made muster. It simply had to be called COVID Cop. And when I ran out of freelance work a few months ago, I decided to double down on my rejected idea and see if I could put my money – and yours – where my mouth was and see if I could get this project funded. So far – so good. Going from creator to publisher and promoter has been a challenging and eye-opening learning curve.
Dean, what else can you tease for readers interested in backing the COVID Cop Kickstarter campaign and its incentives?
I recently announced a stretch goal incentive. If we can reach fifteen thousand dollars in pledges, everyone who chose The Vaxx tier and/or above will also get a COVID Cop Church Key, which is a magnetized can and bottle opener. And if this campaign continues to thrive, I have a couple of other COVID Cop stories I like to chronicle for future Kickstarters. I may even return to an older set of love titans and crowdfund a Billy Dogma and Jane Legit collection.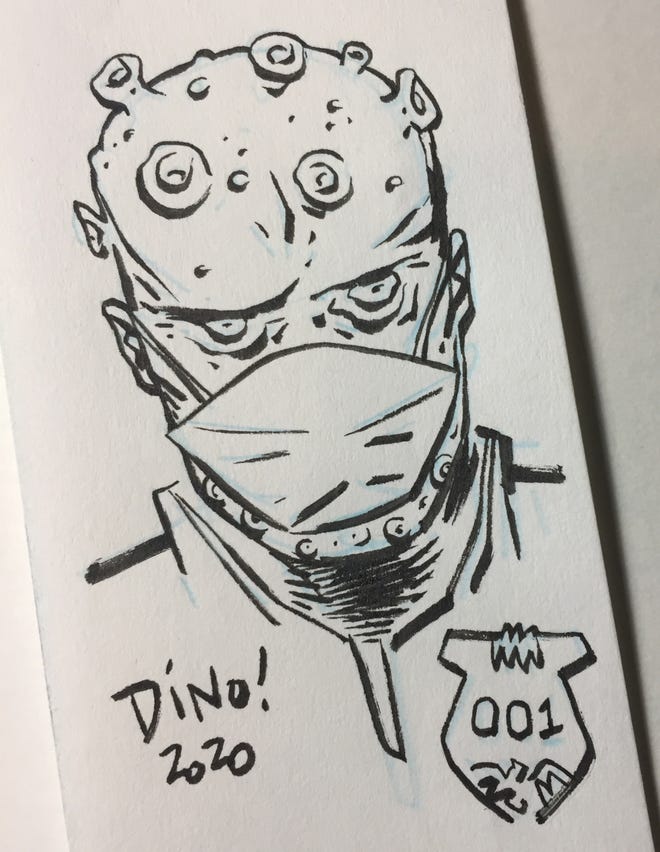 The COVID Cop Kickstarter campaign is created by Dean Haspiel and runs through March 31.
---
The COVID Cop Kickstarter campaign is created by Dean Haspiel and live now through the end of March.