Crime writers Alex Segura and Rob Hart team with Joe Eisma for Blood Oath at Amazon's Comixology Originals
The five-issue series will also feature Joe Eisma on art.
It's one woman versus the mob in the latest title from Amazon's Comixology Originals program, as acclaimed crime writers Alex Segura and Rob Hart team with artist Joe Eisma for the five-issue Blood Oath, launching next week.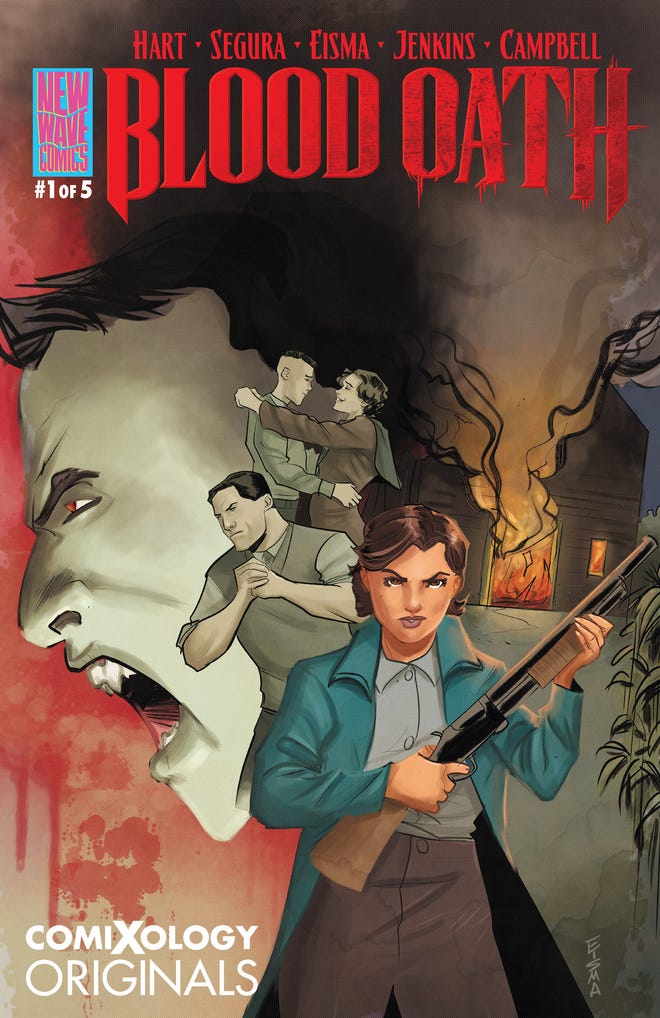 Described by Amazon as a "Prohibition Era horror comic series," Blood Oath centers around Hazel Crenshaw, a young woman in 1922 America, whose dreams of providing for her family and running her own business are complicated when she gets mixed up with the New York gangs that will, eventually, become the Mafia. When her farm is attacked by forces unknown, Hazel is forced to accept that she's dealing with forces beyond her comprehension… and that she's in more trouble than she suspected.
The series is the second collaboration between Segura — who's mixed crime novels (the Pete Fernandez books, Secret Identity) and comic books (The Black Ghost, Archie Meets The Ramones) for some time — and Rob Hart, who's best known as a prose novelist with titles including The Paradox Hotel andThe Warehouse; previously, they'd co-written Bad Beat, a crossover novella teaming their characters Pete Fernandez and Ash McKenna. It's also a reunion for Segura and Eisma, with the two having previously collaborated on The Archies back in 2017.
"Blood Oath is a blend of some of our favorite things, in terms of story and genre - historical fiction, the early days of organized crime, and horror - all things we wanted to explore, and they blended together perfectly to ask a key question: what if there was a secret, monstrous crime family that's been part of the underworld for decades?" Segura said in a statement provided by the publisher.
"It's always been a dream of mine to write a comic book, but coming from novels, it's like learning a whole new language," Hart added. "I was incredibly lucky to work with Alex, Joe, and the rest of the team, who helped guide me through the process and learn the fundamentals. Alex and I first started working on this years ago, and it's incredible watching it come together, piece by piece. I can't wait for people to read it."
Beyond the primary creative team of Segura, Hart, and Eisma, the series will be colored by Hilary Jenkins, lettered by Jim Campbell, and edited by Heather Antos.
And according to a listing on Amazon's website, Blood Oath will also be one of the series to quickly be reformated for a print edition from Dark Horse Comics. The first issue of Blood Oath will be released August 30, and Amazon lists a collected edition coming January 31, 2023.
---
Want to think a little bit more about crime comics? Why not check out this piece of comics history about the how the Comics Code Authority defanged the genre for decades, and helped revive superheroes?