There's a Crisis coming to DC animated universe, and here's how it began
Crisis on Infinite Earths is coming to DC's animated movie universe, and its been coming for awhile now
Justice League: Warworld premiered at San Diego Comic-Con 2023, and as the end-credits rolled we were on-hand for the reveal of the next two DC animated epics:: Justice League - Crisis on Infinite Earths and Watchmen. We assume the latter will be an adaptation of the original 12-issue miniseries, but DC's animated universe - the Tomorrowverse - has actually been leading up to a version of Crisis on Infinite Earths for years.
First let's look at what happened in Warworld, which is set up like an anthology film.
How Justice League: Warworld sets up Crisis on Infinite Earths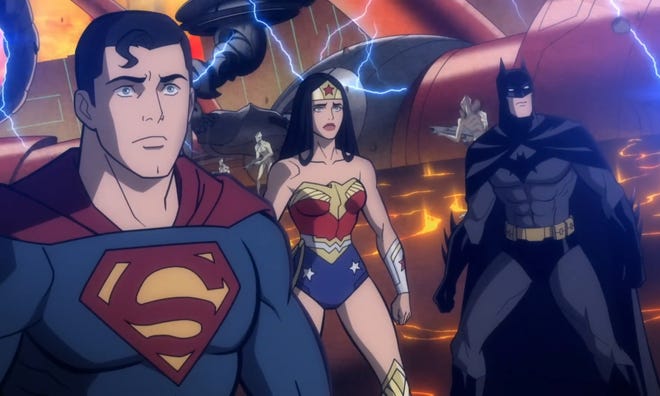 In Justice League: Warworld, DC's trinity, Wonder Woman (Stana Katic), Batman (Jensen Ackles) and Superman (Darren Criss) find themselves in three very different adventures, confused at their surroundings.
Diana opens the film starring in a spaghetti western, wandering into a small, dusty town that's littered with outlaws and miscreants. Jonah Hex (Troy Baker) introduces himself as someone who'd like to join forces but is really aiming to prolong the misery of the town. Next, Bruce Wayne clashes heads and steel in a story of savagery and prehistoric creatures. The Warlord (Teddy Sears) tries to tame him, but eventually realizes he needs Bruce Wayne and all of his skills. Lastly Clark Kent finds himself in a '50s, black and white UFO paranoia story. He is a field agent tasked at questioning witnesses in a diner that believe they saw aliens and suspect that someone amongst them is one of them, because this alien has the ability to shapeshift. Things are starting to feel familiar and our heroes begin piecing their memory back.
It all comes together as an elaborate ploy by Mongol (Robin Atkin Downes) who has held the trinity captive along with Martian Manhunter (Ike Amadi). Lobo (John DiMaggio) literally bursts in and gives Warworld a much needed jolt of comedy as the film in its entirety just plods along. Fans will get a kick out of Wonder Woman in a western, which has a nice Pulp Fiction reference, but each section runs stale with nearly 20 minutes devoted to each mini-story. The film ultimately leaves viewers with an impending doom that lurks beyond the running time and that will frustrate some.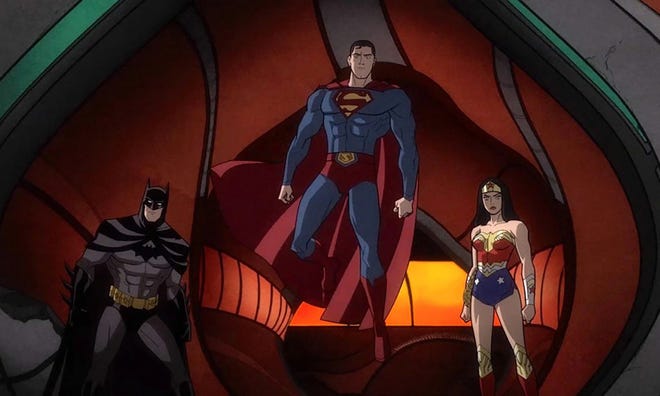 Before the Justice League: Warworld screening at SDCC 2023, the people behind the film took part in a fan Q&A - and there were two conspicious fan questions that got us thinking a Crisis was coming. In most fan Q&As, fans plead their case for future films. Producers Butch Lukic and Jim Krieg respond to most inquiries as there's always a possibility, but it depends on the marketability and response, but that there is an initial plan to roll out these specific films.
However, Lukic slipped when asked about Legion of Super Heroes. "We needed Legion because we needed Supergirl." When another fan asked about if Crisis on Infinite Earths, Final Crisis, or any of the Crisis events would be adapted, Krieg replied, "We've had conversations, it's been discussed."
The Tomorrowverse began with the release of Superman: Man of Tomorrow in 2020, then Justice Society: World War II in 2021. Batman: The Long Halloween, Green Lantern: Beware My Power and Legion of Super Heroes would soon follow over the last two years.
Up to this point, it seemed like the Tomorrowverse was interconnected. Largely it is, especially with pieces like Long Halloween, but Supergirl is integral for Crisis on Infinite Earths, a story in which DC's finest come together against the Anti-Monitor and Braniac. Lobo's entrance into Warworld picks up from his appearance in Man of Tomorrow, and in World War II, the Barry Allen Flash is the central character, who we all know to be one of the many fallen in the Crisis storyline. These all look to be the major players for this upcoming adaptation of Crisis on Infinite Earths.
---
Get ready for this and all the upcoming superhero movies.