Somehow, the three-hour pre-show before the Critical Role panel was a highlight of the entire MCM Comic Con
In praise of excited fans, exhausted hype men, and the most fun three hour wait you could imagine
Aussie Dave deserves a raise. And, for that matter, probably a bonus, as well. And while we're at it, let's also include all the praise anyone can throw his way, too. Let's start from that one simple, entirely undeniable fact.
You might be reading this and thinking to yourself, 'Maybe he does, but I have no idea who he is or why that might be true,' and that's an entirely understandable reaction; he's not exactly a household name, after all. (Sorry, Dave.) The 4,000+ fans who sat waiting for the Critical Role panel at MCM October 2023 know better, however, having experienced what I can only assume was a career-best performance as he spent hours on-stage managing to keep the crowd excited and engaged — and, all the while, letting them see that he was one of them, too.
Critical Role at London's MCM: The greatest (pre-)show on Earth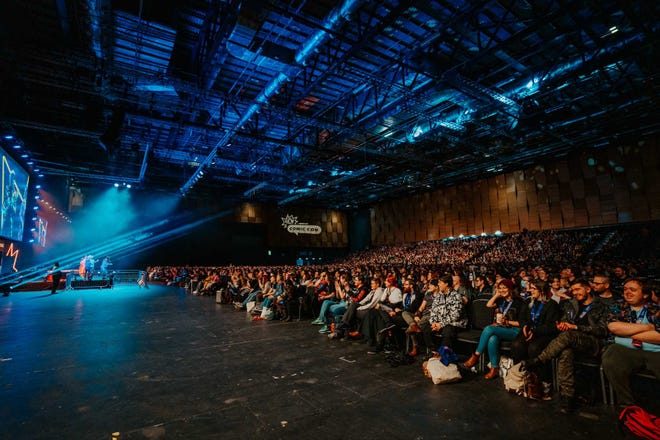 Some context, for those who weren't in the room at the Main Stage on Sunday morning at the show: we've known for some time that Critical Role is big, because… well, it's Critical Role, and we've seen the response they've garnered at other conventions across the last year or so. For that matter, just days before their MCM appearance, the cast sold out Wembley Stadium for a live show that was transmitted across the world, so, yeah; this was always going to be a popular panel. It's simply that it was… a very popular panel.
Popular enough, in fact, that it filled out not just the 4,200-seater Main Stage at the London ExCeL, but also the Center and Live stages, as well, where fans gathered to watch a livestream of the panel because they couldn't get in the room — yes, the same livestream that Popverse ran right here; you're welcome. So popular, in fact, that doors opened for the Main Stage at 8am local time, despite the fact that the panel itself wouldn't start until 11… which meant that Aussie Dave had no less than three hours to fill, keeping the crowd entertained that entire time. Somehow, he made it look easy.
Well, maybe not easy — he spent more than a small amount of time running around the room, talking to fans and getting them involved in the pre-show, whether it was dance-offs, Q&A sessions, or simply bantering with them about their shared love of Critical Role. (Dave is, as he told an appreciative room, a Critter himself. Being able to do some inside jokes kept them on-side more than once.) He clearly worked hard for those three hours, some of which he was entirely solo before his DJ, Leroy, showed up to assist… but it never seemed like an effort; even to someone like me who's not entirely au fait with Critical Role, the whole thing seemed like being part of a once-in-a-lifetime experience that remains, days later, difficult to explain to anyone that wasn't there.
Critical Role at London's MCM: We were there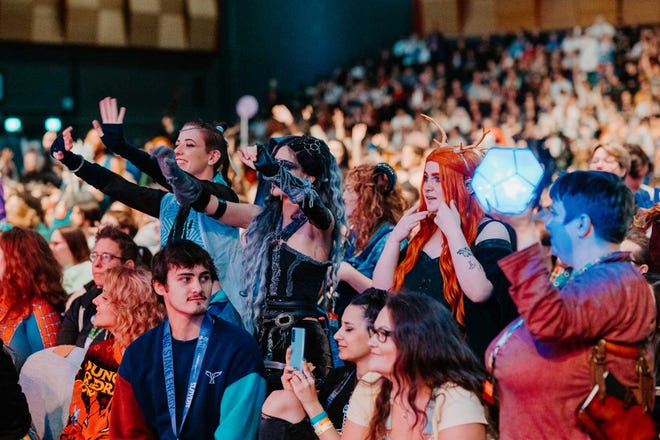 It's not just that there was palpable excitement from the fans present — "if there's anywhere with a greater sense of community on a Sunday morning, I'd want to see it," Dave said from the stage at one point, likening the room to church and, as much as it might seem like hyperbole on the face of it, I have to say, he might have been underselling it. I've done Marvel's Hall H panels at San Diego Comic-Con and other 'event'-style convention panels in the past; I'm familiar with the sense of, as the song goes, being in the room as it happens. This was something else, though: instead of the familiar feeling of a creator/audience relationship, or something where attention is generally flowing in one direction, it felt… well, more communal. More of a shared excitement and joy between everyone in the room.
Part of the pre-show, maybe half an hour before the panel started, was a dance-off: a group of fans on stage, performing to music they didn't know was coming, to try and out-do everyone else around them. One nervous fan was told by Dave not to worry about everyone watching. "They're all on your side," he said, and that was greeted with such a deafening cheer of support because… it was true. Everyone in the audience wanted them to do well, to succeed, because we saw ourselves in them; they were us, and vice versa.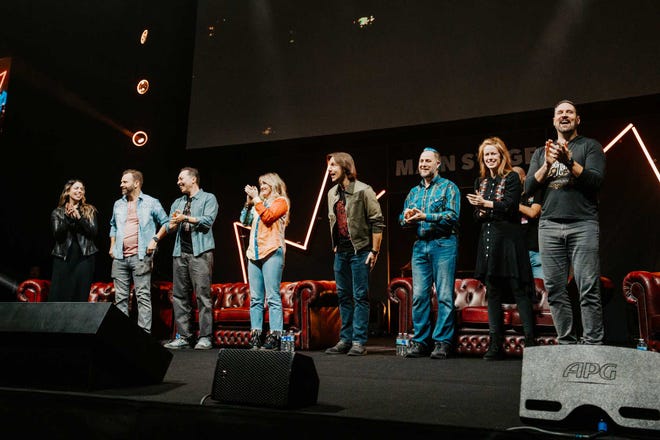 This all sounds too flowery to be believable, I know; I'm normally a cynic looking for the cracks in things, but such was the strength of the joy and excitement in the room — something that, thanks in large part to Dave's efforts, never flagged for three hours, stunningly — that it's nonetheless true. In a show that was filled with highlights and enjoyable moments, I have to put aside my objective journalist hat for a second and admit: the best part of MCM October 2023 for me was sitting in a room surrounded by fans being fans, and remembering how wonderful fandom is at its best.
As he wound up his marathon stint, sweating and visibly exhausted after hours, Aussie Dave told the crowd in an attempt to get them prepared for what was to come, "We come together in this room because we're part of this community. And as part of that, we get to be here. There is going to be a time in the future where you're talking to a Critter, and you'll say, 'Oh yeah, the MCM panel? I was there.'"
I was there for the pre-show, too. And I still think that Aussie Dave deserves a raise.
---
Watch the full Critical Role panel from MCM Comic Con 2023.