Crunchyroll anime: The 10 best anime movies and TV shows to stream now on Crunchyroll
Crunchyroll is one of the largest anime streaming platforms in the world. Here are Popverse's recommendations of what to watch on it.
With over 10 million premium subscribers, Crunchyroll is one of the largest distributors of anime in the world, with a vast library of East Asian animation titles available to stream on its platform. From enduring legacy favorites like One Piece and Fullmetal Alchemist to buzzed-about newer titles like Vinland Saga and Demon Slayer: Kimetsu no Yaiba, there is something for everyone to watch on Crunchyroll. And with a growing multitude of shows and movies to choose from, Popverse is here to offer our 10 suggestions for the best anime currently available to stream on Crunchyroll in North America for anyone looking for some choice recommendations.
In sticking to 10 picks, we offer a look across the many genres within the anime medium, from fight-centric shonen and fantasy fulfillment isekai to slice-of-life and romantic comedies. Similarly, we provide a sampler spread of anime, with some picks dating back as far as the '80s while others and still in the midst of their linear broadcast television runs in Japan. In addition to listing if each title has new episodes or movies incoming, we also note what other platforms some of these shows are currently available on.
Without any further ado, here are Popverse's top 10 anime currently available to stream on Crunchyroll.
Attack on Titan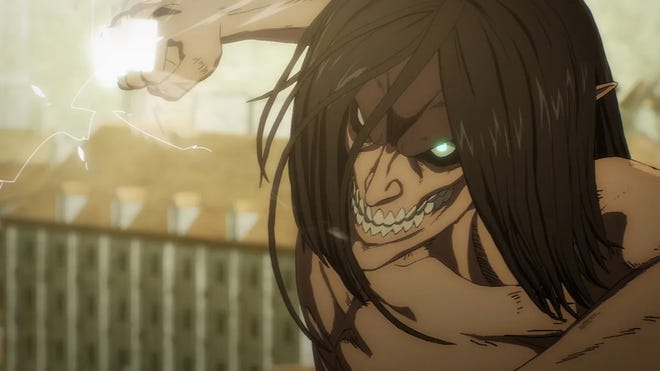 After an admittedly uneven release schedule since its premiere in 2013, including a change in animation studios after its third season, the massively popular series Attack on Titan ends this year. Adapting Hajime Isayama's manga series, the fourth and final season has been divided into three parts, with a television special set to conclude the story expected to premiere this autumn. Attack on Titan takes place in a steampunk world of rival kingdoms overrun by towering behemoths with a voracious appetite and are virtually unstoppable save for a small weak point on their neck. As the truth behind the Titans' creation is revealed, protagonist Eren Jaeger takes on a central role in the escalating conflict, possessing the ability to transform into a Titan himself.
Attack on Titan is also available to stream on Hulu.
Chainsaw Man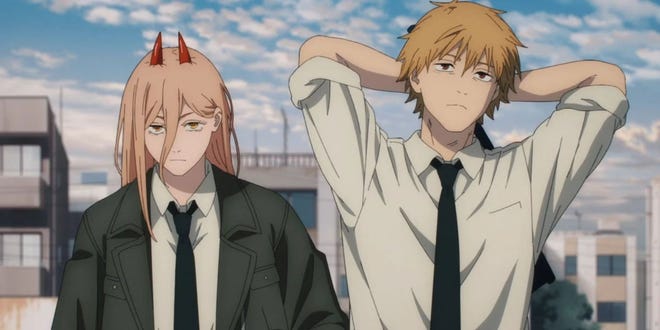 The biggest anime premiere of 2022 was Chainsaw Man, adapting Tatsuki Fujimoto's bestselling manga series of the same name. The 12-episode first season is available in its entirety on Crunchyroll, after completing its original broadcast run this past December. Chainsaw Man takes place in a vision of Tokyo populated by various demons, some who have allied themselves with the humans and others who openly prey upon them. After merging his pet Chainsaw demon, Denji is enlisted by a government agency to help them track down and defeat rogue demons, with Denji able to transform into the bloodthirsty Chainsaw Man at will and use his new powers to combat monstrous threats.
Chainsaw Man is also available to stream on Hulu.
Cowboy Bebop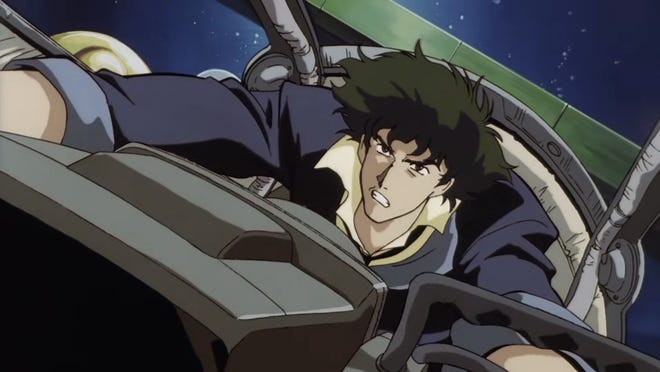 The inclusion of Hajime Yatate's Cowboy Bebop may seem perfunctory but the genre-defying tale of scrappy bounty hunters traveling the solar system for high-paying scores is a masterpiece of the medium. A solid synthesis of music and visuals, Cowboy Bebop powers its impressive set pieces with rousing acid jazz as protagonist Spike Spiegel takes on the most nefarious figures in the system before ghosts from his past return for vengeance. The 1997 series' reputation for excellence has only grown over time, only growing stronger in the wake of the short-lived live-action adaptation on Netflix.
Cowboy Bebop is also available to stream on Netflix and Hulu.
Dragon Ball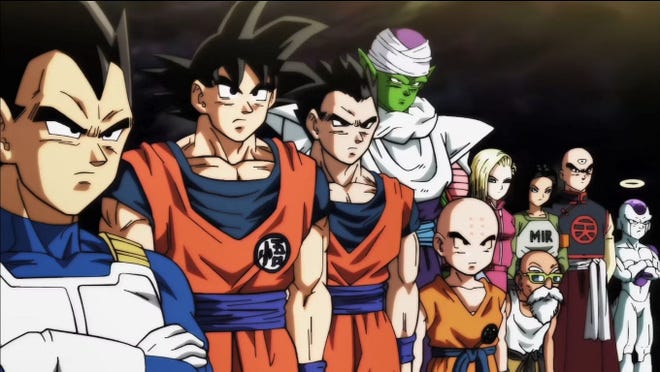 There's a reason why Akira Toriyama's beloved Dragon Ball franchise continues to remain such a worldwide cultural phenomenon, with new movies and video games, nearly 40 years since its debut – it's very good. All four Dragon Ball anime series – Dragon Ball, Dragon Ball Z, Dragon Ball GT, and Dragon Ball Super – are available in their entirety on Crunchyroll. The saga follows Goku, a gifted martial artist from another world, who defends Earth with his friends against crime syndicates, demons, extraterrestrials, and homicidal cyborgs. The perfect gateway into the anime medium, Dragon Ball remains the gold standard and a testament to Toriyama's enduring work.
The original Dragon Ball, Dragon Ball GT, and Dragon Ball Super are also available to stream on Hulu but Crunchyroll is the place to watch Dragon Ball Z, in addition to the other three series, at no additional cost.
Fruits Basket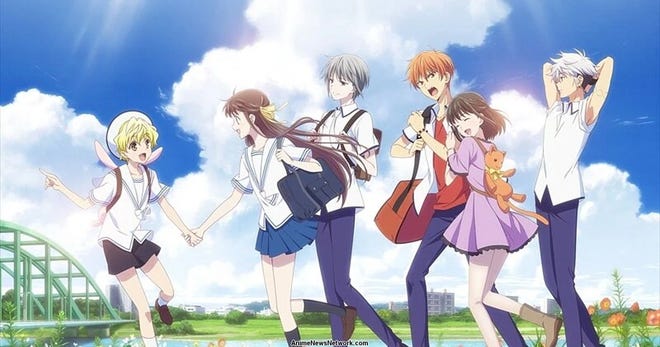 Romantic comedy is given a supernatural twist in Natsuki Takaya's beloved manga series Fruits Basket, which has been adapted twice in separate anime series, the most recent concluding in 2021. The slice-of-life fantasy follows protagonist Tohru Honda, who meets the magical cursed Sohma family, who transform into different animals within the Chinese zodiac whenever they're overcome with emotion. As Tohru grows closer to the family, she sets out to break their curse while learning about her own inner strength. Both the 2001 and 2019 anime series, along with the 2022 compilation film Fruits Basket: Prelude are available to stream on Crunchyroll.
Both the 2001 and 2019 Fruits Basket series are also currently available to stream on Hulu.
Haikyu!!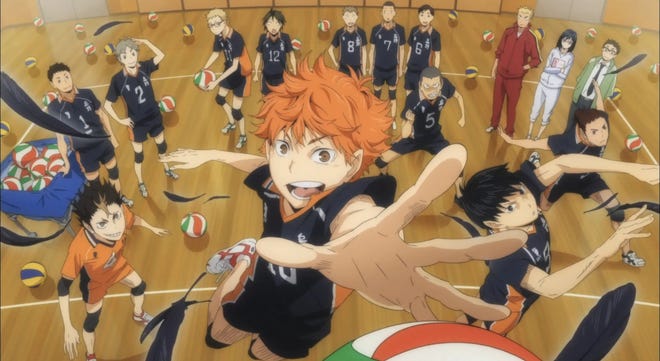 Sports anime is its own robust genre, bringing the same intensity and tight choreography as standard shonen manga but within the realm of familiar sports like archery or competitive swimming. Haruichi Furudate's Haikyu!! takes those storytelling sensibilities and applies them to the world of middle school volleyball as Shoyo Hinata rallies his classmates to form a team with him. Each move and strategy in Haikyu!! carries its own life lesson for Shoyo and his teammates as they learn to work together and advance through the ranks of high school and towards Shoyo's dreams of going pro.
All four seasons of Haikyu!!, as well as its two compilation films, are available to stream on Crunchyroll. A pair of films, titled Haikyu!! Final, have been announced and will conclude the series' story.
Jujutsu Kaisen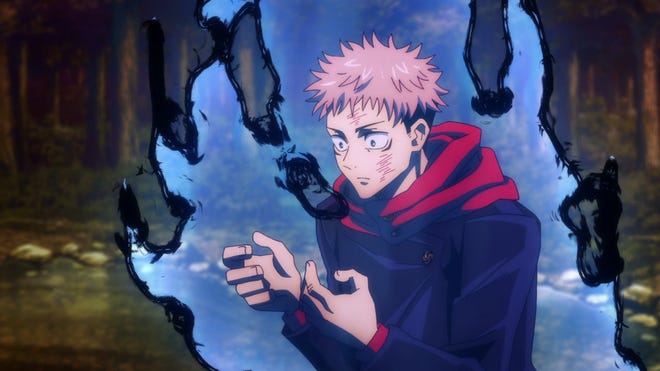 Gege Akutami's Jujutsu Kaisen has become a bonafide global success, mixing hard-hitting action with genuinely unsettling horror elements in a haunted look at Japan. Outside of Japan, Crunchyroll currently holds the exclusive stream rights to the anime adaptation, with both the series' first season and prequel film Jujutsu Kaisen 0 available on the platform. The main series features a Japan plagued by evil curses, with teenage protagonist Yuji Itadori joining a secret order of sorcerers to save their world from within the shadows. Ahead of the second season's premiere this July, now is the perfect time to get caught up on Jujutsu Kaisen.
The first season of Jujutsu Kaisen and prequel movie Jujutsu Kaisen 0 are exclusively available to stream on Crunchyroll at no additional cost in North America.
The Quintessential Quintuplets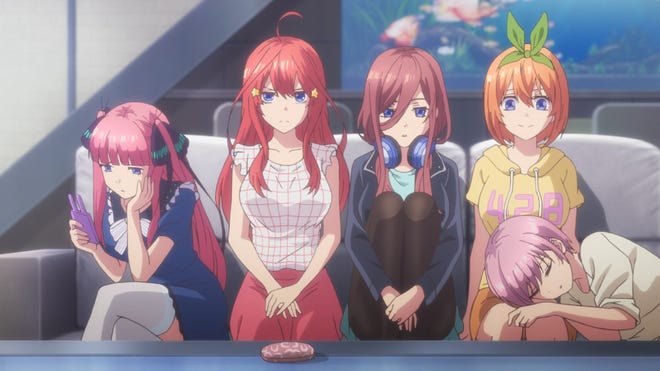 Fruits Basket isn't the only popular romantic comedy anime around, with Negi Haruba's The Quintessential Quintuplets proving immensely popular, running for two seasons and a concluding theatrical film. With an overarching mystery that feels straight out of How I Met Your Mother, protagonist high schooler Futaro Uesugi is hired to tutor five identical quintuplets, revealed to eventually marry one of them, with the identity kept a secret until the finale. And though The Quintessential Quintuplets is not above occasional cheesecake elements common in the genre, it takes a more tasteful approach than many of its contemporaries and roots its appeal in more genuine character development.
The first two seasons of The Quintessential Quintuplets and its concluding film The Quintessential Quintuplets Movie are all available to stream on Crunchyroll.
Spy x Family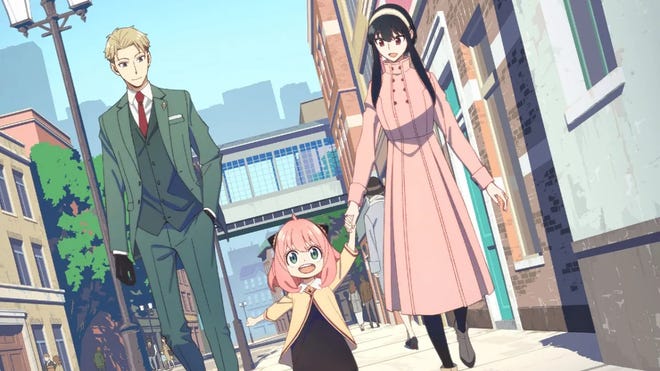 Espionage intrigue is juxtaposed with family comedy in Tatsuya Endo's Spy x Family, which has a covert operative, known simply as Twilight, take on a family to be his assumed identity and get close to a high-value target. Little does Twilight know, his new wife is a professional assassin and their adopted daughter is a telepath, complicating Twilight's double life as he learns to genuinely care for his family while still trying to carry out his mission. This leads to a blend of familial comedy and slickly choreographed action as Twilight's past catches up to him. The first season is available to stream in its entirety on Crunchyroll, with a second season slated to launch in October and a spinoff film set to premiere in December.
Spy x Family is also available to stream on Hulu.
That Time I Got Reincarnated as a Slime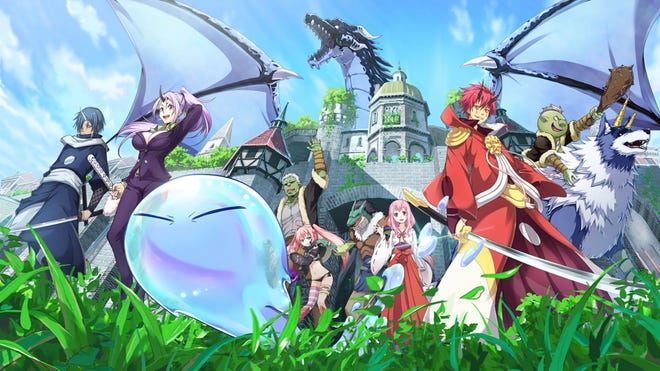 As anime effectively embraces the possibilities of postmodern storytelling, with Fuse and Mitz Vah's That Time I Got Reincarnated as a Slime good-naturedly poking fun at the high fantasy genre. When a salaryman named Satoru Mikami in present-day Tokyo is murdered, he is reincarnated as a slime in a fantasy world with the ability to grow in power when he consumes other creatures. Satoru moves to unify the kingdoms, using his modern savvy to help him lead others despite his initially lowly status as a slime. There are currently two seasons of the anime series out, with the continuation film That Time I Got Reincarnated as a Slime: Scarlet Bond, set after the events of the second season.
Only the first season of That Time I Got Reincarnated as a Slime is also available to stream on Hulu, with Crunchyroll as the sole platform in North America to get the full story so far, with a third season in production.