Daredevil himself, Charlie Cox, walked the NYCC show floor in disguise and no-one knew
How did Charlie Cox throw fans off his scent at New York Comic Con?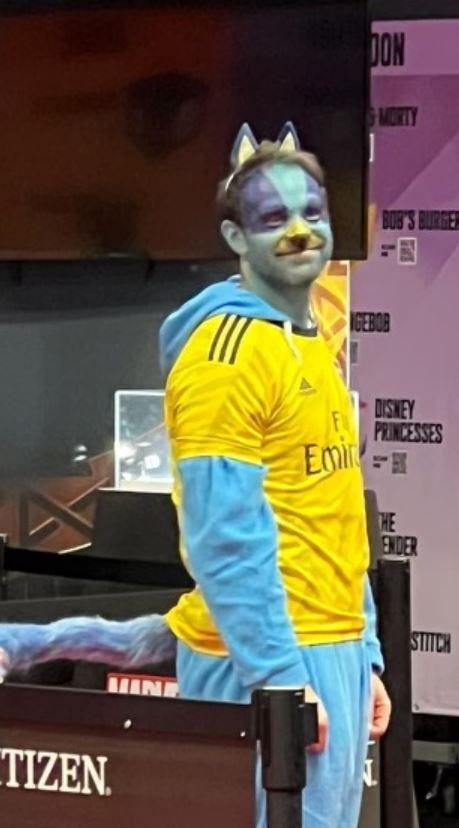 Any superhero worth their salt knows the value of a good secret identity — and Charlie Cox, who's played Marvel's Daredevil for both Netflix and Marvel Studios, knows that better than most. How else to explain the fact that he was wandering the floor at New York Comic Con 2023 on Saturday without being mobbed by adoring fans?
Cox was able to walk through the Javits Center and enjoy the show because of his cunning disguise: Bluey. Yes, the animated dog filled with energy and excitement from the series of the same name, which streams on Disney+ in the US. (Technically, yes, Bluey is a female dog. I don't know why you're bothered about technicalities right now.)
If you think about it, it's even cleverer than it initially seems; when anyone thinks of Cox or his superhero alter ego, they think about the color red — or, perhaps, red and yellow, based on the Daredevil costume from last year's She-Hulk: Attorney at Law. A blue Daredevil? That's insanity.
Okay, maybe I'm overthinking a little, but the fact remains: the disguise worked, and Cox was able to enjoy the show without trouble. If there's a moral to this story, perhaps it's that Cox has learned the value of taking his work home with him (and out to a local convention, too) — or maybe we should all be waiting for the announcement of a big screen Bluey project with Cox attached. We can only hope.
New York Comic Con 2023 continues through October 15 at the Javits Center in New York City. Just imagine which other celebrities might be walking amongst the crowds in disguise…!
---
Popverse will be providing wall-to-wall coverage of New York Comic Con 2023, with an all-star crew of writers, editors, and video producers there all four days (and nights), as well as in advance of the show. You can follow along to this coverage as well as the panels we're streaming with our
NYCC Popverse coverage guide
.