Marvel Comics' Daredevil ending explained: Inside the finale of Chip Zdarsky and Marco Checchetto's run
Chip Zdarsky's four year run on Daredevil has come to an end. Where does that leave the Man Without Fear?
The past four years of Daredevil have been absolutely wild. The Man Without Fear has been imprisoned, faked his death, died for real, gotten married, and traveled through Hell. Chip Zdarsky played for keeps, giving Daredevil an iconic run that stands shoulder to shoulder with the works Frank Miller, Brian Michael Bendis, and Ann Nocenti. Working alongside Marco Checchetto and a variety of talented artists, Zdarsky has taken Daredevil on an odyssey unlike any other.
Daredevil #14 (written by Chip Zdarsky and penciled by Marco Checchetto) brings that odyssey to an end. The final issue serves as an epilogue to Zdarsky's run, taking Daredevil to an unexpected place. What is that unexpected place, and how does it set up the next phase of Daredevil's life? Let's break it down.
Warning: Spoilers ahead for Daredevil #14 (2023)!
How does Chip Zdarsky's Daredevil run end?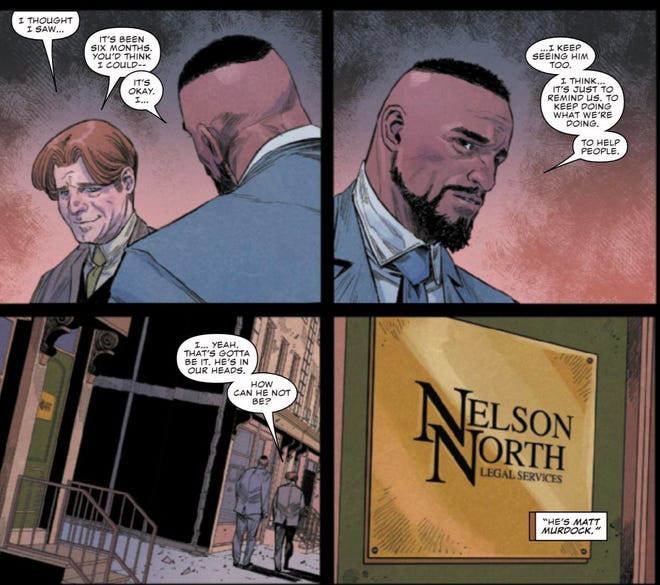 Daredevil #14 concludes The Red Fist Saga, an overarching storyline that Zdarsky and Checchetto have been telling for the past few years. Last issue saw Matt journey to Hell to bring back his friend Foggy Nelson and other allies who had fallen during the war between the Fist and the Hand. Matt succeeded in his quest but was forced to remain behind.
So, how does the Red Fist Saga end? Without giving away every moment of the issue, here is a brief breakdown.
The issue begins after 6-month timeskip. Foggy Nelson and Colin North have opened a law practice. Foggy visits Reed Richards, who indicates that the hero community has forgiven Matt for the actions he took while he was leader of the Fist.
Elektra is continuing to operate as Daredevil, keeping Hell's Kitchen safe. She confronts Butch Pharris, son of the Kingpin. Pharris has changed his name to Fisk, and is trying to become a mob boss like his father. Elektra destroys Wilson Fisk's art collection, telling Butch that she's cutting his familial ties. "I'm freeing you from history Butch, I'm freeing history from you. You can be a new person. You can break the cycle." -- This line becomes important later.
We learn that Matt somehow made it out of Hell. He has been reborn as a priest, which is fitting considering the long relationship Daredevil has had with religion. Father Matt seems to have no memory of his former life. Elektra runs into him, and while he thinks she's familiar, he can't quite place where he knows her from. Realizing that Father Matt is peaceful and content in his new life, Elektra decides to let him be.
Leaving the church, Father Matt hears two bookies viciously beating a man up. His radar senses begin to take over, and he begins to hold his walking stick like a billy club. Father Matt walks towards the alley where the bookies are beating the man, as Elektra's earlier monologue to Butch is repeated in the narration boxes. The narration cuts off, implying that Matt will never be able to break the cycle.
Does anybody die?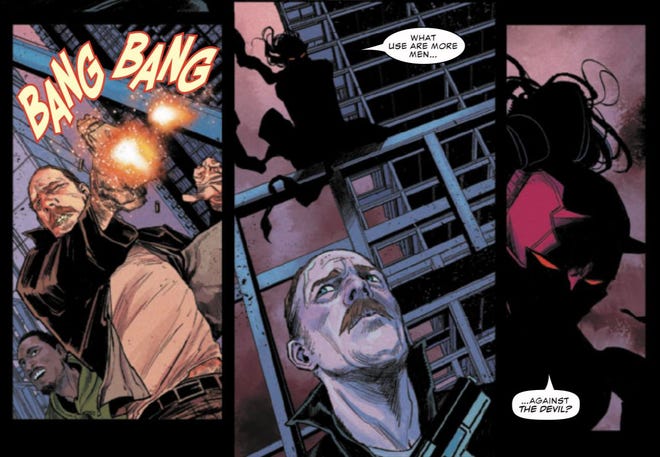 Amazingly, everyone makes it out of this issue alive. For a book that features plenty of assassins, ninjas, and mobsters, it's almost a miracle that the final issue of Zdarsky's run didn't feature any murders. This is partially because this issue serves as an epilogue, rather than a grand finale battle. Don't forget, the last few issues were about Matt bringing his allies back from the dead. Although nobody dies, that doesn't mean this issue is free of violence. Elektra makes a few thugs bleed, and we could only guess what Father Matt did to those crooks in the alley.
Is Elektra still going to be Daredevil?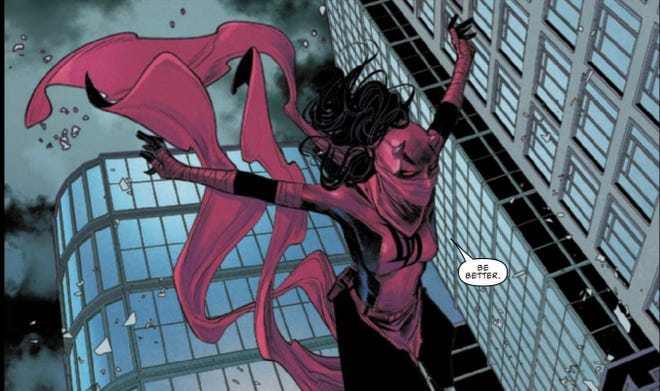 If this issue is any indication, then Elektra Natchios will continue to operate as Daredevil. Elektra took on the identity in Daredevil #25 (2020). She claimed the mantle during a period where Matt was in jail, and she wanted to prove to him that she was more than an assassin. After Matt's incarceration ended, Hell's Kitchen had two Daredevils patrolling the neighborhood.
And why not? Don't forget, Steve Rogers and Sam Wilson share the Captain America mantle. Logan and his daughter Laura Kinney are both Wolverine. Don't even get me started on Spider-Man. It's clear that the Marvel Universe has room for two Daredevils. Besides, it's not like Elektra has another superhero identity to go back to.
During Daredevil #14, Elektra's inner monologue clues us in on how she views the mantle. "I never used to scare people. Because they never saw me coming. My blades took lives well before fear set in. But now – now that I let them live, they need to be terrified. They need to have fear in their hearts so they only ever have to encounter me once. I understand now, Matthew."
For now, Elektra seems to be leaving her assassin ways behind and will be continuing to patrol Hell's Kitchen as Daredevil. Things may change if a Marvel writer or editor has a different idea for the character, but until then she is the Woman Without Fear.
Are Elektra and Daredevil still married?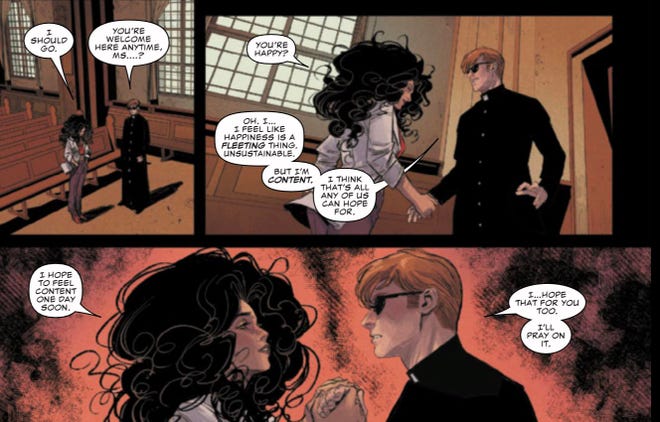 Matt Murdock and Elektra Natchios are probably not married anymore – depending on how you look at it. In Daredevil #4 (2022) Matt and Elektra tied the knot in a strange ceremony that involved battling undead members of the Hand. This was part of a ritual to make them king and queen of the Fist.
While Matt and Elektra referred to one another as husband and wife, they never filed any paperwork. However, they were considered married as dictated by the laws of the Fist. In other words, their marriage isn't legally recognized anywhere else. Since the Fist no longer exists, this probably means their partnership as King and Queen of the Fist is dissolved.
Of course, Matt and Elektra might still view the ceremony as binding. It's also possible that the Fist lives on. These ancient martial arts societies have a habit of waiting in the shadows while they bide their time. If that's the case, then Matt and Elektra are still married. It really all depends on how you look at it.
Whether they're married or not, Elektra seems content to let Matt live his new life for now.
What's next for Daredevil?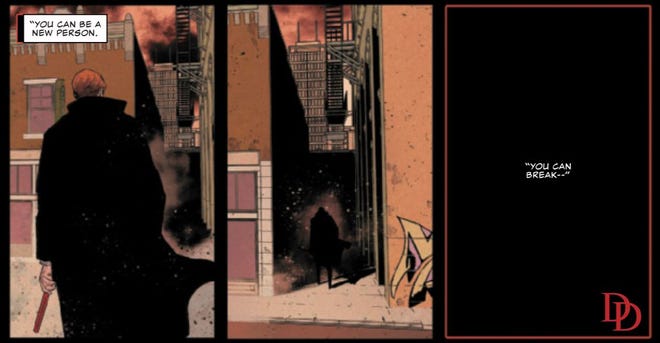 Daredevil will return in a new volume next month. The new run will be written by Saladin Ahmed and illustrated by Aaron Kuder. The first issue will be available on September 13. Will the new series star Matt, Elektra, or both? Judging from the preview artwork, it looks like it will continue to feature both vigilantes.
The solicitation reads, "Elektra is still working as the Daredevil of Hell's Kitchen in Matt Murdock's absence, but while she would like to let Matt Murdock embrace his new reborn life, she can't help but admit that he may need to return to be Daredevil to face this new threat that was created by Matt's rebirth."
Ahmed teased his run during an appearance on the podcast This Week in Marvel. "I wanted to only take this job on if I felt like I had a new, unique take on Matt and on Hell's Kitchen. And so that's at the center of this… him and his world, but it's the Marvel Universe. What I've really enjoyed in talking with other editors, other offices, is finding ways through these first couple of arcs we have planned to keep this centered on Matt, keep this centered on his people, in his world, but to bring (in a very organic and surprising fun way) some familiar Marvel figures that I think are going to blow people's mind when they pop up on the page!"
What's next for Chip Zdarsky?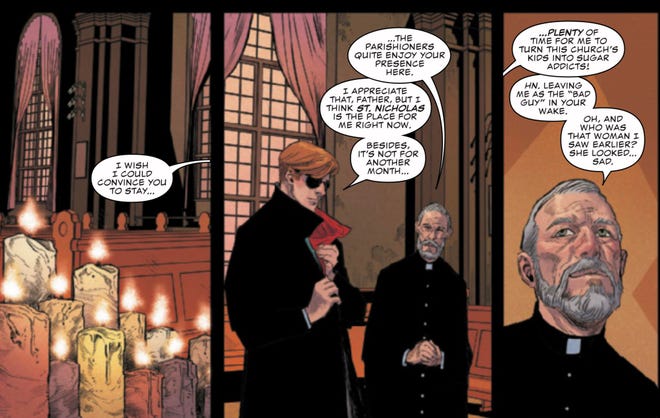 Chip Zdarsky's Daredevil run may have come to an end, but the writer plans to stay busy. If you enjoy reading Zdarsky stories about a gritty vigilante operating in a corrupt metropolitan city, then you're in luck. Zdarsky is still writing Batman over at DC Comics. He's currently gearing up for Gotham War, an upcoming crossover storyline which will feature a gang war between Batman and Catwoman. Zdarsky is also developing new comics for Substack, including the Eisner Award winning series Public Domain.
The letters page in Daredevil #14 features a goodbye message from Zdarsky. As he said goodbye to Matt Murdock, Zdarsky gave credit to his longtime collaborator Marco Checchetto. "The power in his work, the beauty, is evident on every page. His designs are instantly iconic; his characters poses are the coolest things you've ever seen. To say it's been a pleasure working on this with him all of these years is an understatement. Marco is simply the best, and I'm so incredibly glad that the world has seen this fact over and over again on our pages. This run would've ended years ago if it wasn't for him."
Zdarsky also plans to enjoy reading Daredevil's next adventure. According to his farewell message. Zdarsky is excited about returning to the experience of being a monthly Daredevil reader. "I've been reading Daredevil consistently since the mid-'80s, and this four-year gap is the longest I've gone without reading a new Daredevil issue…because I was the one writing it. It's a strange problem to have that affects literally one person in the world at any given time, but I'm so looking forward to being a reader again of the best book on the stands."
"Saladin and Aaron are cooking up some amazing comics, and I can't wait to dig in as a fan. I used to write Daredevil. And now I get to read Daredevil again. That's a pretty good trade-off," Zdarsky said.
---
Daredevil #14 is written by Chip Zdarsky and penciled by Marco Checchetto.
---
Is Rafael Grampá the next Frank Miller? The Batman artist/writer responds to fan comments