Iconic Sandman artist Dave McKean delves into the world of AI art
"It's a disruption and recalibration of our fundamental definition of art and of creativity."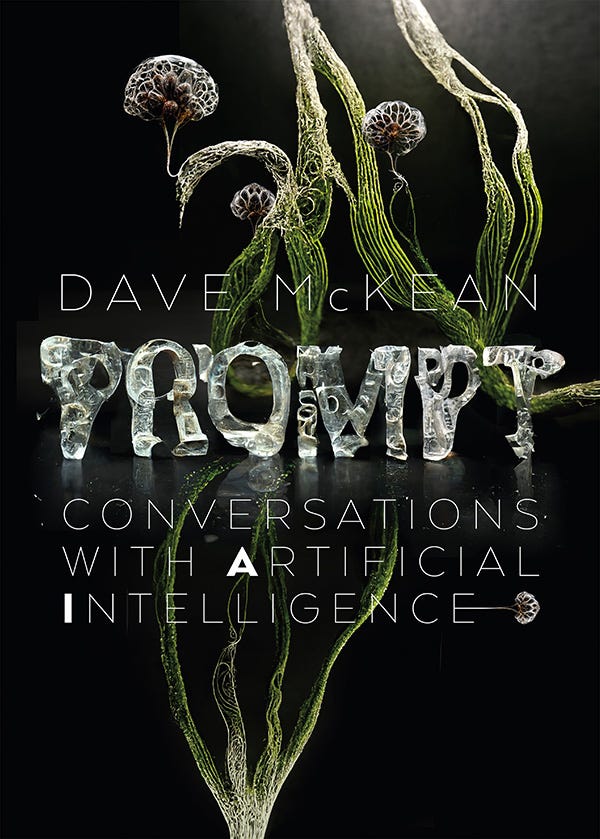 Dave McKean — the artist best known for the much-beloved Sandman covers of the 1980s and '90s, in addition to heaps of graphic novels, countless album covers, cookbooks, meditations, scores of music, and a brand new book called Thalamus — has had his sights set on a particularly hot topic: AI art… and more specifically, how he can converse with AI art.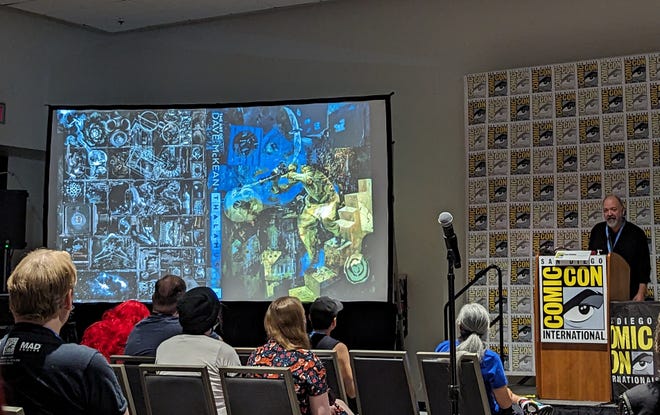 "I started to see these images online that I didn't understand, so I looked into them and it turns out they were pieces of AI art," explained McKean, introducing the topic during his San Diego Comic Con From DC to AI panel this year. "So after spending about a day on the floor of my studio in the fetal position at this realization, I decided to play around with some of the bots so that I could get my head around it and try to better understand what it was."
McKean's approach to art is distinctive and multi-faceted, often combining several different kinds of media to make intricately textured and beautifully abstract images. So when someone of his caliber — and of his inventiveness — finds a new tool, it only makes sense that he'd take the time to understand it as a potential new tool for use, rather than writing it off immediately.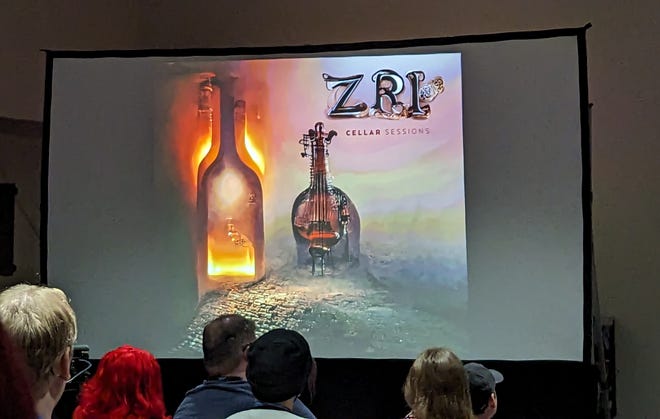 "I had an album cover I had to do for a friend, so I decided to type in five words as prompts. This is the result," said McKean, displaying the result on the screen for everyone in the room to see. "I ran to my friend who studies AI technology and said 'Look at this! Look at this thing that I did!' But all she said was that it probably went online and found my work. The thing was, I hadn't used my name."
McKean liked what the AI had created enough to use it as the basis for the finished piece. "I messed about with it and finished the cover, but I also decided that with AI able to do this, I either needed to respond to it or I needed to quit," he reasoned. "And I make books… so I made a book that's a conversation with AI. Partly to understand it, partly to see what its strengths and weaknesses are; partly to work out where it goes and how I fit in with it, partly to see its pitfalls and mine."
McKean then walked the audience briefly through the three chapters of his book Prompt: Conversations with AI, each of which acted as a different "conversation" with (or response to) AI prompts — almost a collaboration between the ideas and bombastic imagination of McKean and the warped eyes of the bots.
"The second chapter is one of my favorites because I fed the bots from my local newspaper headlines. I wanted to see how AI sees us — almost a Black Mirror replication of how it sees our world," McKean said, displaying an image seemingly of a Union Jack and several warped faces of politicians. "The words I entered here were something about the Labour Party being the Party of British Values. And as you can see it's combined the red of the Labour Party flag with the red of the Union Jack, and has wrapped these people – these politicians — in that flag; which is its own saying when someone is supremely patriotic: being wrapped in the flag. I really enjoyed this because it's almost like the AI came up with its own joke."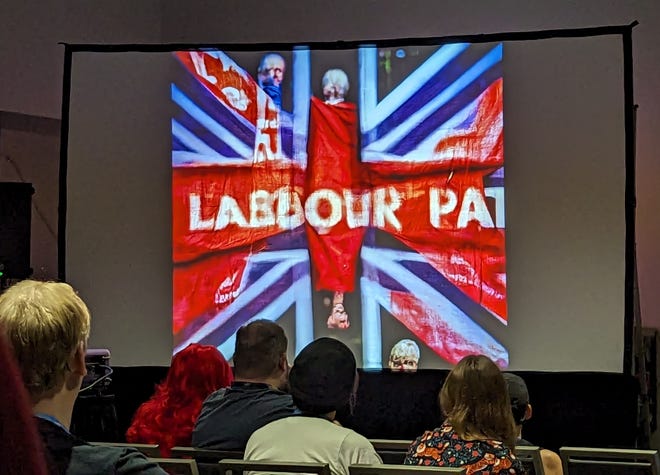 The process of making Prompt has been both instructive and therapeutic, McKean told the audience. "I had to take my anxiety about this new technology and work out what was going on," he revealed. "I took photos on my walks and asked questions into my recorder on my iPhone and I fed it to AI bots. I fed them through other AI bots which apply the texture of a painting. It was fascinating and terrifying. I wanted to see if I could fold this wonderfully, horrifying powerful tool into my practice and I've come out only conflicted. It's a disruption and recalibration of our fundamental definition of art and of creativity. Ultimately, I've come around to feeling that AI is here to stay, and perhaps it can produce things that are interesting, but when it begins interfering with our lives, I am still extremely against it."
---
Sandman: Dead Boy Detectives writer talks about his secret origin with the franchise