Marvel has a righteously glorious homage to David Bowie – and he wants to sell you comics
Inside the glorious David Bowie-esque Marvel character Mr. Threadneedle
Mr. Threadneedle plays for time.
On Christmas Eve 1968, Apollo 8 became the first manned mission to orbit the moon and return, and man's first journey around the moon was captured by the 'Earthrise' photograph taken by NASA astronaut Bill Anders, considered one of the most influential environmental photographs of all time. It was also a journey that captured David Bowie's imagination, and gave the world, 'Space Oddity.'
For here
Am I sitting in a tin can
Far above the world
Planet Earth is blue
And there's nothing I can do
When embarking on his new journey, Bowie "turned off the century's timeline, and set off on his own," creating a science fiction world that only gave humanity five years to live. In a few (very catchy) words, the musical icon rejected the science's supremacy, and instead noted that space travel presented humanity with a new challenge: "If the individual demands the choice to determine his own future, what then is the relationship between the individual and society?"
Freak out in a Moonage Daydream: Who is Marvel Comics' Threadneedle?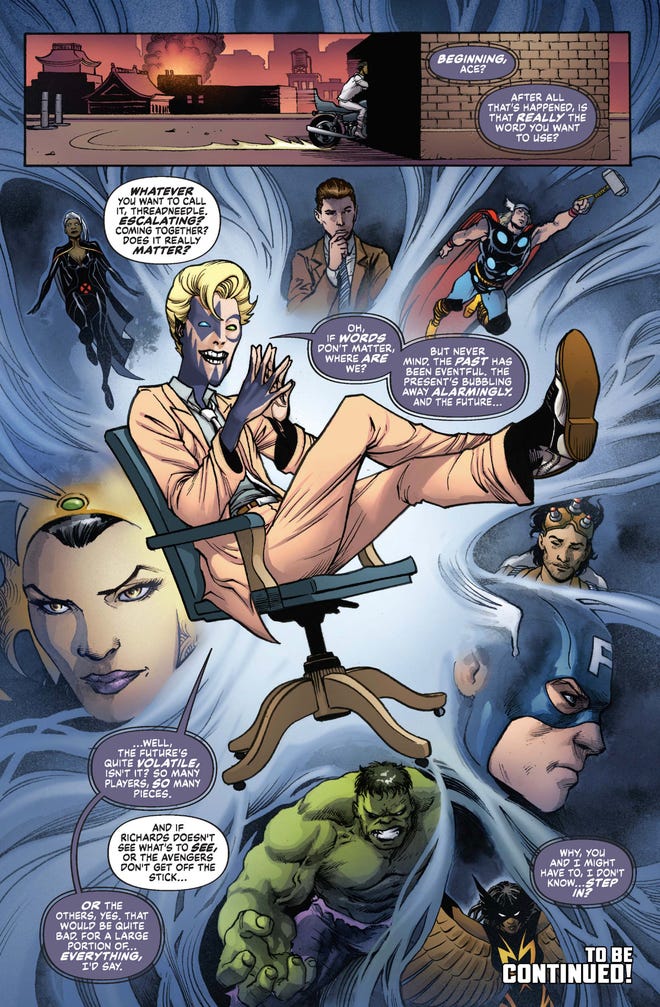 Mr. Threadneedle, whose ice-blue suit is inspired by Freddie Burretti's design for the 'Life on Mars?' music video, was first mentioned in the History of the Marvel Universe #6 by Mark Waid, Javier Rodríguez, Álvaro López, and Joe Caramagna (although Mr. Threadneedle's name only appeared on a single splash page). Designed by Alex Ross and brought to life by Yildiray Cinar, the character has a bolt of lightning across their face that is reminiscent of the cover portrait from Bowie's sixth studio album, 'Aladdin Sane,' released on April 13, 1973. It's one of the most iconic images of all time. Bowie's flaming red mullet, fuchsia makeup, and vivid red and blue lightning bolt across the singer's face are the perfect contrast against his translucent skin. As usual, the Starman appeared androgynous and otherworldly, the perfect inspiration for a nonbinary character with the power to cast flames that show them what's happening somewhere (and somewhen) else.
Appearing again in the The Marvels #1 by Kurt Busiek, Yildiray Cinar, Richard Isanove, and Simon Bowland, Threadneedle pontificates on the importance of words and declares that Marvel Universe's future is quite volatile with so many players and pieces at work. Editor Tom Brevoort states in the issue's address to readers that the idea behind the series is giving its creators complete creative freedom, meaning the series can use anyone from Marvel's massive character vault and anything from Marvel's history to craft a tale that pulls from story threads across the universe (hint: the meta character is basically a stand-in for the whims of Marvel creators).
Not much is known about Threadneedle, not even their gender.
"Threadneedle himself is a mysterious man—if 'man' is even the right term for him," Busiek told ComicBook. Instead, like Bowie who was known for the way he played with his gender with inventive style and otherworldly characters (like Ziggy Stardust), Threadneedle is described as "outright weird and cosmic" and responsible for ushering in a "bigger, stranger, deeper world."
But at some point, Threadneedle met Ace, and together they watch important events unfold from another dimension. Threadneedle and their occult-obsessed partner Ace observe Marvel's heroes from another dimension and help guide the heroes along the path of their choosing, even if that takes meddling with the story's outcome. The Marvels #5 opens with Threadneedle keeping track of the comic's events by reading a storybook about Aero, whose hand going all Evil Dead. But when the recently introduced Dome appears to help the possessed hero, Threadneedle tries to meddle with the outcome by playing on their harp to change the story's course.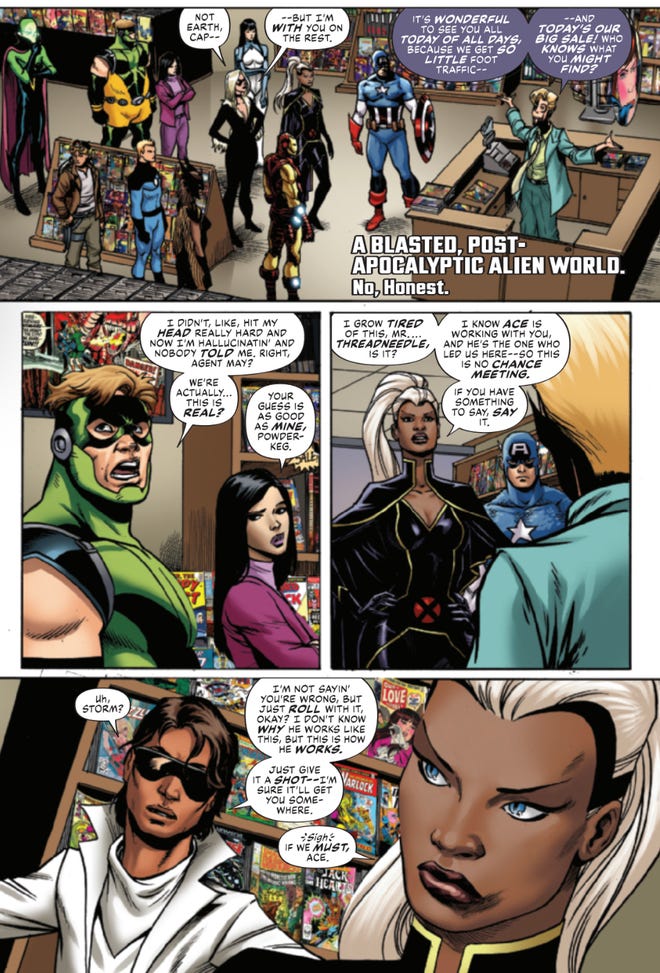 But music isn't the only way that Threadneedle can ch-ch-change the world (turn and face the strain). Threadneedle seems to have other powers of manipulation that allow them to rearrange Marvel's chessboard, a comic shop (clearly, they don't need to be a richer man). In The Marvels #11, Marvel's heroes are transported to a post-apocalyptic alien world that looks a heck of a lot like a comic shop. Except Threadneedle's comic shop only carries one issue, Marvel Mystery Comics: The Woman Who Was the World, containing a Bill Everett Namor story that is not in the omnibus. But more importantly, it contains unknown Marvel history that, at least in theory, can teach the heroes how to save the world (well, if they can scrounge up enough cash).
The Man Who Sold the World: David Bowie in Comics
The enigmatic Bowie often serves as a lightning rod for the theoretical concerns of a time. So, Threadneedle isn't the first character to be inspired by Bowie, although they may be the only character inspired by the eclectic literature that influenced Bowie's work and never-ending reinvention of himself. Michael Fassbender based his Prometheus android character on Bowie, who sometimes described himself as more cyborg than human.
Under the influence of America, Bowie killed Ziggy Stardust. "Some time ago, in 1972, when [David Bowie] was still Ziggy Stardust, he wrote another album called Aladdin Sane," said Bowie playing Bowie, who was playing someone else. "There was a point in '73 where I knew it was all over," Bowie said on another occasion. "I didn't want to be trapped in this Ziggy character all my life. And I guess what I was doing on Aladdin Sane, I was trying to move into the next area – but using a rather pale imitation of Ziggy as a secondary device. In my mind, it was Ziggy Goes to Washington: Ziggy under the influence of America."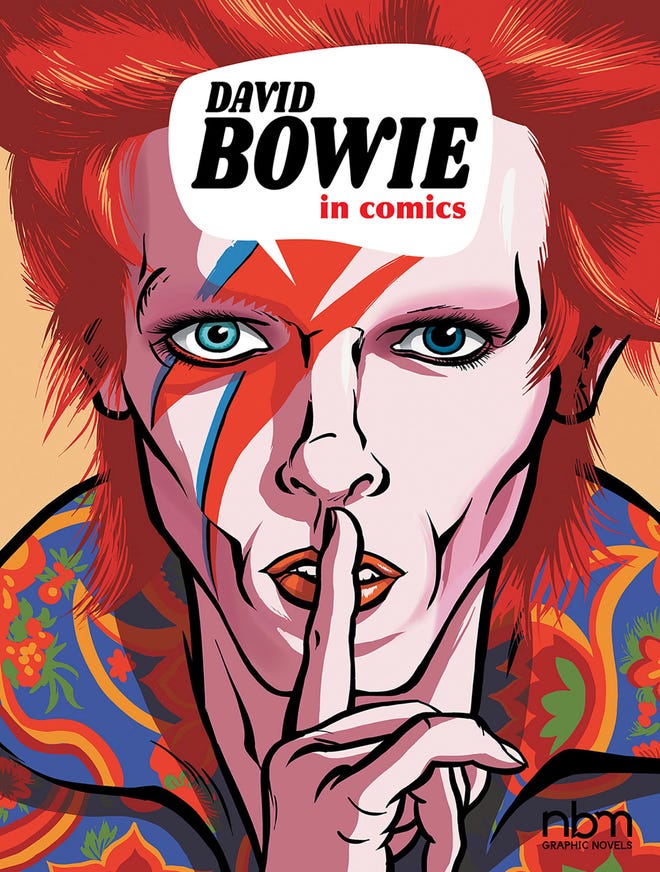 Since Bowie's actual death in 2016, there have been several comics published about his career. Bowie: Stardust, Rayguns & Moonage Dreams by Michael Allred, Laura Allred, and Steve Horton is filled with visual allusions to the artist's many characters. Introduction writer Neil Gaiman describes the graphic novel as "Bowie's life as parables." It's a beautifully researched graphic novel if you aren't familiar with Bowie's history (or even if you are) and wish to learn more about the icon that inspired Threadneedle.
To learn more about Bowie and his influence on the comics community, there is also 2020's David Bowie in Comics, which includes contributions from many creators and chronicles the story of the icon's life. Perhaps, it is inevitable that Bowie would inspire creators long past his death. Not only is he one of the most renowned bisexual icons, but he also insisted that gender didn't have to fit in a neat box.