Batman and Superman: Battle of the Super Sons has very little to offer anyone outside of its target audience
Batman and Superman: Battle of the Super Sons went over well at its premiere at NYCC, but was often slow and predictable
I'm a DC Comics guy, but I never got much into DC's glut of direct-to-video (including DVD, Blu-Ray, etc) animated offerings. A whopping 47 of these 'DC Universe Animated Original Movies' (DCUAOM) have been released since 2007, many of which are more-or-less direct adaptations of existing comic book storylines. And therein lies the problem: despite the care with which these films are made, with impressive animation and strong voice acting, my overwhelming reaction most of the time is 'I'd rather just read the comic.' Where's the fun in an adaptation that's so faithful that it offers few surprises? So it was with some skepticism that I approached the world premiere of Batman and Superman: Battle of the Super Sons on Friday afternoon at New York Comic Con 2022.
Despite my reservations about the DCUAOM formula, Battle of the Super Sons did offer a few interesting talking points. First of all, it's the first one to be fully computer animated, although the art style is such that the character models still resemble traditional 2-D figures. If you've ever played a 'cel-shaded' video game, you may know what I'm talking about. It has some cool moments, but it doesn't have the timeless appeal of the kind of hand-drawn animation that DC has excelled at since Batman: The Animated Series in the early 1990s.
Perhaps most notably, Battle of the Super-Sons presents the first onscreen representation of the Jonathan Kent/Damian Wayne Super Sons concept as created by writer Peter J. Tomasi and artist Jorge Jimenez in 2017 (as individual characters, Jonathan Kent was created by Dan Jurgens in 2015, while Damian Wayne was created by Grant Morrison and Andy Kubert in 2006). Superman and Batman's respective sons have both been seen in non-comics media before, but as far as I can tell, this is the first time we've seen them team up outside of a comic book as the titular Super Sons.
It should also be noted that Battle of the Super Sons does not take the pains that previous DCUAOMs have to faithfully adapt specific comic book arcs, a la Batman: Year One or Superman: Red Son. It loosely captures the broad strokes of 'When I Grow Up,' the first arc of Tomasi and Jimenez's run, which mostly just serves as a basis for Jon and Damian transforming their rivalry into friendship. The spirit of that series is mostly intact, though, with an art style that slightly recalls the youthful exuberance of Jimenez's art style and a lighthearted tone that the producers compared to the 80's adventure movies of their youth.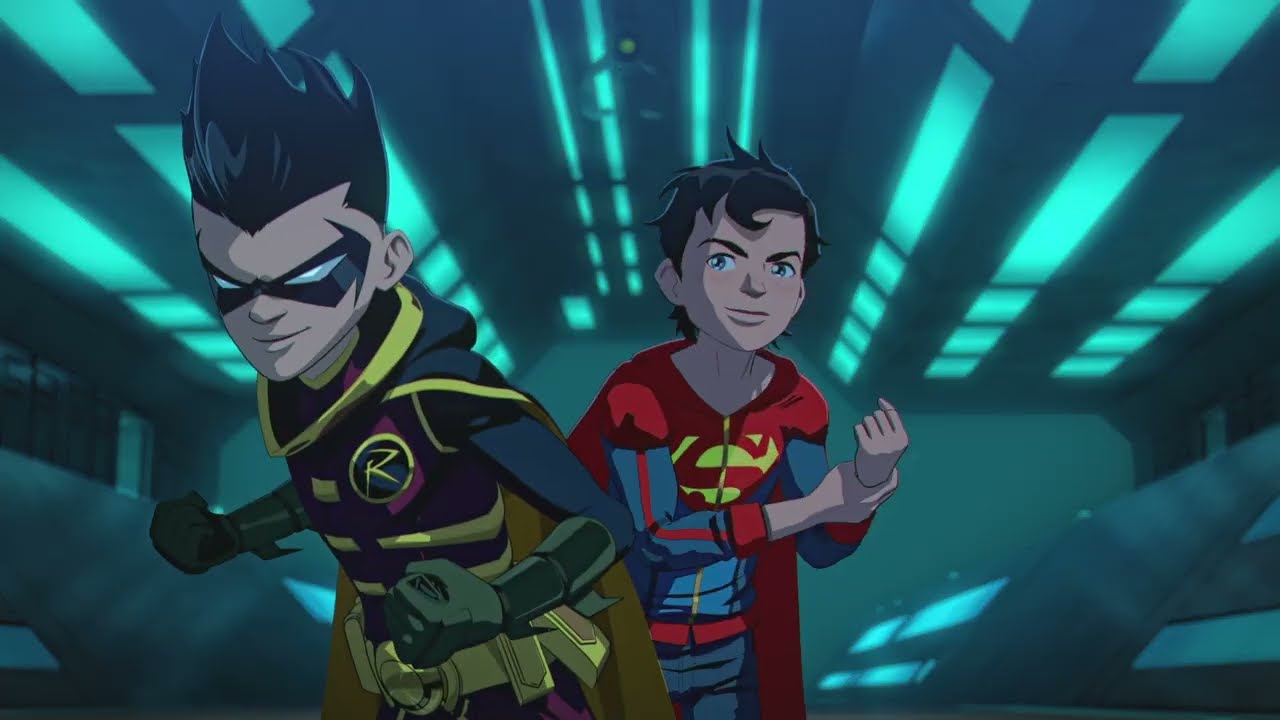 Unfortunately, despite the level of care that was clearly put into this film, Super Sons has very little to offer anyone outside of its target audience. Battle of the Super Sons, like most DCUAOM films in my observation, seems to be made for the kind of DC fan who wants to feel like they know every nook and cranny of the DC Universe by watching cartoons and reading wiki pages, but for whatever reason, doesn't want to pick up an actual comic book. There's nothing necessarily wrong with that, and I can't fault the folks who make these films for sticking to that demographic. But for someone like me who does read comics, the empty feeling I get from watching a film like Battle of the Super Sons makes me think 'I'd rather just read those Tomasi/Jimenez Super Sons comics again.'
And for more mainstream audiences — the kind of people who might go to the movies to see the latest Batman or Superman film once every few years, but don't engage with DC fandom otherwise — Battle of the Super Sons has even less to offer. It's sweet and kind of pretty, sure, but it's also slow, often boring, and in terms of the overall plot structure, rather predictable. Some parts might be confusing for outsiders, too: I can buy that Lex Luthor has appeared in enough movies and TV shows that his antagonistic relationship with Superman doesn't require explanation, but I suspect many viewers would be puzzled to see him as President of the United States here.
Even though I was dozing off towards the end of Batman & Superman: Battle of the Super Sons, my underwhelmed response put me in the minority among the DC fans who showed up for the screening at NYCC. The Main Stage of the Javits Center was full of cheers and laughter, so even though I found the film neither exciting nor funny, I'm sure most people who'd bother to rent or buy the Blu-Ray or whatever would have a good time.
Batman & Superman: Battle of the Super Sons was not made for the tens (hundreds?) of millions of people who saw Robert Pattinson in The Batman earlier this year, or even the people planning on seeing The Rock as Black Adam later this year. It's for the kind of people who'd spend hours waiting on line at a con to be among the first to see a direct-to-video cartoon mere days before it becomes available in stores. If that's you, I sincerely hope you enjoy this movie, and I'm sure you will. As for me, I'd rather catch up on Jon Kent's latest comic book adventures.
---
What made the Riddler? The Batman's Paul Dano tells us in Riddler: Year One