Change in perspective: Why Nightwing is DC's most experimental comic
As Nightwing presents readers with a first-person perspective interlude, the title exemplifies what mainstream superhero comics can be
The creative team of Tom Taylor and Bruno Redondo have steadily been putting out one of DC's best ongoing series since 2021 with the monthly adventures of Nightwing. The title has not only captured the lighter, more hopeful undertones appearing across DC's main publishing line but also has Dick Grayson in a more prominent and impactful role in the wider DC Universe. But the exciting aspect of Nightwing lies more than just in its narrative implications, as Taylor and Redondo have infused the title with more unique storytelling techniques than one might anticipate from an ongoing superhero series from a mainstream publisher.
These big creative swings are on full display in Nightwing #105, which is told entirely from Dick's first-person perspective in a typical day in the life of the young superhero. Techniques like this not only keep Taylor and Redondo's run feeling fresh, exciting, and immersive, but they also gently subvert expectations as the creative team crafts one of the most thrilling books currently on the stands. Here is how Taylor and Redondo's Nightwing run has quietly reinvented Dick Grayson, both through narrative technique and the narrative itself, and how this has grown to reflect Nightwing's current place in the DCU.
A change in perspective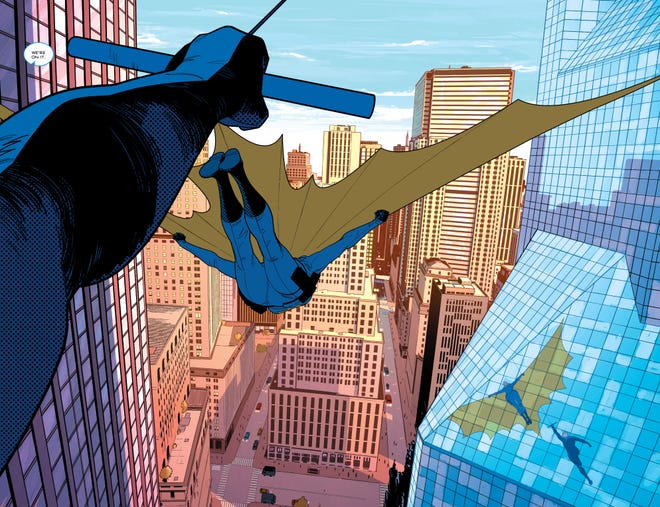 Following Dick Grayson from the moment he wakes up on a typical day of superhero derring-do around his adopted home of Bludhaven to the completion of another job well done, Nightwing #105 places readers directly in the fan-favorite hero's perspective. There is no narrative reason given for the one-issue shift to first-person, it simply plays out like any other adventure for Nightwing, just unfolding entirely from his field of vision. The creative team wisely keeps their narrative focus tight, focusing almost entirely on Dick in the midst of his superhero duties rather than expanding to Dick's personal and civilian life.
From swinging between the skyscrapers and over the rooftops of Bludhaven to evading sudden volleys of gunfire, this immediate storytelling technique plunges readers directly into the thick of it. To do so, Redondo is careful to keep the perspective and easy to follow, with the presentation never really coming off as disorienting in Nightwing #105's unique approach to superhero action. He also plays with reflective surfaces to remind readers of whose perspective they're following, providing glimpses of Nightwing's reflection while keeping the story itself moving briskly along.
A one-take action sequence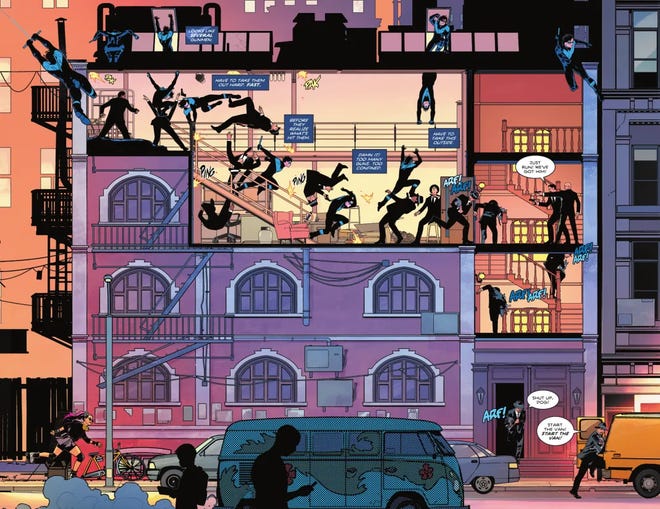 Nightwing #105 is not the first time Taylor and Redondo have played with visual presentation to mix things up during their acclaimed run on the title. 2021's Nightwing #87 sees the issue play out like a continuous action sequence following another day in the life story for Dick Grayson. If readers took out each page and put them next to each other, the issue would resemble one massive comic book panel featuring Nightwing on an extended chase sequence as he's targeted by assassins throughout Bludhaven.
On the day of Nightwing #87's launch, Taylor shared in a social media post that he and Redondo had considered crafting a single take comic book issue before deciding Nightwing's naturally flowing movements made the technique an organic fit for the title. Like the later first-person issue, Nightwing #87 is primarily an action-driven issue, with exposition kept to minimum to suit the presentation. And in both cases, the shift in perspective works, offering a drastic change in technique that mainstream comic books rarely take, usually opting to play it safe – one could argue, perhaps too often.
Rethinking what Nightwing can be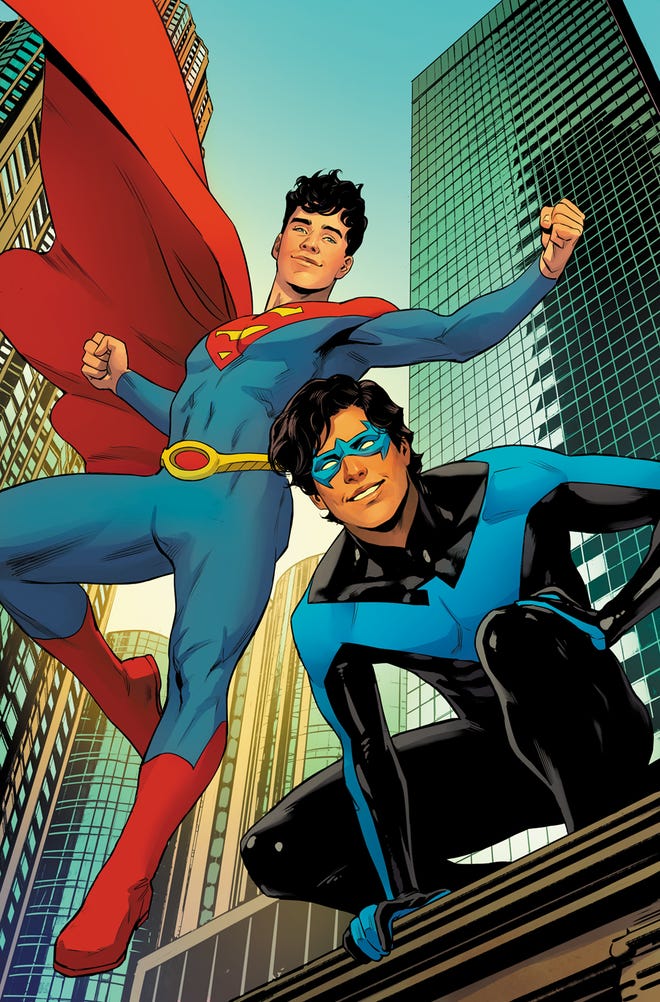 As the original Robin and co-founding member of the Teen Titans, Nightwing remains a steady presence in the Batman mythos. There are two issues that have plagued the character's solo title in the past, with the first being a tendency to overly rely on his connection to the Bat-Family, denying Dick the chance to strike out on his own as he had when he ditched the Robin mantle in the first place. The second issue plaguing Nightwing has been past portrayals of the character as being as dark and angst-ridden as his mentor, making him feel like Batman-Lite.
Nightwing works best as the breath of fresh air that Batman desperately needs, a superhero not burdened by his childhood tragedy but rather overcoming it as a clear figure of hope in the Bat-Family. Beyond the shadow of Batman, Nightwing represents the idea of growth and a clear future for the DCU, the original sidekick having become his own superhero and leader within the wider superhero community. Taylor and Redondo have gotten those sensibilities clear from jump and infuse them throughout their Nightwing run.
Nightwing and the Dawn of DC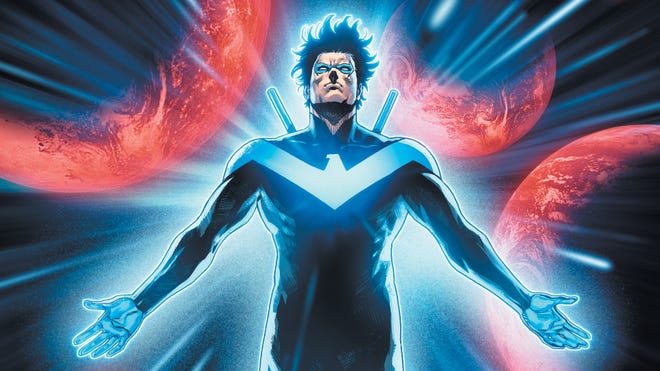 Nightwing's increased prominence across the DCU isn't isolated to his solo title or even the Bat-Family comic book titles currently being published. At the start of DC's Infinite Frontier publishing initiative launching in 2021, Nightwing took on a mentor role for the DCU's heroes younger heroes, from stepping up as the headmaster of Teen Titans Academy to helping Jon Kent follow in his father's footsteps as Superman following Kal-El's extended departure from Earth. With the Justice League presumed dead for much of the 2022 crossover event Dark Crisis on Infinite Earths by Joshua Williamson and Daniel Sampere, Nightwing took point as the DCU's leading figure, a role he largely maintained following the crossover's conclusion.
Nightwing's unfettered idealism and grounded, streetwise experience makes him a natural blend of Batman and Superman's legacies – even the Nightwing moniker comes from a Kryptonian origin. This synthesis signals a shift to brighter, more optimistic storytelling than DC had been putting out the past couple of years, while the kind of experimentation Taylor and Redondo bring to Nightwing's solo title underscores a willingness to take creative risks that hadn't really existed in the main publishing line before. Both in-universe and creatively behind-the-scenes, Nightwing is presenting a future full of possibilities, one led by a new generation instead of falling into old, predictable habits.
That Nightwing, of all of DC's ubiquitous icons, should lead this charge is something of an anomaly, as the character hasn't headlined his own movie or show, appearing only as part of a larger ensemble at best. And yet, this status makes Nightwing perfectly suited to take the bigger swings that more entrenched titles and characters would likely be more hard-pressed to make. Dick Grayson is ready for his close-up in the spotlight, and this time he's putting the readers directly in his shoes for the ride.
---
Nightwing #105 is written by Tom Taylor, illustrated by Bruno Redondo, colored by Adriano Lucas, and lettered by Wes Abbott. Next, Dick Grayson leaps into his worst nightmares in Knight Terrors: Nightwing #1, on sale July 18 from DC Comics.
---
DC's Man of Steel, 10 years later: a Superman film prettier (and better?) than you remember