DC Compact Comics: Warner Bros.' big bet on finding new readers by going small and into new markets beyond comic shops & bookstores
The DC Compact Comics line will include All-Star Superman, Watchmen, and Far Sector in its launch line-up
In a surprise announcement November 2, DC has unveiled DC Compact Comics: a new line of collected edition of some of its best-selling evergreen titles — including Watchmen, Batman: Hush, and Brian Azzarello and Lee Bermejo's Joker graphic novel — at a smaller trim size, and smaller price, than ever before.
Why? For new readers. How? Let's get into that.
How DC Compact Comics line is focused on new readers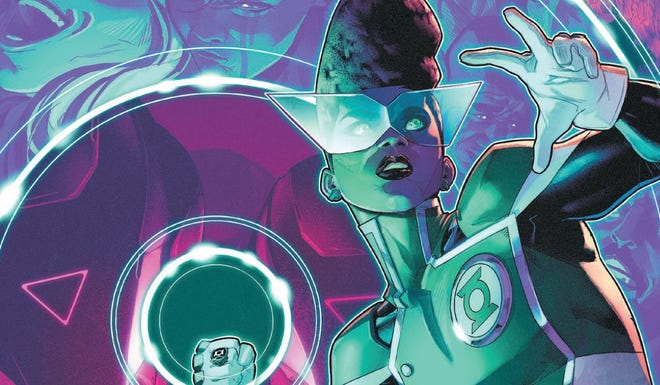 while comic book stores and bookstores are able and encouraged to buy it, Popverse understands that DC is aiming the DC Comipact Comics line at the broader audience through stores outside the traditional (comic) book stores such as big box stores and transit stores - i.e. those convenience stores you see at airports and train stations ( like we just did on the way to and from New York Comic Con and MCM Comic Con).
Further to that, DC is planning on getting these books out of the 'comic book/graphic novel' section and encouraging retailers to shelf them among the larger fiction genre sections such as Thriller, Mystery, Science Fiction, etc.
What will the DC Compact Comic books look like?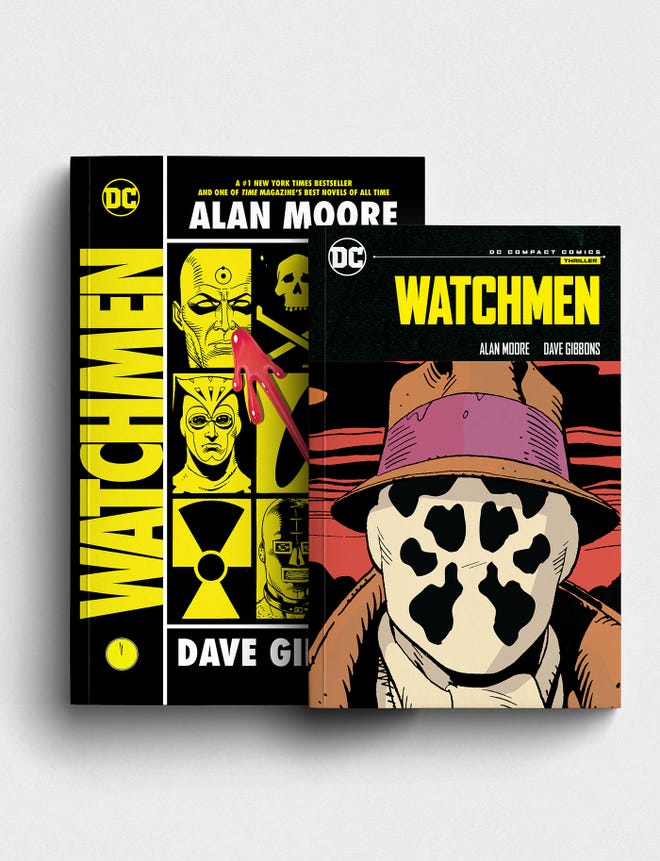 Like the comics you know, but smaller - more portable.
Trade dress for the line will emphasize not only a unified branding for the line, but the individual genres of each title, with an eye to emphasize their appeal to mainstream book buyers. This is, bluntly, DC's outreach to a new market altogether that isn't a pre-existing comic reading audience.
And from what we understand, quality control on the lettering to ensure its not just legible but good looking at this smaller size is a priority for DC.
What is the size of the DC Compact Comics books?
The DC Compact Comics price and sizing is perfect for readers of prose and manga looking to pick up a new-reader-friendly storyline in a self-contained full color graphic novel," says DC's SVP & General Manager Anne DePies. "This 5.5" x 8.5" paper cut is the most widely circulated softcover book size in the US and is popular among graphic novel aficionados in international markets."
Note the comment about the size of these books being "popular among graphic novel aficionados in international markets" — the 5.5" x 8.5" sizing is comparable to U.S. manga size, which is 5" x 7.5". It's also the exact size of mainstream publishing trade paperbacks, which means that it'll be easier to store and display in bookstores or other outlets that carry books. Airport bookstores? Big box retailers? Welcome to your new favorite comic book format — something that will, ideally, introduce a whole new audience to DC's biggest and brightest.
The traditional comics trim is 6 5/8" x 10 3/16". Here's a size comparison between the existing All-Star Superman trade and the upcoming DC Compact Comics edition, for context: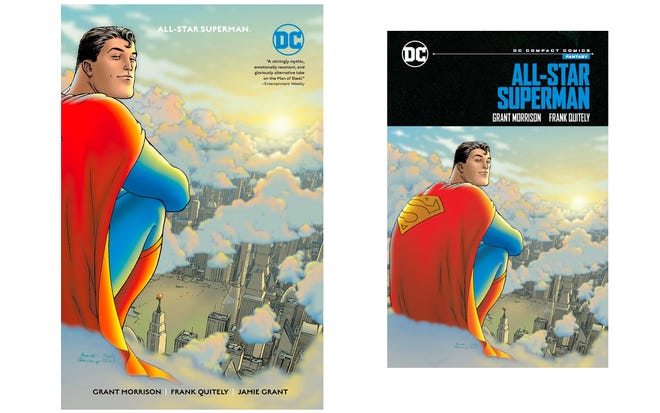 How much will the DC Compact Comics books cost?
The DC Compact Comics will be priced at $9.99 - which is competitive with those aforementioned manga volumes, while at the same time being in full color opposed to the mostly black-and-white of manga.
"At $9.99, it's a great price point for retailers to stock these classic titles," says DePies. "For readers, DC Compact Comics deliver a new graphic novel reading experience that fits in the palm of their hands, with no loss of readability."
When will the DC Compact Comics line be released?
DC plans to have these on shelves beginning in June 2024 at roughly two-per-month, beginning with Watchmen and Batman: The Court of Owls. Here's the schedule so far::
June 4, 2024: Watchmen by Alan Moore and Dave Gibbons
June 4, 2024: Batman: The Court of Owls by Scott Snyder and Greg Capullo
July 2, 2024: All-Star Superman by Grant Morrison and Frank Quitely
July 2, 2024: Far Sector by N.K. Jemisin and Jamal Campbell
August 4, 2024: Batman: Hush by Jeph Loeb and Jim Lee
August 4, 2024: Wonder Woman: Earth One by Grant Morrison and Yanick Paquette
And here are more confirmed to follow:
American Vampire: Book One by Scott Snyder, Stephen King, and Rafael Albuquerque
Joker by Brian Azzarello and Lee Bermejo
Harley Quinn & The Gotham City Sirens by Paul Dini, Peter Calloway, Tony Bedard, Guillem March, and Andres Guinaldo
Catwoman: Trail of the Catwoman by by Darwyn Cooke and Ed Brubaker
Feels like the ideal thing to have in stores ahead of the relaunch of DC's on-screen offerings under the auspices of James Gunn, doesn't it...? Expect more information about this line as it gets nearer to launch.
---
Want more? Here's our recommended best DC Comics stories of all time.