DC is sending 10,000 copies of DC Pride 2022 anthology to US libraries
With more 2022 Pride Month initiatives planned with Hot Topic, Funko, and more
DC is doubling down on its 2022 DC Pride anthology - not only will it be on-sale at comic shops, bookstores, and online on June 7, but they are also sending 10,000 complimentary copies to libraries across the US. DC is doing this in partnership with PFLAG National, the US's largest organization supporting LGBTQIA+ people and their allies.
In addition to that, DC is making the DC Pride 2022 anthology a free read for those who are subscribers to its DC Universe Infinite digital comics platform.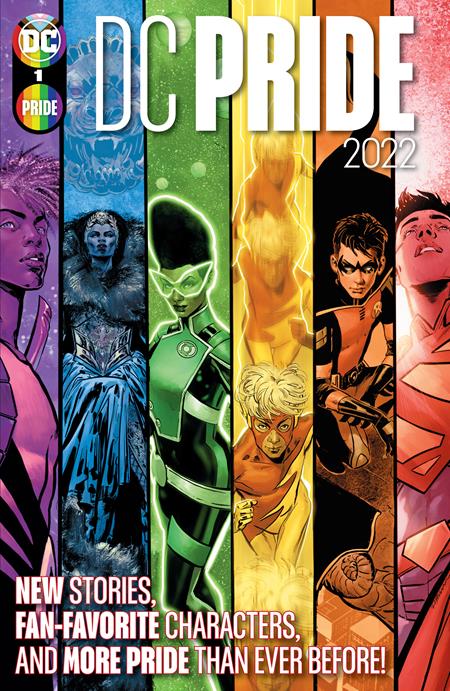 DC is also offering four Pride 2022 t-shirts, including a romantic Poison Ivy/Harley Quinn kiss drawn by Jen Bartel, on DC Shop. This is in addition to DC Pride-themed shirts for Harley Quinn, Poison Ivy, Midnighter, Apollo, Batwoman Kate Kane, Dreamer, Renee Montoya, Green Lantern Alan Scott and Kid Quick available now at Hot Topic.
Funko is getting in on the action with rainbow editions of Harley Quinn, Poison Ivy, and Robin that will be available at Walmart and collectible stories as part of their 'Pops! with Purpose' initiative. DC has relayed that Funko has also made an unspecified donation to the It Gets Better Project, an organization that helps support LGBTQIA+ youth.
What is DC Pride 2022?
For the past few years, DC has organized comics projects every June celebrating Pride month. This year's key offering is an extra-large anthology titled DC Pride 2022 which features 13 all-new stories about LGBTQIA+ DC characters such as Superman (Jon Kent), Nubia, Tim Drake, Kid Quick, Aquaman (Jackson Hyde), Green Lantern (Jo Mullein), Alysia Yeoh, the Ray, Harley Quinn, Poison Ivy, and Batwoman. This year's anthology includes work by Nicole Mains, P. Craig Russell, Devin Grayson, Stephanie Williams, Nick Robles, Brittany Williams, Alyssa Wong, Travis G. Moore, and more.
---
Like DC? You'll love our recommended best DC Comics stories of all time.