Moon Knight artist Declan Shalvey is showing off the bones of his latest project, Old Dog
Old Dog, New Trick: Declan Shalvey is sharing the behind-the-scenes of his latest creator-owned project
Sometimes you want the story. But sometimes you also want the story behind the story.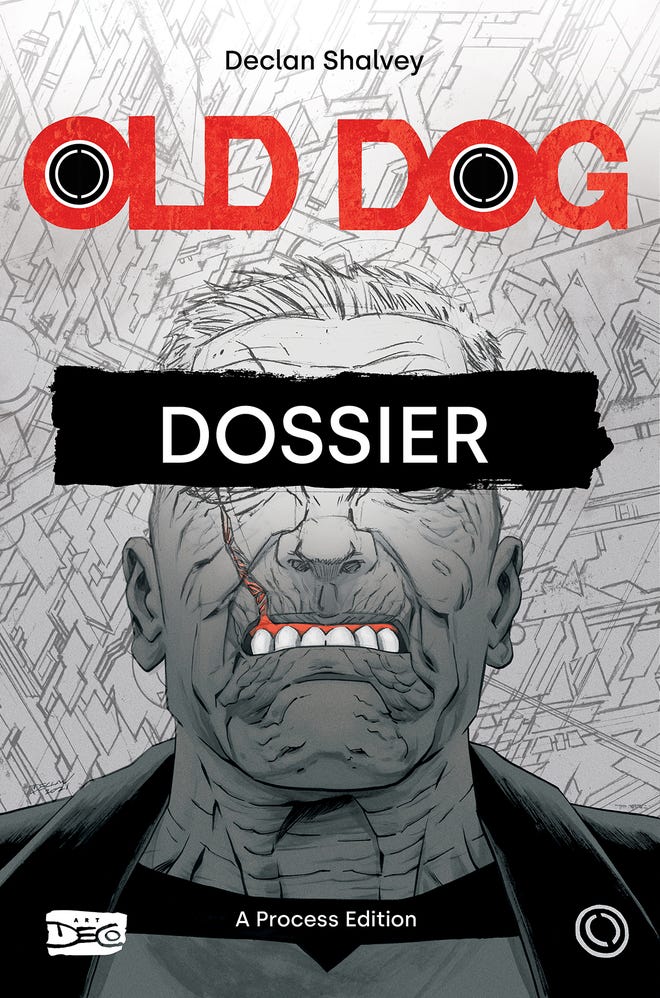 Artist/writer Declan Shalvey is preparing to give you that for his recent spy-fi creator-owned series Old Dog. With the first six issues on stands and a collected edition, Old Dog [Redact One] Book 1 due out in mid-September, the story is there for people who want to read it. But for those of us who have read it, Dec (as he's called by his friends) is sharing the behind-the-scenes on the dogged ambition he had in making Old Dog.
"After all the experience I've gained in my comics career, I do feel I'm at the top of my game, creatively," Shalvey tells Popverse. "Moving from artist, to writing, colouring and even designing, Old Dog has been an amazing repository to focus all that experience into a singular project."
This behind-the-scenes book is Old Dog Process Edition, a 'dossier' version of the book containing the full script to the first issue, along with early versions of pages from the book at the pencil and inked stages. Shalvey is including the complete layouts for Old Dog #1 - 6, as well as annoations to go along with the book. It will be rounded out with an interview with Shalvey by SKTCHD's David Harper.
Here's a preview:
"I love making comics, especially what goes into making them and I think there's an audience of process nerds like myself that will enjoy reading about making the book as well as fans of the book who want to learn more about it," says the creator.
Shalvey is taking pre-orders for Old Dog Process Edition via Kickstarter beginning now and running through September 25, with a plan to publish the book later this year.