Devaki Neogi on finding comics as a kid, her favorite podcasts, and what's next
Devaki Neogi chats all about how she built her career, what she's learned from comics, and what kind of work she wants to do next
Like many comics creators, Devaki Neogi was drawn to comics at a very young age. Fueled by that passion, she would eventually pursue a career in the medium working initially on books in her native India, then providing illustrations on series from western publishers. Audiences might be familiar with her interiors and covers in series from BOOM! Studios, Archie Comics, Black Mask, and DC Comics.
There was a time where Neogi almost went into a different field. In her late teens, Neogi went to university for apparel/fashion design. However, she didn't find that path sustainable and since she didn't connect with the industry, the artist couldn't envision spending her life in the field. Lucky for us, she chose comics instead.
As part of a weekly interview series called 'Popverse Profiles' spotlighting writers, artists, and creators that you should know about, we spoke with Neogi about her art, her career, and herself. Let's learn more about the talented creator and her journey so far.
Popverse: Devaki, you began your professional career as an artist but in a different area than comics. You have stated before that part of the reason you made the switch was because you found your previous job less meaningful the longer you were there. What did you find that comics provided you that was lacking before?
Devaki Neogi: It would be worth mentioning that my initiation into comics was in early childhood, from around 7. And my initiation to my first solo anatomy drawing was from comics, self-taught.
I spent very, very long hours without any interest in any other aspect of life [laughs] learning every part of drawing anything at all from comics and not from real life. Because I was very, very drawn to the medium letting me escape and dream.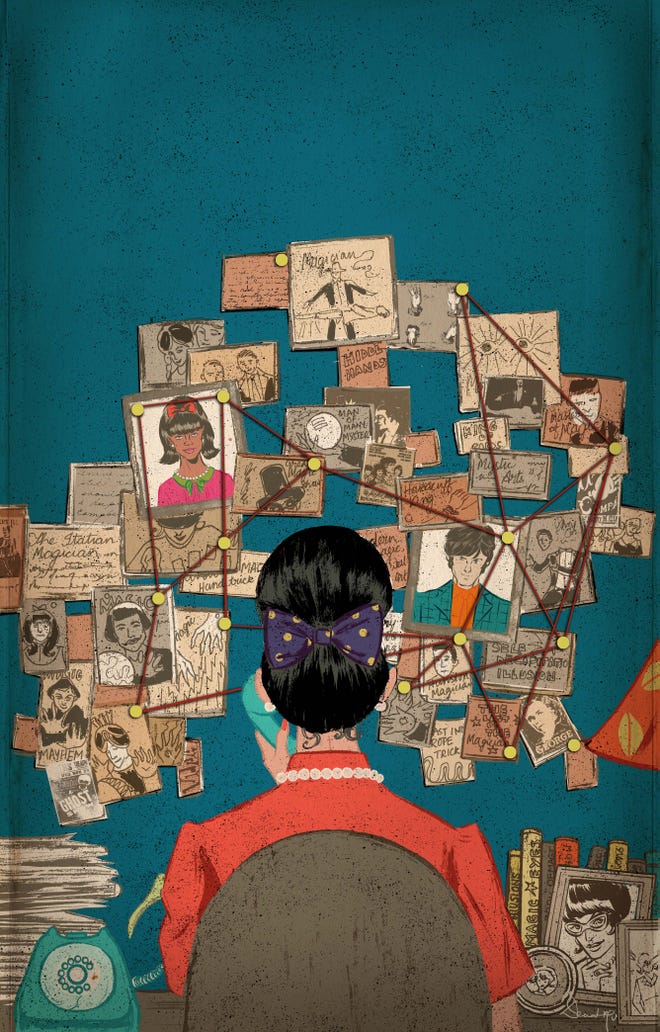 I had the talent and nurtured it throughout my life. I loved drawing. I love illustrated narratives and storytelling but prefer the uplifting ones that spark imagination and an alternate world. The freedom to express where I could draw while telling a story was the single factor that drew me to comics.
Comics has a unique[ness] in its process and pacing. First, it brings up multiple and complex skills to the front and back to put the art with the story (since I am never the writer). Every new comic book project allows me room and brings up the need to improve, which keeps me going.
I like drawing within the panel rather than the whole canvas. Nothing else is quite like how we build the art in comics; every comic is complete in itself and still engages you to move on to the next in a series.
You have a very distinct style that some would describe as edgy and punk. I really love the costuming and outfits you place on your characters in particular. It's understandable considering you have a background in fashion design. At one point in your career did you really feel you were coming into your own with regards to your aesthetic? Or are you still trying to get there and continuing to evolve and grow as an artist?
I continue to grow and evolve because I want to be flexible in my drawing style and create a broad range. I pick the energy of the story to guide me. My focus is storytelling, but I'm interested in elevating aspects of the character to align with its core personality. So, I'm naturally inclined to stylise the character. It might still allow me to have my personality in drawing style, allowing me to be as nuanced as possible.
Continuing with the punk comment, I was curious if you listen to music while drawing and if so, what kind and who are the singers and bands on your go-to playlists?
Oh, that's interesting. I don't think there's been any day I have gone without listening to a podcast or an audiobook. That's because I am drawn toward the narrative style rather than mood-altering music. I listen to Storytel, Graphic Policy, Feel Better Live More, Crime Junkie, Ten Percent Happier (a mix of Comics, Spiritual, Health/fitness and Crime/Mystery). But, when I am driving, it's the music that takes over, and that's very much Hip Hop, Rap, and sometimes Pop, Jazz; Dr Dre, Wiz Khalifa, J Cole, Drake. Also, Amy Winehouse, Harry Styles, Norah Jones.
It's been several years since Curb Stomp has been released, and since then, you've kept busy and have worked on other projects. How do you see yourself as an artist and professional in the comic industry? Do you feel like you've made it or do you consider yourself still "breaking in"?
It's a self, soul-searching answer, ha-ha! I think I made a good start and kept progressing. A significant part of being successful in comics is interacting with comic book fans and editors, publishers and people in and around the industry 'in person.' The connections I can build up at comic cons are not the same, and I presume, sitting miles apart and working remotely. I need to tap into that. Progressing also means a need for upgrading skills, and that's been in the works. So, to answer your question, I have arrived at a stage where I am confident to deliver the work that I want to; that I consider an achievement.
Though you've created comics in different genres, one common thread amongst most of your work is the presence of strong female personalities, or as you would describe, "pretty/gritty girls." Are these the types of stories and projects that you want to work on or is there something else you've been wanting to do?
I have done beyond gritty girls. I have done young adults and senior women as well, particularly Ruth Bader Ginsburg for DC Comics' Wonderful Women of the World Anthology written by Lilah Sturges.
But you are quite right, and I want to go beyond all of this - weird creatures, fantasy, evil characters, disproportionate body ones as a challenge to mold my style or adapt to any brief to bring it into life, as long as it is exciting and makes for a great read. Also, action-oriented themes including male superheroes– which I have, but has not got a release date yet.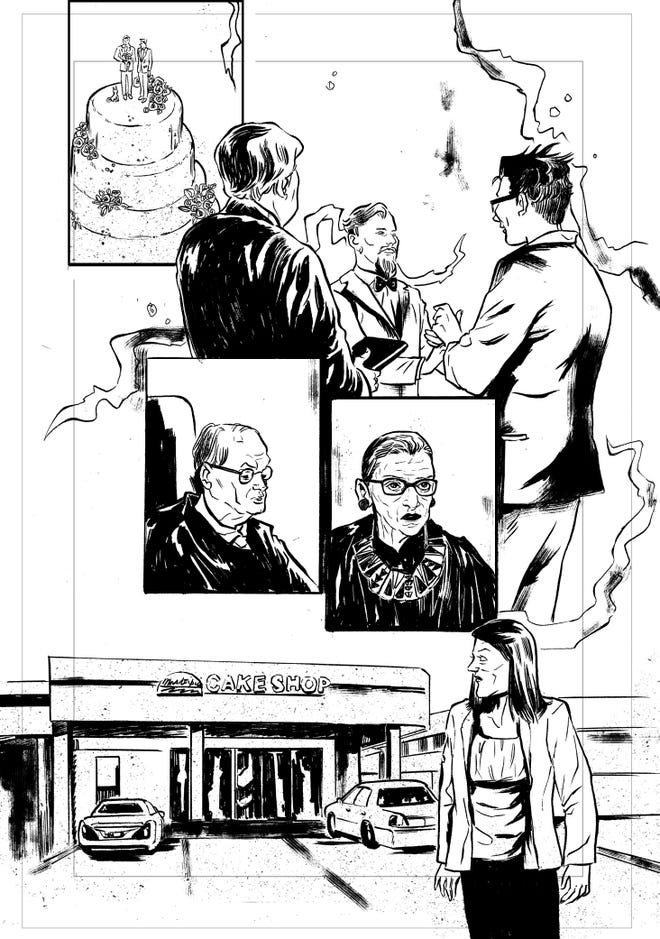 As a creator, you can see comics as a job, but it can be rewarding being part of a creative and collaborative environment. What has working in this industry taught you about yourself?
I have only worked remotely, and it limits you in your interaction. I have banked on my communication skills from my early days in the fashion industry and in my early days in illustration jobs before comics to learn the ropes. I learnt how important it is to be practical and express yourself in what you are deserving of or your right to have. Wording emails are critical, and not overdoing (read 'overthinking') is a big part of keeping on track and keeping stress at bay as much as possible.
It also taught me that deadlines, although stressful, bring out the optimum effort in me. I am trying to keep the deadlines as honest as possible with my editors, taking care of myself while learning to manage to avoid getting stressed out. It's been very rewarding to see myself grow emotionally and creatively to engage on a holistic level. Thank you for this question!
One of the things we hope to do with these profiles is to also showcase you outside of being an artist. Would you be able to share something personal that you feel would help your fans understand you better?
I think comics shaped me as a person. I come from a place with very little exposure to comic books and other cultures, but I wanted to make a living! There was nothing to support me in my dreams back then, and nobody either told me to do it, and I have done it all by myself with the confidence that I can do it well.
It's a hard job, and I picked it up when I was at a challenging place in my life. But that's what got me out of the deep troughs. I was born and live in India. And that makes me a POC in the industry in what is already a very niche area of work. I would not have it if it were easy, so I am looking forward to successfully making my way through this. And I want to keep making comics forever!
Can you share with us what projects you're currently working on or any titles that are coming on the horizon? I know you have a story that will be released soon featuring another hard rocking, rebellious lady.
I am currently illustrating concept art for an Indian TV series, besides a few pitches for comic books are upon the anvil. I am very excited about them. I also have a short horror-comic based on a novel for release in the Indian market.
And we can leave on this. Looking into the old crystal ball, where do you see yourself in five to ten years' time?
I would want to develop myself progressively into a fine artist storyteller. I wish to work for as many publishers as possible and collaborate with experienced creators. The goal is to create long-term assets that make this career sustainable over the years and profitable.