Dick Tracy is set to return to comic books in March 2024 from Mad Cave Studios
The new series will come from Alex Segura, Michael Moreci, and Geraldo Borges
It's been a number of years since iconic newspaper beat cop Dick Tracy was regularly published in comic book form — but thanks to indie publisher Mad Cave Studios and the Tribune Content Agency, that's going to change in early 2024. A new series, titled simply Dick Tracy, is — as Tracy himself would put it — on its way from the creative team of writers Alex Segura and Michael Moreci, artist Geraldo Borges, and creative consultant Chantelle Aimée Osman.
"This has been a long time coming, and we are all so excited to bring our grounded, noir take on the Dick Tracy mythos to life at Mad Cave," Segura said in a statement. "Michael and I have loved Dick Tracy, his stellar rogues gallery, and unforgettable supporting cast since we first became aware of the character as kids. It's been a winding road to not only get the rights to publish new stories starring the iconic detective, and I'm so thankful that my journey with Chantelle and Michael brought us to Mad Cave. The stuff Geraldo is cooking up perfectly evokes the grounded, cinematic vibe we're bringing to this origin story."
"Alex, Chantelle, and I have been pursuing Dick Tracy for many years, so to say this is a passion project, even that's an understatement," added Moreci. "We love this character, we love this world. And we're approaching it with great care—we don't want to make a new Dick Tracy; we just want to make a Dick Tracy that feels rich and layered, that feels suited to our times. We can't wait to share, with our great partners at Mad Cave, what we have in store."
Dick Tracy initially appeared in the Detroit Mirror newspaper all the way back in its October 4, 1931 edition. Created by Chester Gould as "Plainclothes Tracy," the strip gained popularity thanks to Gould's bold line work, exceedingly cartoony and outlandish villains — including the likes of the Blank, Flattop, Pruneface, and The Mole — and Tracy's no-nonsense demeanor. Gould would continue working on the strip through 1977, by which point the character had appeared on radio, in film serials, on television, and in comic books. The newspaper strip continues to this day, with collected editions available — and, of course, Warren Beatty's 1990s movie remains available to view, arguably the most high profile version of the character for many people.
The Dick Tracy comic book license has been held by Segura, Moreci, and Osman for some time; the character remains the property of Tribune Content Agency, formerly known as the Chicago Tribune Syndicate. In his own statement, VP and general manager at TCA Wayne Lown said, "We're proud to see Dick Tracy, an all-time classic of truth and justice, return to comic books through our partners at Mad Cave Studios. We look forward to daring new detective cases for this cultural icon, guided by their exceptional team of top-notch creators."
The new Dick Tracy #1 will debut March 2024. Keep your eyes out for more information about the new series in the coming months. For now, admire the amazing preview image from Borges: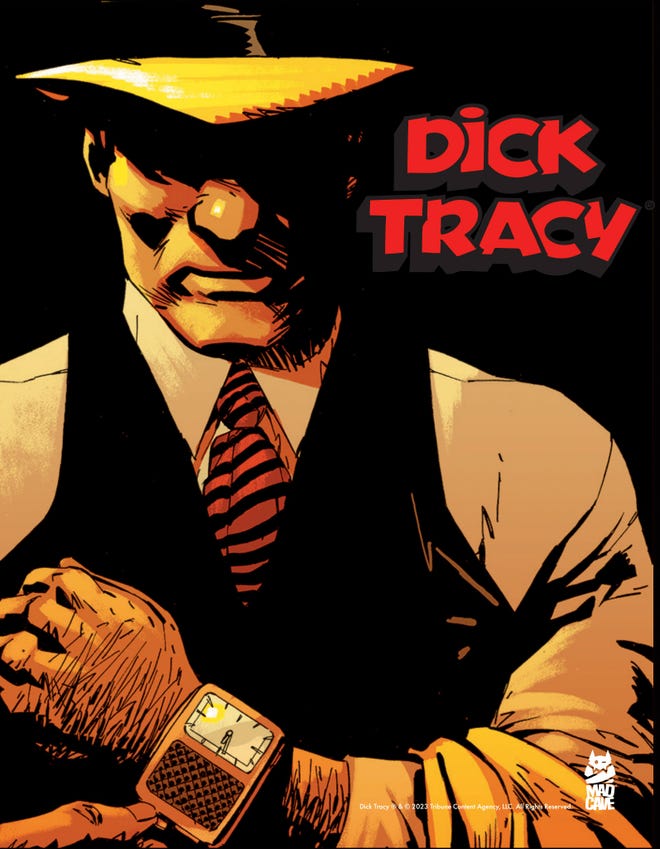 ---
Perhaps inspired by Tracy, DC has recently revived its own 1930s gumshoe, Slam Bradley.