Every Day: David Levithan and Dion MBD chat adaptation, color palettes, and book bans (with exclusive preview)
Take an early sneak peek into the pages of the new Every Day graphic novel
David Levithan's acclaimed YA novel Every Day made a big splash when it came out in 2012. Every Day follows a protagonist named A, a genderless person who wakes up in a different body every day and how their life of detachment changes when they fall in love. The novel recieved a film adaptation in 2018, and now, a new graphic novel adaptation. In anticipation of the book's publication on May 2nd, we took some time to ask David Levithan and artist Dion MBD about the project.
In this interview, the creators speak to the intricacies of adapting Levithan's original novel to graphic novel format, what it was like to showcase interiority on the comic page, and possible future adaptations of other stories in the Every Day series.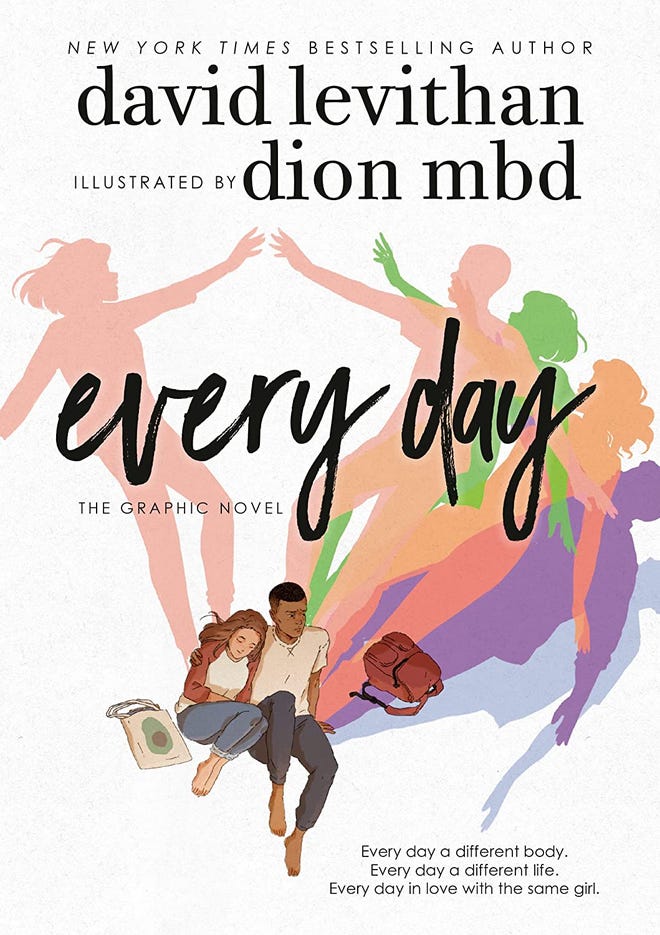 Popverse: David, the Every Day novel was published over ten years ago now. Has your relationship with the book changed over the last decade?
David Levithan: It absolutely has. First, the conversations I had with people about the book shaped how I thought of it -- I was fascinated that, even though A changes all aspects of their identity each day, mostly people wanted to talk about A's gender, and for many teens this was an introduction to the notion of a non-binary identity. Then I continued the story in two more books, which made me understand the original with a new perspective. Seeing the book adapted into a movie also taught me new things about it. And finally, when I sat down to adapt it myself into a graphic novel, I had to introduce my own visual vocabulary into it -- and somehow stay true to the original while also accounting for all the things I'd learned about it since.
Dion, Every Day is a very interior-focused novel. How were you able to adapt that interiority into graphic novel form?
Dion MBD: I personally really enjoyed the interior part. I am personally passionate about architecture and interior design, but more than that, panels in graphic novel already sets up a good "room" to work with. Also, a lot of the scene I imagined myself as an object observing the character in the room. That way, I could place viewers into the scene naturally at the same time giving the distance to allow them to view the characters more holistically.
You have a very specific color palette in this book and use of color. Can you tell me about your thought process behind that?
MBD: When choosing color, I tried to focus more on the mood of the scene. Some palettes that I chose were not very enjoyable to me, like the scene in the seafood restaurant. But, I intentionally chose that scheme because I would have disliked being in that situation. I think that emotion translates into the story.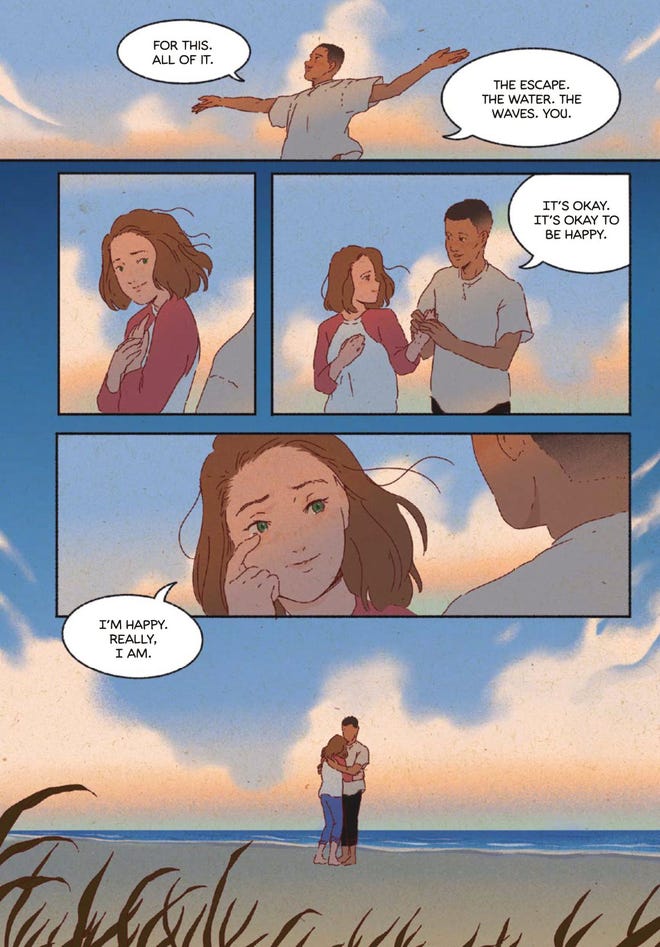 David, did you feel the need to make any central changes to update the book, both into this decade and also into a graphic novel?
Levithan: There aren't any central changes. Instead, there are little tweaks here and there. I suspect I may be the only person who notices the textual changes. The revelation is really in Dion's work, and the dimension that telling the story visually adds.
Any thoughts on a graphic novel adaptation of your Every Day sequel novels Another Day and Someday?
Levithan: I'm not sure we'd need to do one for Another Day -- since A's narrative voice is largely absent from the graphic novel, and since Dion draws Rhiannon's emotions so well, her story is conveyed more in this representation of the original story. But I would love to continue with an adaptation of Someday. It has a much broader canvas, and it would be fascinating to see what dion did with it.
Books are being banned at a greater rate than in recent memory, and this often center both graphic novels and queer books. Every Day is both. Can you speak to what's happening right now and what it might mean for YA and kid lit?
Levithan: I think it just reaffirms how important our stories are, and how important it is to support them. Interestingly, Every Day hasn't been as censored as some of my other books (although it has still been censored). I think that because the discussion of queerness has the speculative element, it ends up in hands that wouldn't ordinarily pick it up. Saying "this character is non-binary" might case some alarm in some people. But say "this character literally changes bodies every day" -- suddenly it's not as scary, because it's not as real, even though the identities explored within it are. I think at a time when our books are being challenged, we have to keep finding all kinds of way to tell our stories and to reach the readers who need them.
---
Read an exclusive preview of Every Day below:
Every Day is available from Penguin Random House on May 2, 2023. You can purchase the book from Amazon, Bookshop.org, and Barnes & Noble.
---
CBLDF: The book ban movement is aiming to demonize the 'graphic' in 'graphic novel'