Disney is blocking the re-release of some of Scrooge McDuck's origin stories, says creator Don Rosa
Classic Disney material might fall out of circulation as a result of the move
As part of a new initiative intended to maintain what the company considers appropriate moral standards in its material, the Walt Disney Company is withdrawing some of its most beloved comic book stories, according to one of the creators affected by the decision.
So what's actually going on?
In a post on his private Facebook group in early February 2023, Don Rosa, who worked as a writer and artist on Disney properties — mostly Uncle Scrooge and Donald Duck — from 1987 through 2006, shared a message he had received from "one of my many publishers" about the edict from Disney earlier this week. (He would clarify later that it was a unnamed international publisher of his Disney Ducks comics that contacted him, rather than a North American publisher or anyone from Disney directly reaching out.) That post was then shared more widely on social media via screenshots.
According to Rosa, the message read, "As part of its ongoing commitment to diversity and inclusion, The Walt Disney Company is in the process of reviewing their library of stories. As a result of this, some stories that do not align with their values will no longer be published. This applies to two of your classic stories, 'The Richest Duck in the World,' and 'The Dream of a Lifetime.' These stories will not be part of any reprints or new collections."
Rosa added, "I wonder what other Duck stories are now banned? Maybe only mine? Maybe not. But obviously all 12 chapters of my [Life and Times of Scrooge McDuck storyline] are now banned because they can't be published without the final chapter." He later edited the message to add, "While reading the discussion below, I have remembered that some publishers use the title 'The Richest Duck in the World' on the 11th chapter of my [Life and Times of Scrooge McDuck], not on the 12th. So, in that light we can clearly see the problem... Bombie is in both the banned stories."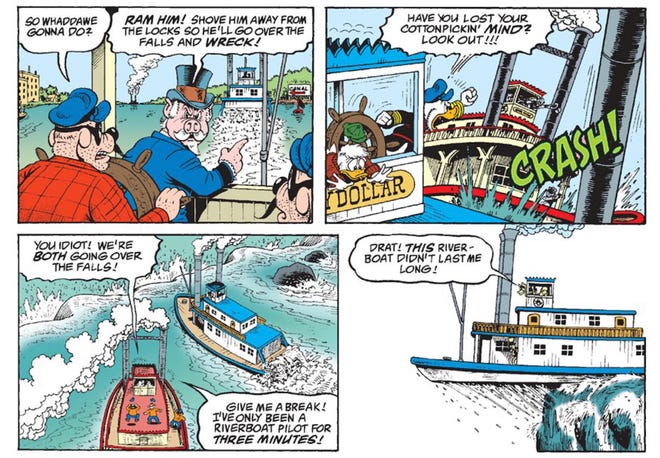 Who is Bombie?
Rosa is referring to 'Bombie the Zombie,' a character originally created by Carl Barks for "Voodoo Hoodoo," a short originally published in Dell Comics' Four Color #238 in 1949. Bombie's original visual appearance is, bluntly, a racist stereotype of an African native as was unfortunately common in popular culture of the period, although subsequent reprints have occasionally softened or altered the character's appearance. While it's conjecture on Rosa's part that Bombie's inclusion is the problem in the named stories, it's conjecture that makes sense given the context.
Disney publishing, creator control, and (lack of) royalties
Rosa's The Life and Times of Scrooge McDuck was a storyline that ran across 12 issues in the mid-'90s telling the life story of the popular Disney character before his first appearance in 1947. Originally published in the Danish series Anders And & Co., and later in English as part of Gladstone's Uncle Scrooge series, the storyline has long been considered a high-water mark for the character and one of the most important Disney comic book stories of all time; it won the Will Eisner Award for Best Serialized Story in 1995, and has since been collected in multiple editions from publishers including BOOM! Studios, IDW Publishing, and its current publisher, Fantagraphics Books.
Popverse has reached out to Fantagraphics for comment.
In a follow-up post to the same group days later, Rosa sought to clarify his earlier comments. "The report that two of my stories will not be published going forward, and any books containing them will not be reprinted did NOT come to me 'from Disney.' I have NEVER had any relationship with that company (outside of that brief time I wrote two episodes of Tailspin). The report came to me from an absolutely trustworthy top-level manager of a foreign licensee publisher."
He continued, "I don't know how I should have handled this revelation. I have no ability to object to it, nor would I ever want to… I quit 15 years ago purely out of the frustration that I had NO control over how my stories were used and how much money was being made off of them by others. But I simply wanted members of this forum to know that if they had been postponing buying the better versions of my work, as published by Fantagraphics and afterwards by numerous other independent licensed publishers worldwide, they should perhaps go ahead and buy those books now in case this band stands."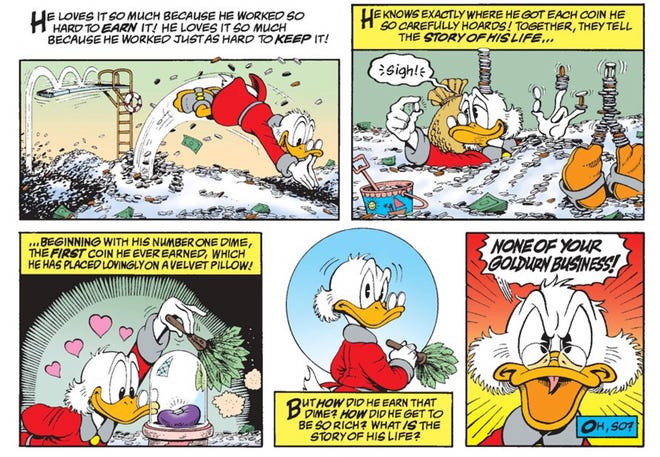 Rosa's mention of having no control over the use of his stories is an interesting one; a year after he officially retired, he posted online a statement titled, 'Why I Quit,' which makes for compelling reading. Listing his age, his struggles with depression, failing eyesight, and simple burnout from overwork as significant contributors to his decision, he closes by taking aim at what he calls the "Disney system of comics."
"We are paid a flat rate per page by one publisher for whom we work directly," he explained. "After that, no matter how many times that story is used by other Disney publishers around the world, no matter how many times the story is reprinted in other comics, album series, hardback books, special editions, etc., etc., no matter how well it sells, we never receive another cent for having created that work. That's the system Carl Barks worked in and it's the same system operating today. How can such an archaic system still be in operation in the 21st Century when royalties have been paid in other creative publishing endeavors for literally centuries?"
Is this an isolated case?
Rosa's revelation about Disney's decision to withdraw material that is out of sync with its current standards coincides with recent revelations about the unannounced rewriting of classic children's books by British author Roald Dahl. The changes were made by the Roald Dahl Story Co., which controls the rights to the material following the author's death; it defended the changes in a statement explaining that they were made "to ensure that Roald Dahl's wonderful stories and characters continue to be enjoyed by all children today," and noting that in publishing classic works, "it's not unusual to review the language used alongside updating other details including a book's cover and page layout."
As things currently stand, Fantagraphics continues to offer a substantial amount of Don Rosa Disney collections, including two separate editions of the Life and Times of Scrooge McDuck: a series of two hardcover volumes, and an oversized deluxe hardcover edition in a slipcase.
Retailers tell Popverse that only the second volume of the hardcover series is available for order via distributors, with a reprint of the box set collection of the two volumes set for release March 1, 2023. The deluxe hardcover edition is still available via Fantagraphics' own store, however, and is also showing as being available through Amazon.
---
Revisit our chat with another Disney legend, painter Bob Olszewski, from last year's D23 Expo.