Doctor Strange: Cosplay the Sorcerer Supreme's casual outfit from Spider-Man: No Way Home
Want to cosplay Doctor Strange's "casual" look? Then follow this guide!
Warning: This article contains spoilers for the Spider-Man: No Way Home Trailer.
The Spider-Man: No Way Home trailer is finally here and it comes with the nostalgia of the previous Spider-Man films. From the return of actor Alfred Molina as Doc Ock from the original Spider-Man 2, to the menacing laugh of the Green Goblin, this movie is sure to be one of the most anticipated films of the year.
Benedict Cumberbatch's Doctor Strange is also slated to play a large role in the film, after he was seen casting a spell to erase everyone's memories of knowing that Peter Parker was Spider-Man. He ends up opening the multiverse during the spell, which leaves endless opportunities for the contents of the film.
One of the iconic parts of the trailer is Doctor Strange seen wearing a parka, sweatshirt, sweats, and his iconic cloak. Fans have already made some pretty great memes with his outfit, and we can certainly see many cosplayers looking to recreate this casual look.
Lucky for you, we have compiled a list of all the pieces of clothing he wears in the trailer and where to get them (or make them, if you're wanting to level up your sewing skills!).
Items For Doctor Strange Cosplay:
Be sure to click on each item below to purchase!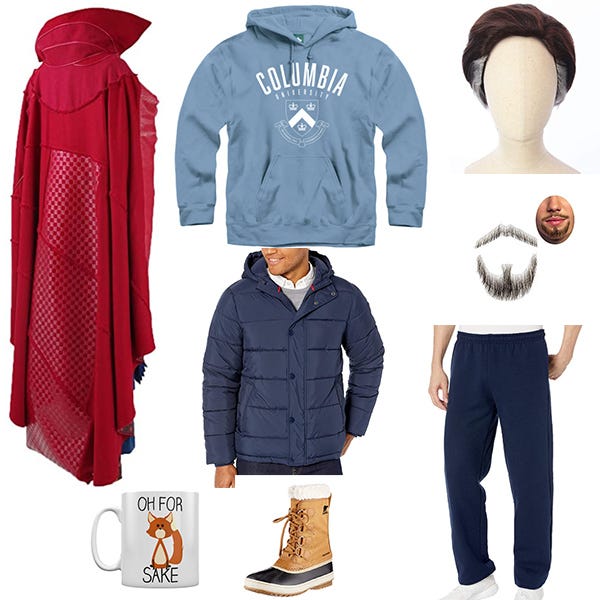 The casual clothing for this cosplay are pretty easy to recreate as they're everyday clothing that we would wear. The biggest challenges are the wig and cloak.
For the wig, there are two ways to go about it. The easiest way would be to purchase a pre-made Doctor Strange wig and do a little bit of styling on a mannequin to make sure it's perfect for your head. The other, and slightly harder way, would be to take a lace front wig and completely cut, style, and dye it to look like Doctor Strange.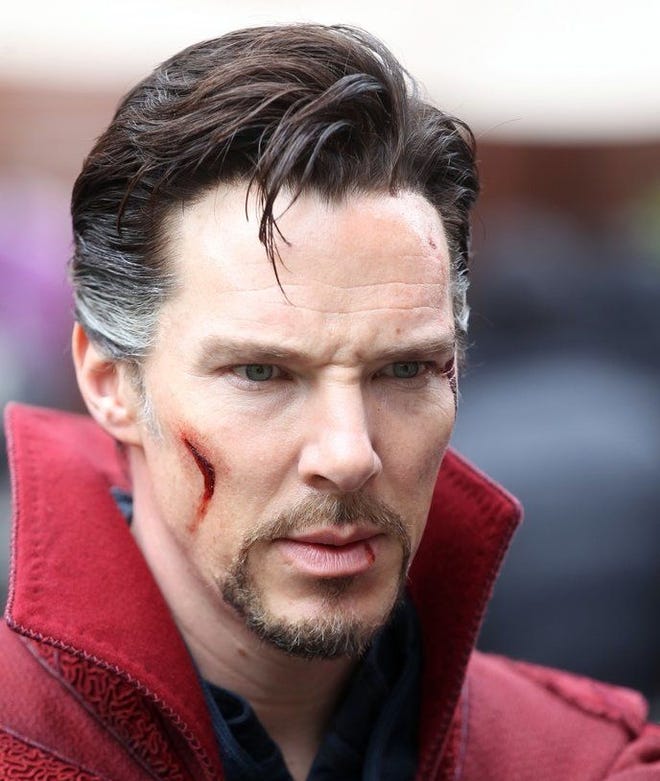 Doctor Strange has very dark brown hair with white/grey streaks on the sides. You could take a base wig like this one and cut it to his length, add some hair wefts in the front to make his widow's peak, and then dye the sides with either copic markers or a white hair spray (if you're wanting to use the wig for other characters). Jedimanda has a great tutorial on her YouTube channel showing how to make a female Doctor Strange wig if you're wanting to genderbend him!
The cloak is a little more tricky. There are three different ways that you can create it, all ranging from easy, medium, and difficult. For the easiest way, you can buy a pre-made cloak on Amazon and then modify it to your liking.
The medium route would be to acquire this cosplay pattern by McCall's and then create the cloak using the pattern. This way you could choose your own fabrics and follow a step-by-step method on how to make the cloak. This pattern does not, however, include all the embroidery on his cloak, so you would need to add this.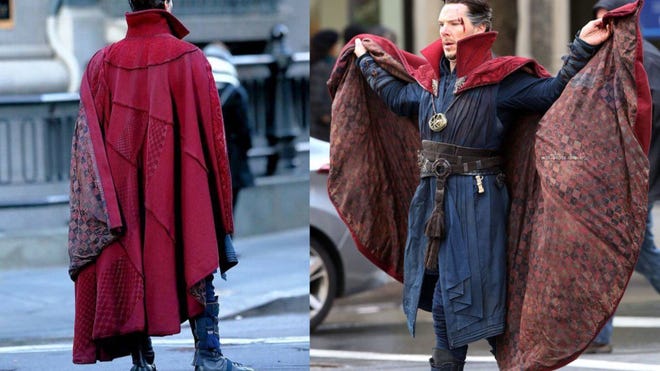 The most difficult way is to completely create the cloak using your own patterns. This would require mock-ups, embroidery patterns, quilting, and more. If you're wanting to go this route and really challenge yourself, we highly recommend watching Jedimanda's Doctor Strange cosplay breakdown or looking at her blog, as she explains how she made her cloak and the materials that were used.
Spider-Man: No Way Home arrives in theatres on December 17th, 2021.