Doctor Who teases fans with a surprise cliffhanger ahead of 2023 specials
David Tennant is back, as previously announced, but he's not playing the Tenth Doctor
To quote a certain Time Lord, "What? What? What?" The end of this weekend's Doctor Who special, 'The Power of the Doctor,' likely left fans asking that very question, as outgoing Thirteenth Doctor Jodie Whittaker regenerated into… the Tenth Doctor, David Tennant. Or did she?
Tennant wasn't the only old face to show up in the episode, which was also officially part of the 100th anniversary celebrations of the BBC. In addition to the previously announced appearances of former companions Ace (Sophie Aldred) and Tegan (Janet Fielding), multiple former Doctors appeared in an artificial intelligence form, including Peter Davison, Colin Baker, Sylvester McCoy, Paul McGann, and David Bradley — respectively, the Fifth, Sixth, Seventh, and Eighth Doctors, with Bradley taking on the role of the First in the 2017 episodes 'The Doctor Falls,' and 'Twice Upon A Time.' However, Tennant's appearance at the end of the episode was its own thing entirely — and the start of a storyline that will continue throughout the next year, before the debut of Ncuti Gatwa as the protagonist of the show.
(That said, Gatwa was briefly glimpsed at the end of the teaser for upcoming episodes, so we know he's still on his way… even if the show has taken a detour in getting him to the role.)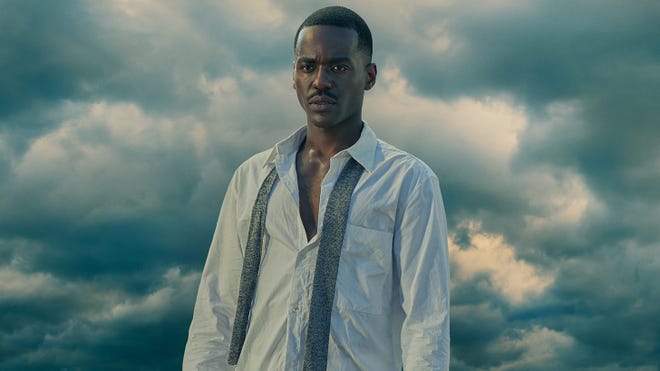 It's important to note that Tennant specifically isn't playing the Tenth Doctor in the final scene of the episode; it's not some kind of regeneration glitch that has reset the character into a previous incarnation. In a statement released to press following the show's transmission in the UK, the BBC purposefully said that David Tennant plays "the Fourteenth Doctor," with Gatwa named by returning showrunner Russell T. Davies as the Fifteenth Doctor.
"If you thought the appearance of David Tennant was a shock, we've got plenty more surprises on the way," Davies is quoted as saying in the statement, continuing, "The path to Ncuti's Fifteenth Doctor is laden with mystery, horror, robots, puppets, danger and fun! And how is it connected to the return of the wonderful Donna Noble? How, what, why? We're giving you a year to speculate, and then all hell lets loose!"
The mention of a year to speculate is purposeful; while there had been rumors of future episodes of the show as soon as this holiday season — the show has traditionally run special episodes either on Christmas or New Year since its revival in 2005 — the BBC has clarified that fans will have to wait until November 2023 for a series of three specials explaining just what's going on before introducing the Fifteenth Doctor. Why November 2023? Well, that's the 60th anniversary of Doctor Who, you see…
---
If the idea of a show's cast looping back around on itself fascinates you, why not check out our guide for watching Doctor Who?