Dog Man 11: Everything you need to know about the new Dog Man book by Dav Pilkey, Twenty Thousand Fleas Under The Sea
Who is Dog Man? Who is Petey? And what does Twenty Thousand Fleas Under The Sea really mean?
The recent release of Dog Man: Twenty Thousand Fleas Under The Sea is, not to put to fine a point on it, the kind of thing that publishing circles have been dreaming of for quite some time: a much-anticipated new installment of one of the most successful book series in recent memory… and it's a comic book?!? Stand aside, Spider-Man, Batman, and any other wannabe mighty world savior: the future of superheroes — and of superhero comics, at least judging by audience size — is hairy, hearty, and a very good boy indeed.
No, really: Dog Man is a really, really big deal, you guys.
What is Dog Man, anyway?
Dog Man is the star of a series of graphic novels that launched in 2016, written and drawn by Dav Pilkey, whose name might be familiar to some reading this as the creator of Captain Underpants — another popular series of kids' books that was adapted into both a DreamWorks animated feature and a Netflix animated series. Since the first book in 2016, nine subsequent books in the series have been released before March 2023's Twenty Thousand Fleas Under The Sea; additionally, there's four volumes in the spin-off series Cat Kid Comic Club. Each Dog Man and Cat Kid book have made it to the New York Times bestseller list.
The mythology of Dog Man is a once very straightforward and very complicated: on the one hand, he's the hero the city needs, which just so happens to be a combination of a cop and his specially-trained police dog, surgically combined after an explosion. What else does anyone need to know? Of course it's the Greg the dog's head on the cop's body — what kind of surgical reconstruction wouldn't go for that combo?
At the same time, Dog Man is also the comic book creation of George Beard and Harold Hutchins, the fictional lead characters of Pilkey's earlier Captain Underpants series. In fact, Dog Man actually initially appeared as a comic strip inside the ninth book in the Captain Underpants series. So… Dog Man is actually a fictional story inside a fictional story and… perhaps it's best to not think about this too much, really.
George and Harold also created a separate strip, The Adventures of Super Diaper Baby, which is later retconned into being in continuity with Dog Man, and features the introduction of Petey, Dog Man's enemy-turned-maybe-friend. Petey is also the "father"/genetic source material of clone cat Li'l Petey, who happens to be Dog Man's crime-fighting partner and one-half of the Supa Buddies team with Dog Man; Li'l Petey also anchors the Cat Kid Comic Club spin-off. And you thought the Spider-Clone saga was complicated…!
What is Dog Man: Twenty Thousand Fleas Under The Sea about?
As might be expected when it comes to the eleventh book in a best-selling series, publisher Scholastic is playing it coy when it comes to the plot of the new book. The official plot description runs like this: "Piggy has returned, and his newest plot is his most diabolical yet. WHAT other new villains are on the horizon? WHERE are they all coming from? And WHO will step forward to save the city when scoundrels sabotage our Supa Buddies? With themes of friendship and doing good, Dog Man: Twenty Thousand Fleas Under the Sea is packed with action and hilarity. Featuring 'Chomp-O-Rama,' a brand-new song, a monstrous Mighty Mite — and so much more than ever before! IT'S HEROIC, IT'S EPIC!"
It's worth pointing out that this is certainly more than enough information to convince fans of the series to return for the new book. I mean, "Chomp-O-Rama" was probably enough in and of itself. These aren't books that are particularly plot-heavy; it's far more about the execution, and Pilkey's undeniable and infectious enthusiasm.
Why is it called Dog Man: Twenty Thousand Fleas Under The Sea? What does that even mean?
The title is a pun on the classic novel 20,000 Leagues Under the Sea; so far, all of the Dog Man titles have been puns on classic literature: Lord of the Fleas instead of 'Lord of the Flies,' A Tale of Two Kitties instead of 'A Tale of Two Cities,' and so on. Perhaps the most inspired to date might be Brawl of the Wild, which likely doesn't play to anyone who isn't a fan of their Jack London novels.
What is Dog Man Day?
Dog Man Day is the umbrella title given to the wider promotional push for Dog Man: Twenty Thousand Fleas Under The Sea. Despite what it might sound like, there's no one singular day that all things Dog Man will be celebrated; instead, locales across the world are being encouraged to host their own Dog Man events, with publisher Scholastic providing event guides, activities, and other resources to help. Stores throughout the U.S. will be hosting Dog Man Day events featuring exclusive editions of the new book and giveaways, while public and school libraries are also encouraged to get in on the act with their own events. You can find out more about Dog Man Day, including the location of the closest event to you, right here.
How many copies of Dog Man: Twenty Thousand Fleas Under The Sea are being printed?
Scholastic hasn't officially released print run info for the new book, but it's worth noting that the sixth book in the series had a print run of five million copies back in 2018. To date, the series has sold more than 60 million copies in total, with translations in more than 44 languages. This is a pretty popular series, to say the least.
How popular is Dog Man, really, though?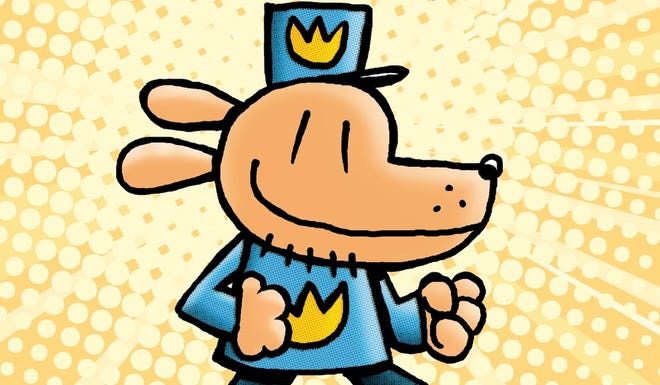 Did you just miss the part where I talked about combined sales of more than 60 million copies in more than 44 languages…? Perhaps it would help if I told you that the last book in the series, 2021's Dog Man: Mothering Heights (again with the puns!) was the #1 best-selling book of any kind in the U.S. that year, and that three separate Dog Man or Dog Man-related titles charted in the 2021 top 25 bestsellers list. Perhaps you need to know that there's a musical adaptation that got critics raving. Dog Man is the kind of phenomenon that Marvel and DC can only dream of being a part of. Not bad for a series of books that only officially launched seven years ago.
Will there be a Dog Man movie?
DreamWorks Animation has been working on a Dog Man project since 2020, with Animaniacs veteran Peter Hastings attached to direct. It's been a long time coming, but before too long, the entire world will know just what happens when you stick the head of a specially trained police dog on the body of a specially trained policeman: justice, delivered with love, compassion, and the need for some head rubs after the case is closed.
Dog Man: Twenty Thousand Fleas Under The Sea was released March 28. Get one or miss out on what is likely to be the publishing event of the year.
---
Dog Man creator Dav Pilkey is one of the two most popular creators in the U.S. right now.