Dr. Stone artist Boichi returning with a Webtoon crossover event
Dr. Stone's Boichi is doing a superhero style crossover event for Webtoon heroes (and some villains)
Manga/manhwa artist Boinchi has found his next project after the end of his hit sci-fi series Dr. Stone - a webtoon (for Webtoon) crossover called Super String, as first reported by Orincon.
"[Super String] is the story of a young man who struggles alone to protect his family in a world where heroes of various dimensions wage war on Earth," reads Webtoon's description of the project.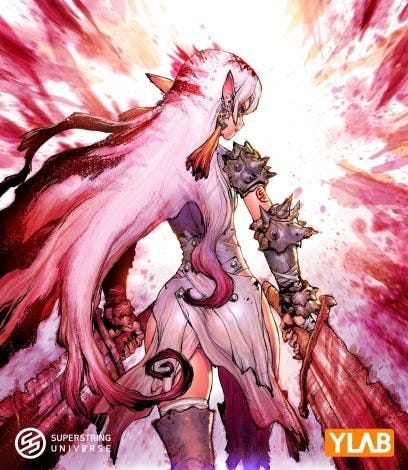 Super String is a crossover event for the most popular characters from the YLAB line of wettoons, which includes characters such as Neolithic Girl, Terror Man, Reawakened Man, and Blade of the Phantom Master. The heroes (and villains) have already crossed over with a mobile RPG, also called Super String.
"Webtoon now plays a big role in the Japanese market, and I hope that it will play an even bigger role in the future. I think this will bring great opportunity and happiness to the Japanese manga industry and readers," Boichi says in a statement. "In addition, we hope to contribute to the further growth of the global market. I would like to create a series with the desire and dream of contributing to the world as a whole. own way. Thank you."
The Super String webtoon is Boichi's first major project since the final chapter of Dr. Stone, published on March 7.
Super String will debut on Webtoon's Japan-centric LINE Manga app in late 2023, and will be written by the company's chief creative officer Yoo In-Wan - who has also written some of the other YLAB webtoons. There haven't been been any announcements about if (or how) the Super String webtoon will be shared outside of Japan, but the statements suggest those are forthcoming.
"It was my dream to team up with Boichi, who is currently very active in Japan, and to serialize a new work," says Yoo In-Wan. "Like Boichi, I am also a writer and I feel a great deal of gratitude. In addition, by becoming a webtoon work that is familiar to many people around the world, we aim to have many manga fans enjoy this work not only in Japan but also around the world. This is our commitment to Webtoon and we are confident that it will further strengthen Webtoon's position in the global marketplace. Everyone, please look forward to it."
Look for the Super String webtoon to debut in 2023 on Webtoon's Lina Manga in Japan. For international releases, stay tuned to Popverse.