Dragon Ball Daima Anime announced by Toei Animation
Slated to arrive in fall 2024, the anime will feature younger characters.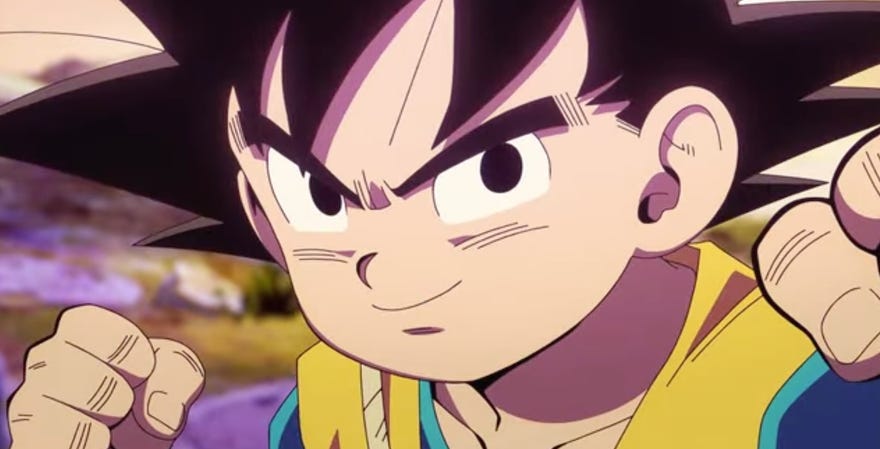 In an annoucement made during the Dragon Ball panel at New York Comic Con 2023 on Thursday, October 12, 2023, the new anime Dragon Ball Daima was announced. Slated to arrive in fall 2024, it was stated that franchise creator Akira Toriyama is "deeply involved" with the series, "beyond his usual capacity." According to Executive Producer Akio Iyoku, Toriyama "planned entirely new episodes for the storyline."
The teaser trailer opens with clips from throughout Dragon Ball's four decade history, beginning with footage from 1984. Alongside the new footage for Daima, the teaser confirms that Toriyama's involvement in Daima includes "original work, story & character designs" for this "all-new series." The trailer goes on to underscore that this is "a brand-new story, never before told in Dragon Ball."
The plot of Daima will see franchise regulars like Goku, Vegeta, Bulma and other characters seemingly become younger, chibi-style versions of themselves. Comparisons have already been made to the 1996's Dragon Ball GT; however, it should be noted that Toriyama was not involved in that series. More information about the series is promised to be forthcoming during the next Dragon Ball games battle hour, which is scheduled to take place from January 27 through 28, 2024.
Daima will be the first Dragon Ball series to be released since March 2018, when the final episode of Dragon Ball Super premiered. This was followed by Dragon Ball Super: Super Hero, which opened in Japan in June 2022 and in the United States in August of that year.
You can relive every minute of the Dragon Ball Special panel at NYCC '23 right here on Popverse by clicking here.
---
Popverse will be providing wall-to-wall coverage of New York Comic Con 2023, with an all-star crew of writers, editors, and video producers there all four days (and nights), as well as in advance of the show. You can follow along to this coverage as well as the panels we're streaming with our
NYCC Popverse coverage guide
.