A long time coming: Inducting the Eisner Hall of Fame Judge's Choices
"I can see my people here, and I thank you"
This year's Eisner Award Hall of Fame inductees got a special treatment, as the ceremony — usually a part of the Eisner Award evening ceremony — broke off into its own early-morning Friday panel highlighting the recipients for this year and treating the small but attentive audience to the many stories of comics legends finally being given their much-deserved due.
Along with post-humous inductees including DC Comics' Win Mortimer and Gaspar Saladino, father of comics fandom Jerry Bails; the remarkable colorist Tatjana Wood, and pioneer cartoonist Jay Jackson, the panel also featured a number of cartoonists whose family, friends, and loved ones were able to attend and accept the award on their behalf.
Carol Tyler, a notable cartoonist in her own right, was moved to tears upon accepting the award for her late husband, cartoonist Justin Green, alongside their two daughters Julia and Katie.
"You've seen all of us in his comics. Justin passed away just last year and I'm so happy to be able to accept this with his daughters here. I brought them because I can hardly talk right now," Tyler said tearily. "Justin was comics. It's just such a long time coming."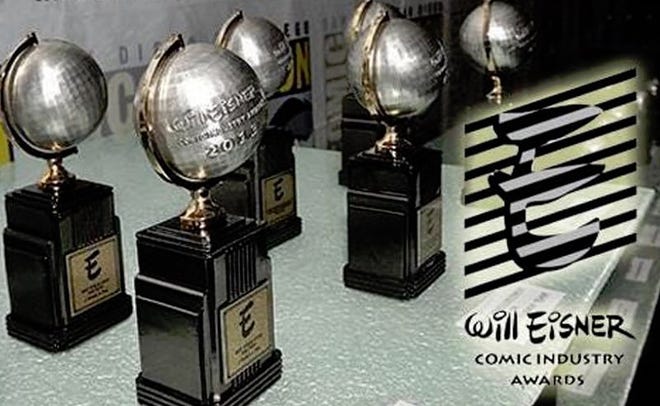 A similar sentiment was made by fine arts representative Allen Spiegel, who accepted the award on behalf of the late Jeffrey Catherine Jones.
"Jeff contained many facets as a human. She was an artist and also a scientist, in her own way. When I watched her work, the art grew as she did. She birthed it. She created it. And she was at her best when she was creating. She was charming and funny and melancholy…and I think she leaves behind a true legacy. A real legacy. Thank you, on behalf of Jeff. She was an incredible woman and was always in flux and was always brilliant."
The panel also recognized the works of Beetle Bailey creator Mort Walker, and underground mavens Aline Kominsky-Crumb and Diane Noonan; as well as Doonesbury strip creator Garry Trudeau, Jack Katz who accepted their awards via video, and Zippy the Pinhead underground legend Bill Griffith, who was able to accept his award in person.
"I've avoided Comic Con altogether because I didn't think these were my people," concluded Griffith. "This is not the venue I'd think I'd see my audience…but it is. I can look out at you all and see that my audience is a segment of this larger one. I can see my people here, and I thank you."