Good Trouble and Entertaining Comics: Celebrating 100 Years of William M. Gaines at ECCC
Wholesome Beginnings, MAD Ends
There are whole generations of people who grew up reading their comic books under the cover of darkness, hiding beneath their blankets with a flashlight, away from prying eyes and concerned looks from morally outraged parents. Whether it was because the stories were too scary, too absurd, or too crudely funny, mid-20th century comics became a sore spot for many families and a delight to hosts of children ready for their next big newsstand thriller.
For these generations – as well as those of us rapt with attention over how we got to where we are in the comics industry now – one of the figures most responsible will always be William Gaines: heir to EC Comics, advocate for horror stories for kids, and, perhaps most notably, the father of MAD Magazine. In a panel on the Saturday of Emerald City Comic Con hosted by Fantagraphics EC Library editor Mike Catron, a room filled with fans got to experience the joy of unraveling Gaines' life and career.
Wholesome Beginnings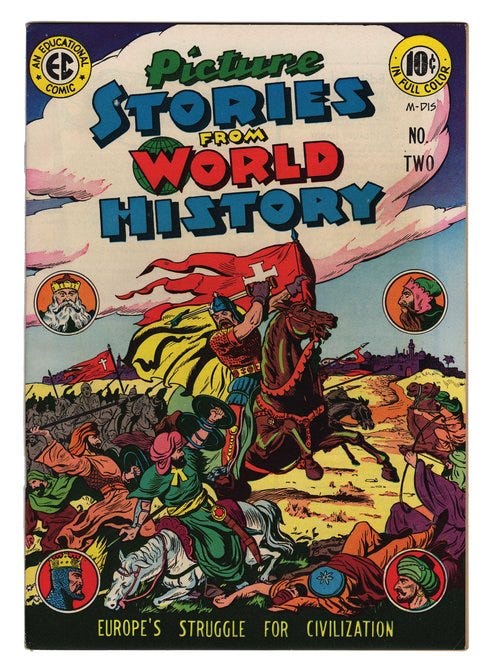 The story of William Gaines actually begins with the extensive career of his father, Maxwell "M.C." Gaines – the person who arguably invented the standard for 20th century comic book publishing as we know it. A printing and advertising salesman by trade, M.C. Gaines began printing 12-38 page comics for advertisers; one including an advert for the Buster Brown Shoe Company, which gave away a free comic for every pair of kids shoes sold.
"Eventually he got the idea to bind them up and put a ten cent sticker on them and that's what became Famous Funnies", Catron explained, "and what he was selling was not really about the titles so much as it was about the paper allotments during war shortages. He was selling off his paper allotment. But even then he eventually retired and hated it so much that he began EC Comics."
To people's surprise when they take a look back at EC's history, the titles run by William Gaines' father at the publisher's start were something entirely wholesome and very different from the camp horror they're known for today, including Picture Stories from the Bible, a title carried over from All American Comics.
In an interview with Bob Costas (of all people) in 1991, screened to the Emerald City audience via a projector, William Gaines said about his father: "To him, I was a bum. I couldn't do anything right, and I was just hopeless. I wish he could have seen what happened – though I don't think he'd like the comics we put out. He might have liked some of MAD, but he wouldn't have liked the other stuff. He liked clean comics."
Following MC Gaines' untimely death in 1947 on Lake Placid in New York, it was up to a less-than-thrilled Williams Gaines to take over the business and keep EC Comics up and running. "He had no interest," revealed Catron. "His interest was entirely perfunctory. But then Al Feldstein walked into the picture."
The New Trend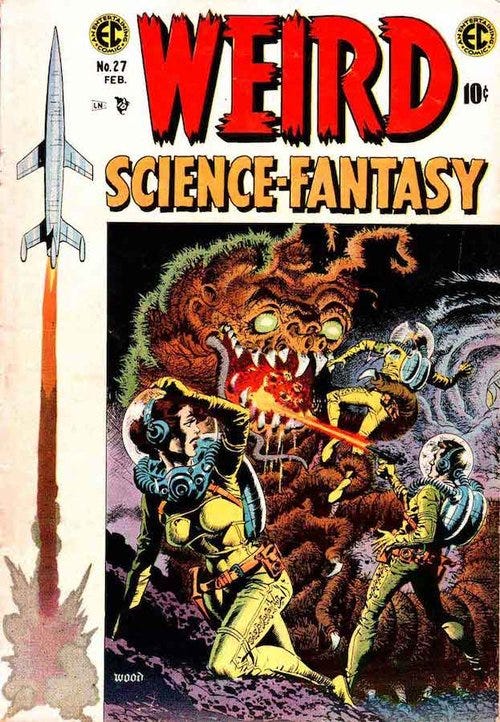 Feldstein, a writer by trade, came into EC Comics and immediately made a connection with the younger Gaines. This connection would come to shape EC Comics as we know it now, combining both of their efforts to question whether there were stories to tell within EC outside of the usual crime stories and westerns and funny animals. The result was a group of titles collectively known by fans as The New Trend.
"By 1950 the transition wasn't quite complete," said Catron. "Modern Romance was still around, but they had started taking things like Western Tales and Moon Girl and begun turning them into horror titles." He continued to explain how one of the earliest horror comics, Haunt of Fear, features the made-up origins of EC Comics in a pre-MAD, MAD Magazine sort of way.
"The story features Gaines and Feldstein in the story and they're leaving their office building like normal and they find out that they're being followed. And like anyone from New York, their first idea for if you're being followed is to crawl into the sewer via a manhole. They end up finding a body and a hand reaches out and pulls Gaines into a secret wall, but it turns out that he was pulled away by the Crypt Keeper. He says that he'll let both of them go if they make a vow to only publish horror comics. It's an entire story of them making fun of the schlocky old comics and feels very early MAD."
Crusades, New Directions, and Funny Troubles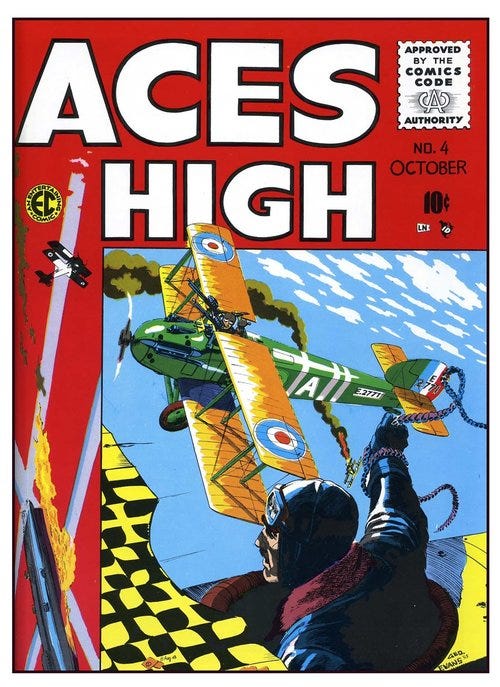 Unfortunately for Gaines, these antics and in-jokes that delighted the cartoonists in the offices and children around the world were not always enjoyed by those childrens' parents. The early 1950s saw the rise of psychologist Fredric Wertham in popular culture with his book Seduction of the Innocent – a title decrying comic books, and EC Comics in particular, for their gore, violence and "hidden sexual themes," and claiming them as one of the causes for increased violence and a rise in teenage rebellion.
Titles like Crime Suspense Stories became hot topics for the horror comic critics once again. Catron displayed the cover of the May 1954 issue of the series – #22, drawn by Johnny Craig – which depicted a man holding the severed head of a woman next to her body. Though no blood was shown on the actual cover, the implication was enough to get Gaines in the hot seat once again. The same trouble came about with joke pages in some of the comics – including a joke biography of Gaines himself which recounted his made up involvement with the mob, a gag that enraged other publishers, whose concern over their cover being blown for their actual involvement with the mob at the time took precedence – as well as a cover joking that the people who wanted to destroy comics were communists. "Calling an entire group of already-mad people communists in the 1950s wasn't exactly nothing," laughed Catron.
With the comics crusade breathing down his neck and after court cases defending himself and his titles, Gaines had no choice but to shutter The New Trend in 1954 in order to save the company.
With post-Trend publishing, Gaines chose to publish something termed the "New Direction" - titles like Aces High, Valor, and Extra, all featured far more responsible subjects like upright war heroes or the Crusades or the Roman Empire. Ultimately these titles failed on the newsstand, but MAD – which launched in 1952 ahead of Wertham's vendetta – had already begun its climb to the top of the ladder. In the same interview with Costas, Gaines remarked on one of the most famous MAD covers in all of its history: "MAD came around during election day, so we ran one magazine with Kennedy winning on one side and Nixon winning on the other. I just told news vendors to put whoever ones' side facing up. It was noteworthy just for that joke!"
Along with the host of titles that EC became famous for, MAD Magazine became something of a household name; lampooning politics, pop culture, publishing, and everything in between to the delight (and horror, in its own right) to an entire nation well through Gaines' death in 1992. Few things can sum up the goals and heart behind William Gaines' career better than an offhand quote from the Bob Costas interview about what he hoped were the impact of his comics and magazines:
"We were responsible for a lot of things. We were responsible for some of the underground comix. And I hope we were responsible for some kids giving up smoking. I also hope that those kids have learned to take everything they hear and read with a grain of salt and think about everything for themselves."
---
To learn more about EC Comics, check out their website here.
---
Interested in what else happened at Emerald City Comic Con? Check out the roundup of all of Popverse's coverage of the weekend.