Fish Out of Water: An ECCC Spotlight on Doug Jones
Mac Tonight, Fish Tomorrow
If there's a lanky monster taking center stage during a movie, a beloved character whose movements are just not quite human, or a character so overcome with prosthetics that you can barely recognize that they were human in the first place, then chances are that, underneath the latex and extensions and oddities, you are looking at the affable and other-worldly talent Doug Jones.
Despite having a career where much of his own features are covered, the actor's following has no problem seeing him for exactly the immense talent that he is, with the massive Sheraton Ballroom filled for his Spotlight panel on Friday afternoon of Emerald City Comic Con.
Things kicked off with a sizzle reel of Jones' work — a clip spanning nearly all 36 years of his varied and latex-clad career. Beginning with a jazzy, bobbling giant moon on his head during the "Mac Tonight" years of McDonald's 1980s advertising and his hit 1993 role as Billy Butcher in Hocus Pocus all the way through his expansive work with Guillermo Del Toro through films like The Shape of Water, Hellboy, and Pan's Labyrinth and the lanky, charming Saru of Star Trek: Discovery, it's undoubtable to anyone in the room that Jones' career is truly a spectacle to behold.
This was, of course, cemented by the uproarious applause that erupted as the famed actor took center stage to discuss his climb to stardom, opening the panel by humbly joking "I'm always worried that no one is going to show up to these one day, so thank you all for this."
Mime Over Matter
Describing himself as "just a geeky boy from Indiana," Jones' keen nostalgia for his beginnings came through as he described his real start as learning the art of miming at Ball State University in Muncie, Indiana. "I joined the miming theater troupe called Mime Over Matter, and it really awakened something in me. It woke my body up," Jones remarked. "I got to learn the art of creating things not just through dialog but through working with your limbs. It was a great way to learn that we all, deep down, know how to tell a story through just our bodies, and that's something that translated so well into my career as a whole. Ball State fully takes credit for my career, and I guess they're not entirely wrong!"
Starting in 1985, Jones credits his career to moving to Hollywood and taking an acting class with a teacher who would later become his agent – landing him TV commercial auditions for projects such as a Southwest Airlines ad where he played a mummy, small commercials where he played various aliens, and of course the famed Mac Tonight ads for McDonalds. "Those commercials ended up running for three years! It was wonderful. The moon head was created by Creature Effects, which was run out of a garage. But that moon head and that commercial bought my first house so… thanks McDonalds!"
Jones continued to speak about Creature Effects – an award-winning special effects studio in Los Angeles – and sing the praises of the collective of people who have played such a big part in his career. "I just worked with so many of the creature creators that they all started to recognize me when I was working. They'd get specs for a tall, skinny alien and go 'Didn't we just work with him?' knowing immediately that it was me. I was even given the Lifetime Achievement Award – or 'The Chair Award' – as a joke for having spent so much time in their makeup chair."
Much of that time in the makeup chair was of course spent on film titles like Mimic – director Guillermo Del Toro's first American film – the role that snowballed quickly into a delightful working relationship between the two. "He sat me down and asked me what I'd been in and was so excited when I told him the roles that I'd held. That day filming Mimic really was what began our 25 year relationship because he came back around to me when it came to casting Hellboy," Jones said with a smile. "They apparently unveiled the sculpture for the Abe Sapien creature and he fell to his knee because it was so beautiful, and he immediately thought of me. I got the call and that was that. Then came Hellboy 2 and Pan's Labyrinth and The Shape of Water – which he sold to me by saying 'I have an idea for a romantic movie with a fishman. And you're the lead. You're the fishman.' It's just wild. Guillermo has brought the joy of monsters back into the limelight, and I can never express enough how much I appreciate him for that."
Putting the Show Back In Show Business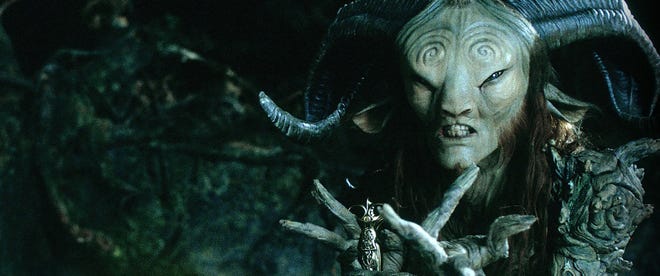 When it came time for questions, one of the most frequent topics came down to Jones' experience in heavy prosthetics and makeup – an experience that, Jones admits, is not always a pleasant one, but one that pays off in ways that makes every second worth it.
"The shortest makeup was just human makeup for the [Star Trek] Discovery episode where Saru is turned human, which only took seven minutes. Billy Butcher [from Hocus Pocus] took only about two hours as well. But I think the longest had to be Abe Sapien, which took seven hours every day. I had a full workday before actually starting work," joked Jones. "I don't think I've ever met anyone who had been thrilled to have that done to them every day like 'yes please put me in a chair for seven hours', but I think that comes down to personality. I'm a very boring human, so sitting in a makeup chair staring at the wall and drooling suits me just fine; the challenge for me is the performance."
The concept of performance and honing one's skills as an actor was something that came up frequently in Jones' responses, as he told many excited, questioning fans hoping to break into the industry that so much of his career has been because of his love of acting rather than his love of being a monster.
"I wouldn't be sitting here if it was just about the monsters," Jones warmly said to a fan asking how to get their foot in the door as a monster on screen. "You have to prepare as an actor and you have to have intention. All of it has to be there, not just the makeup. Build up your skills with your limbs. Learn how to mime or do acrobatics or martial arts. They're all tools to help you build up your skills. So many people want to break into show business and focus on the 'business' side of their acting, so it has to be people like us who focus on the 'show' part."
This sentiment, more than anything else, brings home exactly what makes seeing Doug Jones speak about his career so special: there is a warmness that resonates and reminds us that under each character there is a human, and that making that human better will always make the monsters come alive. For all the roles in which we have seen him on the silver screen – covered in goo and latex and teeth and paint – seeing Jones as himself only makes those performances more memorable and all the more special.
---
Watch the full Doug Jones Spotlight panel from ECCC by becoming a Popverse member.
---
Interested in what else happened at ECCC this year? Check out
this roundup of all of Popverse's coverage and streaming panels
.