Inside Monsters & Dames artbook, a longstanding Emerald City Comic Con tradition
Sales of Monsters & Dames and related artwork raise money for childrens hospitals
In 2009, the founder of Emerald City Comic Con Jim Demonakos started the Monsters & Dames artbook as something fun for the fans and cool for the show, all the while helping a worthy cause — the St. Judes Childrens Research Hospital.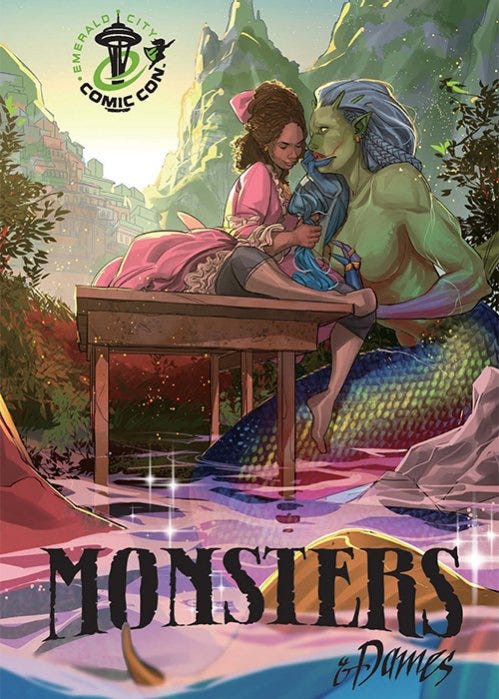 Since then, sales from the annual Monsters & Dames artbook (as well as sales of related art from the artists includes) of over $130,000 have been donated to child health care causes. In 2016, when ReedPop (the company that owns Popverse) took over Emerald City Comic Con, they also continued the tradition of making a Monsters & Dames book every convention. Reedpop's Global Comic Talent Manager Mike Negin took over editing the book.
"It's truly one of the funnest things I get to do as a part of my job," Negin shared with Popverse, "Monsters & Dames is just what it says, its monsters and dames!" Negin shares that what he particularly likes about the book is that it's an open prompt, allowing artists to go anywhere their imagination takes them.
As for who gets to take part in the book, Negin tells us that Monsters & Dames is curated to be specifically focused on artists who are tabling at Emerald City Comic Con each year. All of the artists who table in Artist's Alley, in Homegrown, or on the show floor are invited to submit their work, and a certain number are chosen to contribute to the book.
This year's artists for the Monsters & Dames art book are (in alphabetical order): Alex Ahad, Alex Dos Diaz, Alphonso Alonzo, Alyssa Tallent, Amber Finnegan - Fossilized Sap Art, Andrea Rosales, Andy Price, Ann Marcellino, Arielle Cabral, Audre 'Charamath' Schutte, Augie Pagan, Austin (Daxiong) Guo, BatskyStarman, Beth Radloff, Bill McGuire, Bobby Timony, Cammry Lapka, Chris Ehnot, Cody Vrosh, Colin Lawler, Comfort and Adam, Cryomera, Daniel Govar, Devin Elle Kurtz, Digo Salazar, Drea D., Elizabeth 'Em' Moore, Elle Skinner, Emma LeRae, Erica Williams, Erik Ly, Fabrice Sapolsky, Faithful Imagination, Fian Arroyo, Franco, Harmony Gong, Helen Mask, itsmandymo, James C. Mulligan, James Doppelhammer Art, Jessica Madorran, Jme Foronda, K. Lynn Smith, Kaileigh Preston, Kelly and Nichole Matthews, Kelly McMahon, Ken Christiansen, Lahela Schoessler (Helabella), Livio Ramondelli, Logan Faerber, Max Davenport, MissChibiArtist, Monica M. Magaña, Monkey Minion - Dane Ault, nooligan, Phillstration, Raf Salazar, Rich Bernatovech, RootisTabootus, Sara Richard, Sarah MW Miller, Sarah Wilkinson, Sharon Leung, Shawn Sharp, Toma Vagner, Tony Dela Cruz, Tony Moy Arts, Tony Parker, Tori Sharp, Tragic Girls, and Yili Fang.
Here's several of the pieces from the 2022 Monsters & Dames art book:
Each of the 750 copies of the 2022 Monsters & Dames art book are individually numbered. The 2022 Monsters & Dames debuted at Emerald City Comic Con at the Show Store, where you could get it signed by many of the artists in the book. The remaining copies are being sold online at TheHaul.com.
Wishing you had a signed copy? Popverse is holding a sweepstakes for a signed copy of this limited edition book. Details here:
✨Sweepstakes alert ✨

You could win a signed copy @emeraldcitycon's Monsters & Dames 2022 Artbook! With over 70 artists and only 750 copies printed, you're gonna wanna win this!

To enter:
👉 Follow @PopverseSays
👉RT this post pic.twitter.com/VFHRywprk1

— Popverse (@PopverseSays) September 20, 2022
---
Interested in what happened at Emerald City Comic Con this year? Check out Popverse's roundup of all of our coverage over the weekend.