Brendan Fraser and Oded Fehr reminisce about The Mummy at their reunion panel
The stars of The Mummy return to their years ago experience at an Emerald City Comic Con panel
On Saturday night at the Sheraton Main Stage of Emerald City Comic Con, Brendan Fraser and Oded Fehr shared memories about their experiences on the set of The Mummy, made 23 years ago. Both Fraser and Fehr were casual and enthusiastic, easily charming the full house, who already seemed pretty excited just to be there.
Now I'm a big fan of The Mummy, and it's been clear over the past few years that there's a lot of nostalgic love around the movie, but the energy in this room felt loving and abnormally positive, even for a fan panel.
Fehr and Fraser had a lot of entertaining stories to share-- including the facts that Fehr was not trusted to ride a horse in the first movie or the fact Fehr's first bird from the second Mummy film simply took off into the wild. Another fun fact shared included was that the studio took out kidnapping insurance on the actors during the filming process (though the different prices of the different policies led to a joking point of contention amongst the cast).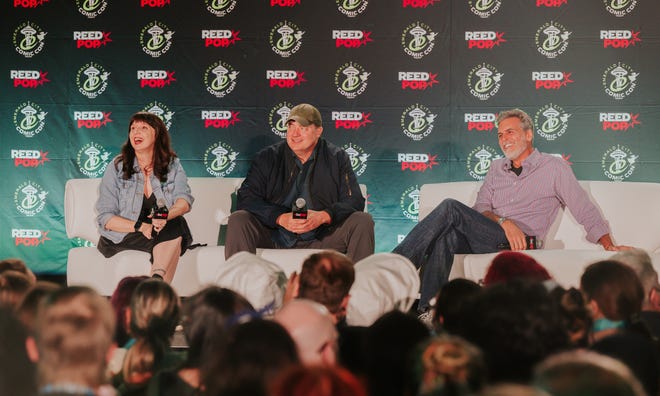 One standout story shared focused on Imhotep actor Arnold Vosloo who, during shooting in a very remote location in the desert, got it in his mind to have a bonfire. During a few days off, he disappeared into the desert and returned to the hotel out of the darkness with wood for a fire, "That was a hell of a good fire, wasn't it?" Fraser reminisces. Apparently Vosloo would also kill scorpions with his bare hands!
According to Fraser, when the stunt actors were bored, they would rearrange the hotel furniture into stacks and design stunts around the furniture, crashing into coffee tables and getting injured and having fun (which shocked the non-stunt actors). One night, Fehr decided to join in on the stunt men sparring but got only one light punch in before his hand hurt, and he gave up.
Much of the panel time was dedicated to fan questions, which included fans sharing what The Mummy meant to them in the past (or even to their kids now!). It was clear, just by watching audience members interact with Fehr and Fraser and ask about their work, how much their work and The Mummy still means to so many people, even now, 23 years later.
---
Watch the whole The Mummy reunion panel by becoming a Popverse member!
---
Interested in what else has been going on at Emerald City Comic Con? Check out
this roundup of all of Popverse's coverage of the weekend
.