Eminem partners with Spider-Man and Marvel for another comic collaboration
Eminem is back in the halls of Marvel Comics - let's explore his long history with the company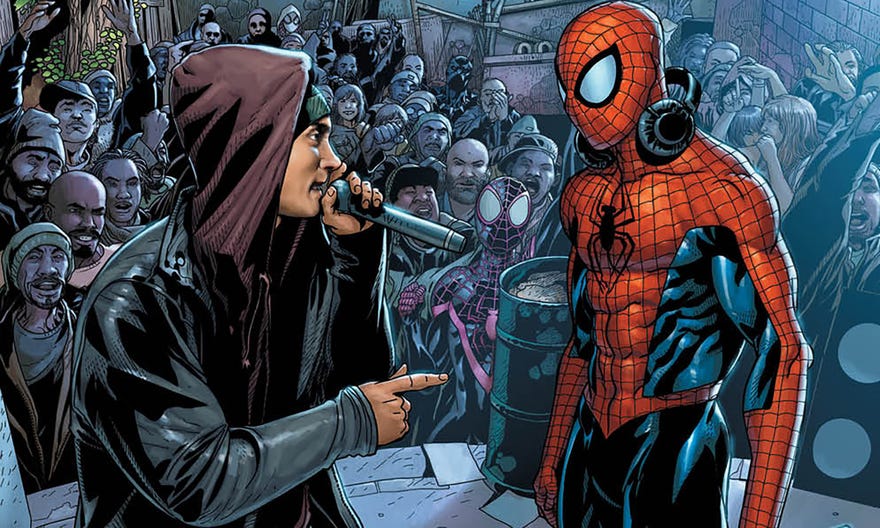 Eminem is well known in the real world - but he's also a star in the Marvel U. And it's not just for his music. While he hasn't (yet) gotten his own Marvel comic book series, Eminem has made several impactful appearances in them - from variant covers, to cameos, and even teaming up with one of Marvel's most popular characters.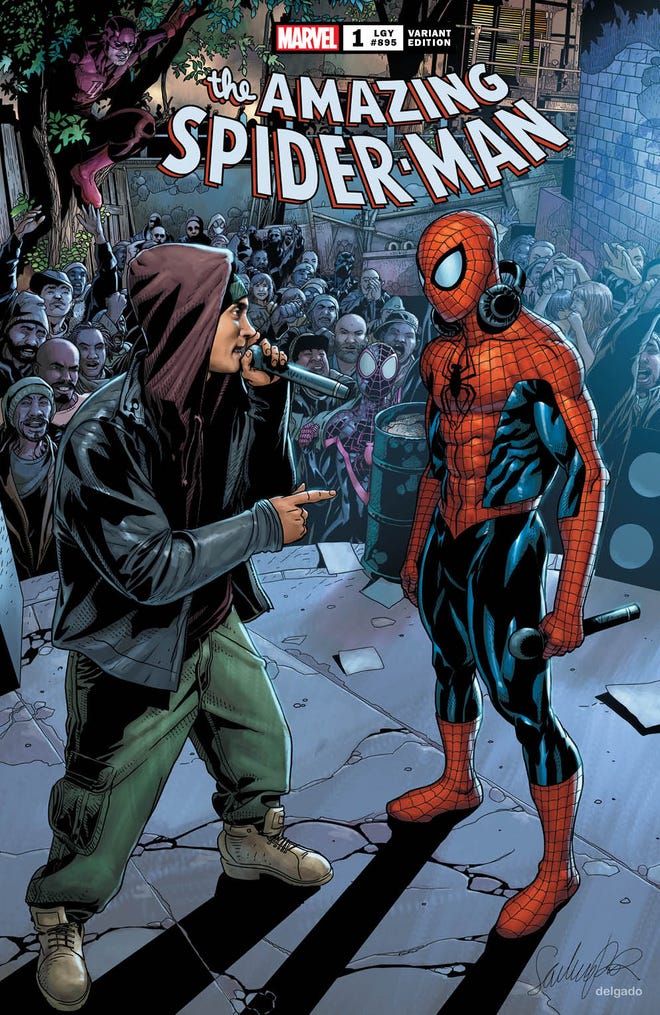 On November 21, a return was announced - in the form of a new variant cover to 2022's Amazing Spider-Man #1. As announced on the rapper's Instagram, Eminem has partnered with Marvel for this limited edition variant cover to be sold through Eminem.com.
"I've always been a huge Spider-Man fan since I was a kid- he's definitely in my top 5.... so being on a cover battling Spider-Man is such a thrill and an honor," says Eminem in a statement.
The Amazing Spider-Man #1 (2022) Eminem variant cover went on sale on November 22, and sold out in minutes. Popverse has confirmed it was a limited edition of 5,000 copies. Copies have already begun hitting the secondary market, with copies sold for $81.99 (pre-sold before the book was even put on sale) to at least four sold today at $2000 each. As of press time, there's additional copies up for auction ranging from $144.44 to $2,000.
A second, even rarer, Amazing Spider-Man #1 (2022) Eminem variant cover - called a 'spotlight' edition - will go on sale November 29 through TheHaul.com (The Haul is owned by ReedPop, Popverse's parent company.)
The variant cover is drawn by Marvel Comics' stalwart Salvador Larroca, who has a history with Eminem - having drawn him in one of the rarest modern Marvel Comics in modern history.
Eminem is the star one of the rarest Marvel comics in modern history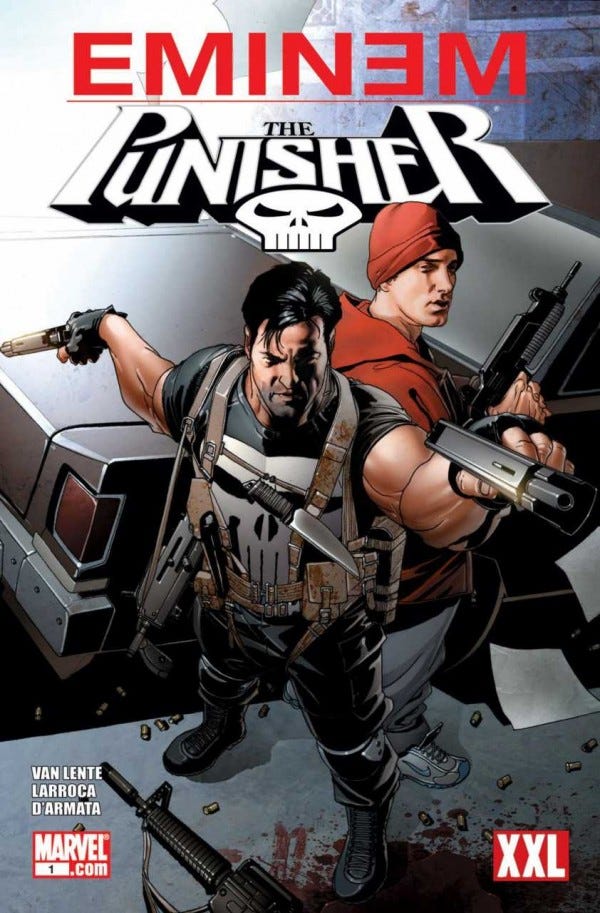 In 2009, Marvel Comics teamed with the hip hop magazine XXL for one of the most comics unique team-ups to date: Eminem and the Punisher, written by Fred Van Lente and drawn by Salvador Larroca.
Released in the lead-up to Eminem's Relapse album drop, Eminem/Punisher (Yes, Marshall Mathers got top billing over Frank Castle) began with Punisher attempting to gun down the hip hop star and his entourage after a concert in Detroit. It all turns out to be a misunderstanding (but not before the rapper pistol-whips the Punisher), and the two heroes (or are they?) eventually team up to defeat the true villain, Barracuda. Eminem even shows a killer instinct that arguably outstrips Punisher's own and chops up Barracuda using a chainsaw.
Eminem/Punisher #1 was published in 2009 as part of Marvel Comics' special projects division, which is for comics underwritten by advertisers like sponsored content. Those comics are rarely reprinted, and Eminem/Punisher has become one of the most storied (and rare) modern Marvel comics to date - with no reprints or digital editions ever released. Copies of this comic routinely go for $300 and up on the collector's market.
And curiously, the cover of Eminem/Punisher #1 lists the issue as the first of a two-issue series. The second issue was never released.
Eminem has an 'in' with mutantkind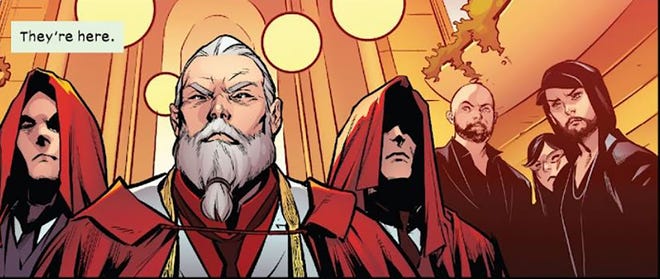 More recently, Eminem was among the real-life celebrities making an appearance at the second annual Hellfire Gala in the X-Men books (Excalibur #21, to be exact). There was no pistol-whipping or chainsaw antics this time out, unfortunately.
Eminem is a big comic fan, with expensive tastes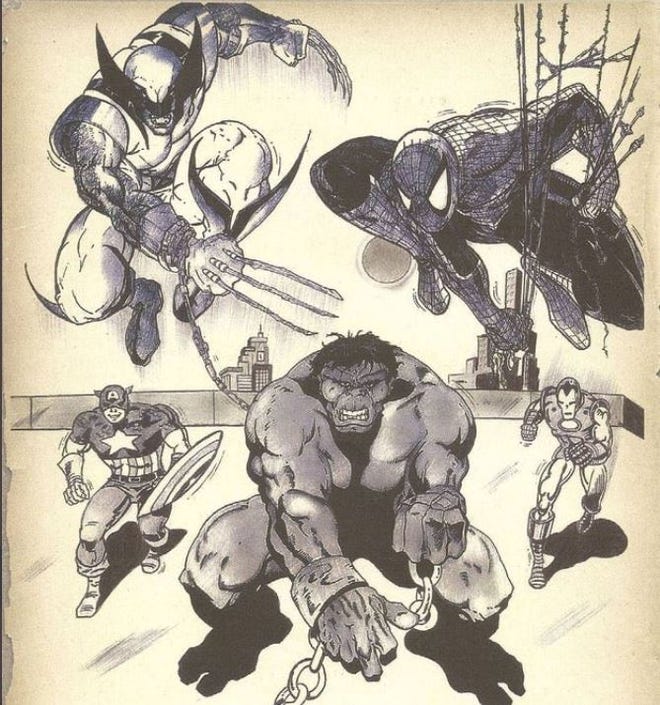 Not only is Eminem a Marvel comics character, he's also a fan.
In a 2012 Los Angeles Times profile, it's casually mentioned "The young Eminem had a love for storytelling and dreamed of being a comic-book artist until he got absorbed with rap." We even have some of his artwork from that time.
That plan B worked out for Eminem, enabling him to come full circle and buy some of the comics he was a fan of... and more.
"I've gotten a small glimpse of Eminem's collection, and Eminem's collection is otherworldly," says Riggs Morales, a former executive at Shady Records, told MTV in 2009. "[He has items that] aren't even on display at the stores."
Among his posessions is a copy of Amazing Fantasy #15 - the first appearance of Spider-Man. A graded version of this comic recently sold for $3.6 million at auction.
"Just being able to have those pieces of history is crazy," Eminem has told Genius. "I would not want to face off with somebody comparing comic book knowledge, but I know a pretty good amount."