9 Encanto cosplays to enchant you into watching the movie
Disney's Encanto characters come to life as cosplayers make material magic
Welcome to the family, Madrigal! These cosplayers may not be related, but they have what it takes to make the Casita dance! Disney has hit a home run with their most recent animated film Encanto starring Stephanie Beatriz as Mirabel and a whole family bursting with magic.
The film was initially released in theaters on November 26th and caught viewers' attention once it began streaming on Disney+ on December 24th. Unlike other Disney films, Encanto didn't have to wait the typical 45-day waiting period to stream due to Covid-19 cases rising in the US. No matter the circumstances, we are grateful to have this heartwarming film grace our screens with exciting characters, vivid visuals, and lively music written by Lin Manuel Miranda.
Encanto focuses on the Madrigal family, who all have extraordinary magical powers hidden in the hills of Colombia. Each member has their own special gift that reflects their personality, all except Mirabel, who wasn't given one. Although she sometimes feels frustrated by not having a gift, Mirabel finds empowerment by being unique in her own way and loving her family. Yet, something is amiss. There is something wrong with the magic that empowers the family, their home, and the town! Now, Mirabel is the family's last hope in discovering the danger surrounding them.
Cosplayers worldwide are taking to their embroidery machines and learning lyrics to create TikTok's and beautiful imagery of their favorite characters from the film. Many have commented on how Disney is broadening their horizons and developing concepts and stories around POC characters and that it is about time. Some have mentioned they love the film's refreshing and honest views on family. And most can't stop talking about the beauty that shines through this enchanting tale. So, stay tuned and sit tight as we celebrate Encanto cosplayers!
Its.cosart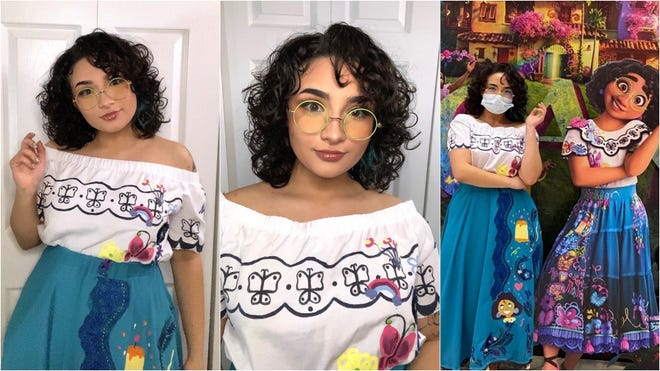 Its.cosart's cosplay has us believing in magic! Her cosplay was constructed before the film's official release with limited time and resources. Initially, she was flooded with messages from friends and family saying how much she resembled the character.
"I have never had a Disney character look like me before, so this felt incredibly heartwarming, and I knew I'd have to cosplay her."
Her top and skirt were both sewn from fabric, and she embroidered what best she could determine from the various screenshots she took from the trailer and posters. Since the cosplayer didn't know how to hand stitch embroidery, she instead cut out what she needed and glued it on. All of the butterflies, flowers and even the candle are hand-painted.
Fast forward to today, and Its.cosart plans on recreating the cosplay to be as accurate to the film as possible. She plans to someday make the skirt bigger like a traditional Folklorico, so she can spin and dance. Its.cosart recently got an embroidery machine that she'll use to embroider a pair of shoes to match Mirabel's. We love the dedication she has! The cosplayer also told us her opinion on the film and its importance to herself and the world.
"I think Encanto is a love letter to not only Colombian culture but to Latino and Hispanic culture as a whole. The way the matriarchal family dynamic is portrayed is extremely accurate, and the theme of breaking the cycle of generational trauma is fundamental. Encanto shows what our immigrant parents and ancestors had and still have to go through to make a better life for their family and how they will do anything to preserve that new life. That is something every island should be proud of having represented in a media that's as big and influential as Disney."
Regal_reyna_ig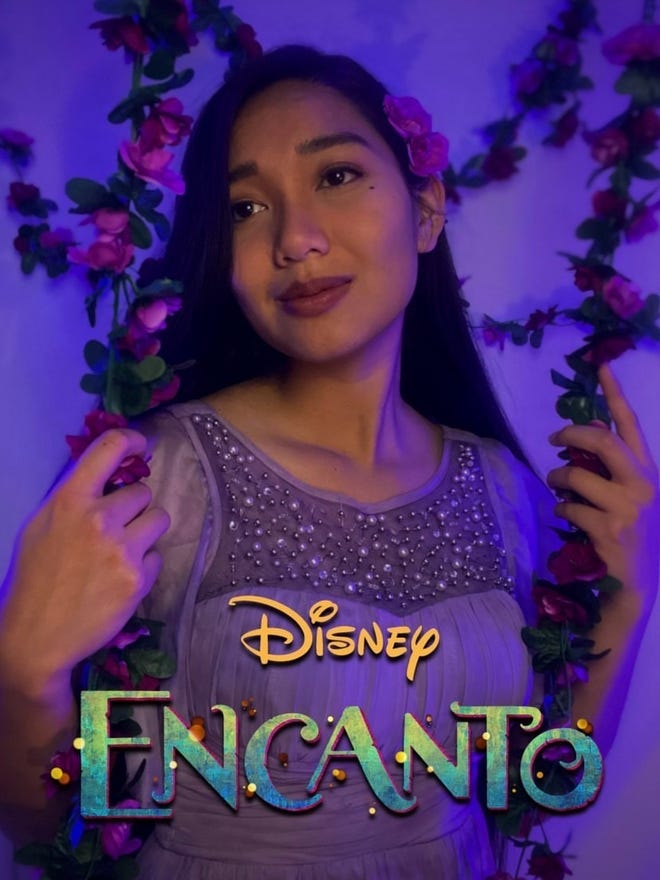 Regal_reyna_ig is as beautiful as a rose (or a succulent) as Isabela! The cosplay was created as fast as the character can make a flower bloom. Regal_reyna_ig pulled a dress from their closet, posed in front of the bugambilia flowers she had growing from their backyard only an hour after watching the trailer.
"I couldn't help but laugh because I already had a dress like Isabela's. Years ago, I had sewn flutter sleeves and dyed the dress a color that happened to be a similar color/style to Isabela's dress."
For their TikTok videos (which have over 2 million views), the cosplayer purchased a vine with flowers off of Amazon. Overall, this closet cosplay was only $9! Talk about smart spending. The vines are attached to a hanger to recreate the flower swing Isabela uses in the movie. Eventually, the cosplayer plans to sew/modify a dress that's more film-accurate. Honestly, we don't know how this could get better, but we have our push notifications on to see what Regal_reyna_ig creates! As for why she chose to cosplay Isabela other than their glorious locks, the cosplayer told us how she personally relates to the character.
"Although I'm not Colombiana, nor have I the same shade of complexion as Isabela, it means so much to me having Isabela as a character to relate to as the oldest daughter of a POC immigrant family in America. Even though Isabela still lives in her homeland, her personal story of living up to others' expectations and having to set a perfect example for her younger siblings and cousins as the firstborn really resonates with my own experiences."
"I felt even more connected to Isabela when the creators expressed that her features represent indígena beauty. That means so much to me seeing a morenita/prieta character like her portrayed as gorgeous and charming since I grew up watching telenovelas where I only saw myself in the darker-skinned characters who were considered "ugly" "unlovable" characters. I didn't have that as a kid, and I'm so happy for the children who get to grow up with Isabela as an icon."
Fatimasimps4levi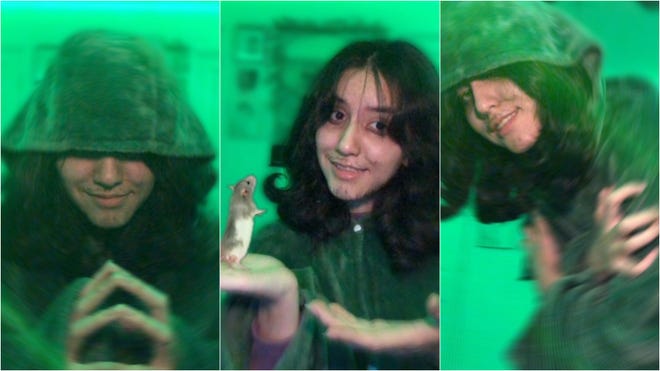 We've got to talk about Fatimasimps4levi cosplay of Bruno-no-no-no! After several people messaged the cosplayer on how she resembled the character, Fatimasimps4levi knew it was fate and went to the closet!
"It didn't take long for me to find anything, so I definitely didn't expect my video to gain any attention (It's almost at 1 million views). I'm very grateful it did though, who knew a Bruno closet cosplay would go this far!"
From what Fatimasimps4levi considers an easy transformation, the cosplayer noted how enjoyable it was to act like the character and how grateful they were for the encouragement from others to cosplay as Bruno.
"I'm glad people pushed me out of my comfort zone, as I never thought of cosplaying as the opposite gender before."
At just fourteen, Fatimasimps4levi also spreads awareness of the SDA and the Black Lives Matter movement through their social platform. We asked their opinion about the film and what it meant to them, and this was their response:
"My initial thoughts on Encanto were just "wow." The film gave the perfect amount of Hispanic representation that didn't seem forced or seem too little. I truly was overjoyed, and it makes me so happy when we get represented in movies like this. Growing up, I didn't see many princesses or characters that represented Hispanic culture, that represented me. How they described Colombian culture meant a lot to me as a Hispanic. The music, plot, and characters all had this special thing I can't describe. This movie definitely holds a special place in my heart, and I'd love to see more stories like this in the future."
Sawako_ragdoll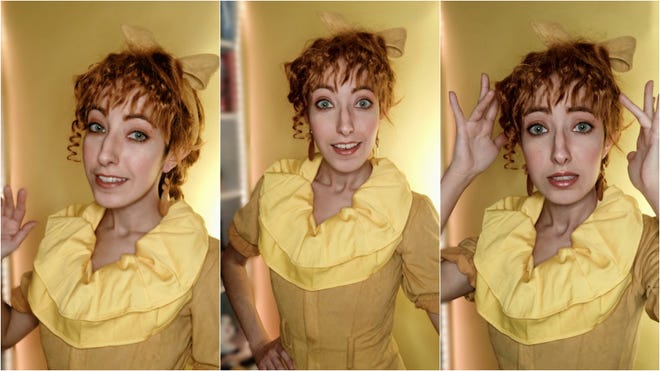 Here comes the sun and Sawako_ragdoll as Pepa! What started as a simple makeup test turned into a viral sensation when Sawako_ragdoll took up this cosplay of the Encanto character. She used a yellow dress from her closet and added yellow fabric around the neckline to create ruffles. She also improvised Pepa's headband by utilizing the dress's belt. She then only had to restyle a wig and wallah!
"I plan to improve it and sew a more accurate dress once I find the right fabric."
Sawako_ragdoll has been cosplaying since 2008. Her TikTok platform has become a beacon of creativity and costumes throughout the pandemic, influencing others with her radiant positivity. Because of the pandemic, Encanto was the first film Sawako_ragdoll has seen in theaters in almost two years! The film was so inspiring that this cosplayer felt the need to travel again and a connection between herself and the character Pepa.
"I chose to cosplay Pepa because when I went to see the movie, I immediately liked her. I grew up in a large family myself, so many of the dynamics on-screen felt familiar. Even though Pepa struggles with her powers, she tries her best and is such a loving person. Plus, her relationship with her husband Félix and their chemistry is so heartwarming to see, and she looked so proud of Antonio when he received his miracle! I couldn't have chosen a better movie for my return to a cinema, and the song (We Don't Talk About Bruno) was a total bop!"
Seejaylewis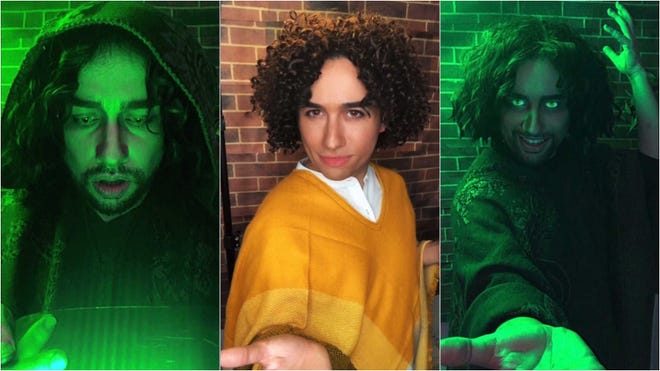 Yeah, about Seejaylewis's cosplay of Bruno? We really need to know more about his cosplay of Brunoooooo! As you can tell, we are obsessed with this character and this cosplay! Seejaylewis put both cosplays together for Bruno and Camilo the week that Encanto was releasing on Disney+ (#impressive). For Camilo, he found similar material with just the right coloring and added a hole for his head to pop through.
As for Bruno, Seejaylewis simply added a hood to create the seven-foot-frame creepy style that imitates Camilo's impression of him. With plans to update the Bruno cosplay in the future, we asked the cosplayer if he had a connection to the character.
"I was inspired by Bruno at first because I saw myself in him. When the movie first came out, multiple friends told me I should cosplay him because he looks like me, and after seeing the movie for the first time, I knew it had to be done. I also cosplayed as Camilo mostly because I really wanted to film the "We Don't Talk About Bruno" transformation scene."
Check out that very TikTok by clicking here (tis' one of our favorite videos). Seejaylewis also commented on how much he loved the film and how proud he is to see the representation of his culture.
"This film is important for the Latinx community, especially for young children who can look at the movie and be able to see themselves in the characters. Seeing Disney characters with similar skin tones and hair textures is amazing, and I definitely wished I had this sort of representation as a kid."
_Sweetstories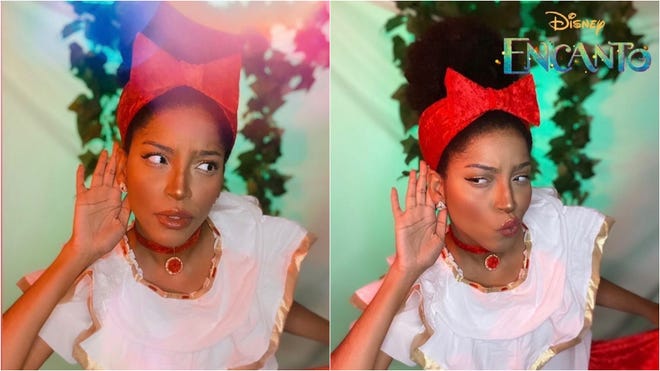 Shhhh, do you hear that? Do you hear our love and adoration for _sweetstories cosplay of Dolores? If not, we will climb to the highest peak and scream about it from there! Yes, that was a bit overdramatic, but this cosplay is GOAT material. The entire cosplay is from _sweetstories closet or made from scratch.
Several pieces, like the necklace pendant and the bow, were made of cardboard and covered with scraps of leftover fabric from other projects. The skirt is made from a panel of crushed velvet fabric held together with a scarf. And the shirt is hot glued together.
"I really decided to throw this cosplay together on a whim the weekend after I saw the film. So, basically, if you looked at the back of my cosplay, you would see a hot mess, hahaha! Eventually, I hope to do many of the other characters from the film too!"
As a self-proclaimed hopeless romantic, _sweetstories connected to Dolores aside from admiring the character's physical resemblances and character design.
"I absolutely LOVED Encanto. I cannot remember the last time a movie has made me cry so much!! It's such a beautiful film with so many powerful lessons. I really loved Dolores' little love journey; it was hilarious. And, although I cosplay as Dolores because as an Afro Latina myself, I felt as though my features favored her; personality-wise, I really connected with Mirabel and her struggles. It was beautiful watching her journey on screen. So much love, culture, and heart were packed into that movie. I am not lying when I say it has quickly become one of my all-time favorite Disney movies."
Stevie.bones.cosplay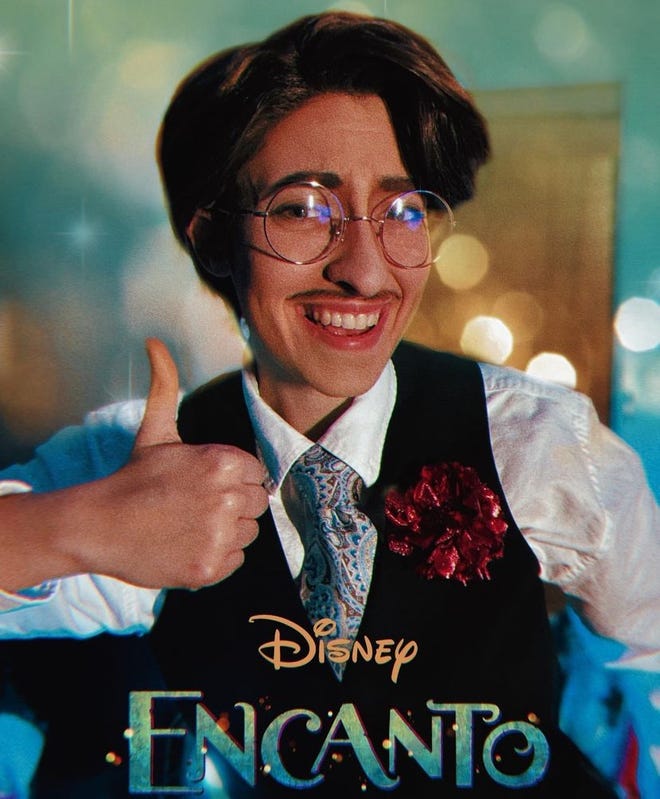 Cosplaying as our favorite accident-prone dad is Stevie.bones.cosplay! As an upcycling queen, they thrifted costume pieces, including the vest and the shirt. And that gorgeous flower on the vest, Stevie.bones.cosplay made it themself (no Isabela).
With a bit of wig restyling and mustache drawing, the bumbling Augustin was created into cosplay existence! Not only does Stevie.bones.cosplay appreciate the character of Augustine, but they also value the traditions and values the film shines a light upon.
"Agustín is a very loving and protective father who always looks out for his daughters. He represents a very healthy and positive form of masculinity that is refreshing to see in movies. The film is a beautiful piece that honors Colombian culture and celebrates its diversity. It focuses on several different topics like self-worth, family values, communication, and individuality."
"For me, the film is a comfort. Most everyone struggles with feeling like they don't belong and how they may not be pleasing their family's interests. Encanto reminds me that it's perfectly fine to be different and express your thoughts and feelings to those you love."
Fesou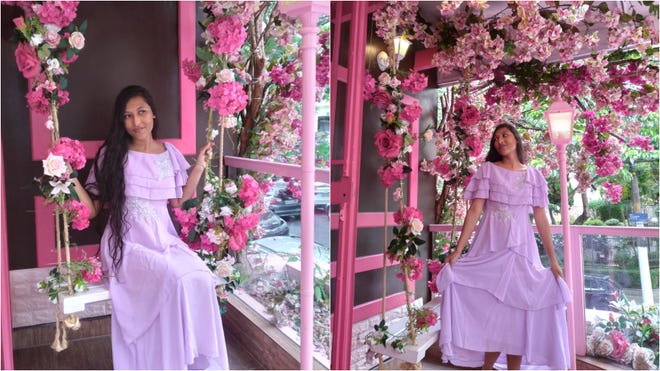 There's nothing Fesou can't do once she blossoms into her cosplay of Isabela! Her dress is a purchase from the popular company Shein that the cosplayer then customized with flowers to look more like the film version. If you want to purchase a purple dress, we recommend checking a thrift store; you never know what local beauties you may find.
We especially love the background Fesou has utilized for her photos and videos of the character because it parallels beautifully to Casita Madrigal. Fesou vocalized the film's significance to her culture and how it changed her standard of beauty.
"For me, a film about a culture that is so close to us is vital. I'm Brazilian, but I can identify with several things in the film. Plus, the story and songs are so wonderful, I watched it repeatedly, and I have yet to get tired of it. And, for a long time, I grew up thinking there was a problem with the size and shape of my nose from my profile. But, I was delighted when I saw that Isabela's nose was similar to mine, and she is considered perfect. I was so excited to cosplay her. She is beautiful."
And you are too, Fesou!
Goodoldfashioncos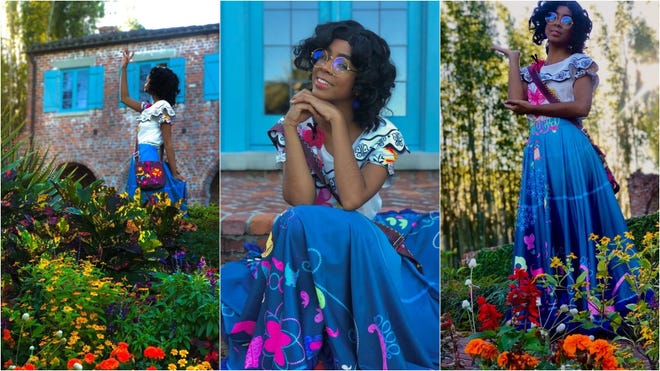 Goodoldfashioncos doesn't have to wait for a miracle with how stunning his cosplay of Mirabel is! This cosplayer is a massive fan of Lin Manuel Miranda, so much so, he started planning his Mirabel costume before the film came out.
"When I saw that it was Columbian based and the characters are black and Columbian, I freaked out. I'm part of the afrolatino community, and this is somewhat the first time Disney has done something with our culture on main media, and I knew this movie was going to be huge!"
His cosplay of Mirable was a store-bought cosplay he used as a base to make alterations and add embroidery to. Most of the embroidery on the skirt, bag, and blouse are printed on; however, there is some hand stitching as well. Our favorite details include the handmade butterfly pinned to the shirt and the lovely shoes that Goodoldfashioncos inherited from his mom.
He bought the earrings and glasses and re-styled a wig for those final touches. Like most cosplayers, Goodoldfashioncos wants to continue adding more details to something that's already wonderful, and we love it!! We see it as determination and passion not just for a screen-accurate cosplay but for the character.
"This cosplay and movie mean so much to me; it shows me and people like me in the BIPOC community that we can do anything even without a "superpower." It even shows kids that they don't need to be perfect or give in to pressure to not be themselves! It's so important to share this movie with everyone, even if you're not BIPOC; it has a really good message to be shared. I relate to Mirabel a lot because she was willing to risk everything to be amazing and special in her Abuela's eyes. I would do the same to be special in almost everyone's eyes."
Though we may not be your Abuela, we see you as special!
As for Luisa cosplayers, we couldn't contact any at this time due to messaging requirements. Here are a few accounts we love who cosplay the character: robin.the.god, guidomistasgirlfriend, and maribelspiritualjourney. They are all incredible, and we'd love to interview and write about them in the future!
Encanto is currently streaming on Disney+.