Get inside the complicated history of Chess star Bobby Fischer in preview of graphic novel Black & White
Take a look inside of the new Abrams graphic biography following the legendary chess player's life
There probably no more looming figure in the world of chess than Bobby Fischer. And this complicated history is something that writer Julian Volog and artist Wagner Willian have tackled in Black & White: The Rise and Fall of Bobby Fischer, a graphic biography following the complex and often upsetting events of Fischer's life.
About the project, Julian Voloj tells Popverse, "I've done a few graphic novel biographies of well-known figures such as Superman co-creator Joe Shuster and artist Jean-Michel Basquiat but tackling Bobby Fischer's life and legacy was a challenge for several reasons. On the one hand there is the chess wunderkind who became world champion, moreover against a Soviet player during the height of the Cold War, elevating the meaning of the match.
"But then, on the other hand, the story of the racist, chauvinist, and antisemitic hatemonger. And there is no way to ignore this. You can't tell one story without telling the other. And this on top of the challenge to make chess the centerpiece of the narrative – many were skeptical we could pull this off, but I was lucky enough to collaborate with the amazing illustrator Wagner Willian and together we truly created something we can be both proud of."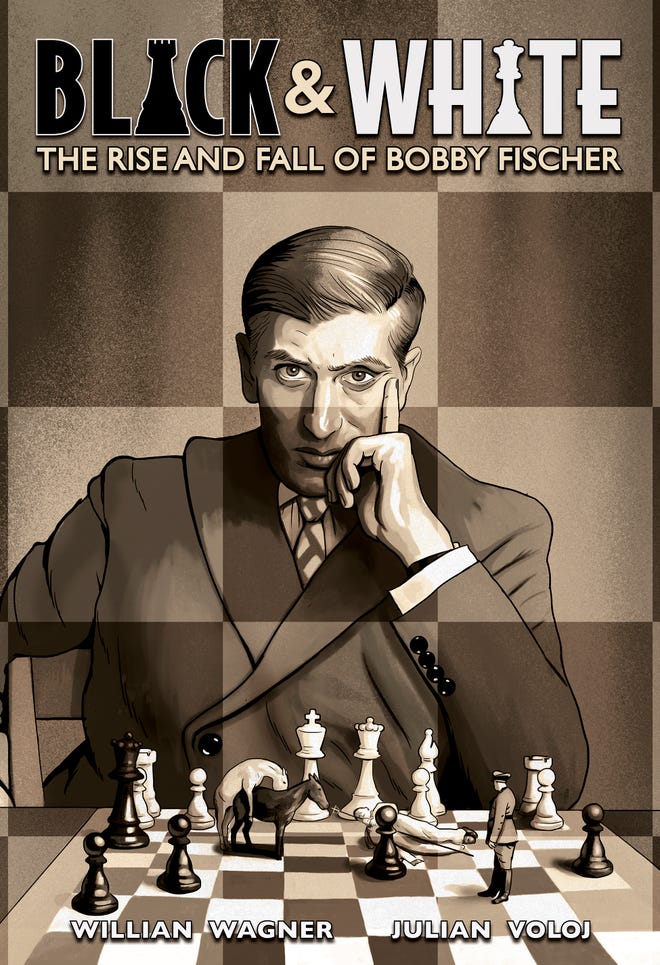 Abram's synopsis of the book reads:
"The life of Bobby Fischer (1943–2008) had many unexpected moves—from his solitary childhood to his stratospheric accomplishments in the world of competitive chess, and eventually, his decent into mental illness and disgrace. Black & White begins in Brooklyn, where Fischer was born and raised by a single mother. By the time he was a teen, he had established himself as a loner and dropped out of school. But none of that mattered; he had found his true calling—chess.
"In 1972, Fischer played what many consider 'the game of the century' against the Soviet Union's chess champion Boris Spassky at the height of the Cold War. Later, Fischer became the youngest-ever US Chess Champion and the game's youngest grandmaster. Never before had chess received such international attention. Fischer, whose sole focus in life up until then was chess, reached the Olympus of chess at 29, and then . . . he disappeared.
"Suffering from mental illness, the chess genius became increasingly paranoid, lost in anti-Semitic conspiracy theories—despite the fact that he himself was Jewish—and died as a fugitive in Iceland. With Black & White, author Julian Voloj and illustrator Wagner Willian have crafted a beautiful and fascinating work that reveals Fischer's history while also contextualizing his lasting impact on pop culture. Black & White is the first-ever graphic novel to tell Fischer's story and examine the legacy he left behind."
If that all sounds intriguing to you, take a look at the gallery below to get a first look inside Black & White: The Rise and Fall of Bobby Fischer:
Black & White: The Rise and Fall of Bobby Fischer will be published April 4, 2023 by Abrams Books.
---
Is Bill Watterson's surprise return with The Mysteries an allegory about his own mysterious return after 28 years?