Fast & Furious watch order: How to watch the car action series in order
Dom, Letty and friends are waiting for you to catch up with Fast and the Furious
With the tenth movie in the series (well, eleventh, if you could the Hobbs and Shaw spin-off) streaming now with Fast X and bringing both Jason Momoa and Brie Larson into proceedings, it's very possible that you're finding yourself thinking, 'Hey, maybe it's time that I finally watch those Fast & Furious movies that people seem to be into.' Should that be the case, let me tell you: yes, it is. And we're here to help with this guide to how to watch Fast & Furious in order.
There are a couple of ways to look at Fast & Furious as a franchise. On the one hand, it's a series about people driving cars very fast while talking about 'family' in very serious, melodramatic tones. (But then again, Vin Diesel can't really do "light" very convincingly.) On the other, it's one of the most fun, enjoyably over-the-top movie franchises in modern cinema, one whose dedication to stunt work is rivaled only by the Mission: Impossible movies — and a series that seems curiously dedicated to upping the ante both in terms of storylines and guest stars with every single installment. Either way, it's a franchise unlike any other in contemporary mainstream cinema, and something that's always worth revisiting, even if you've seen every movie before.
(A rewatch is probably a good idea, considering the complicated canon that the series has built up around itself, especially in the past few installments. Who is Charlize Theron's Cipher really working for, by this point…?)
With eleven movies, six seasons of an animated spin-off, and two short movies — The Turbo Charged Prelude for 2 Fast 2 Furious and Los Bandoleros for Fast & Furious, both of which were created as prologues to their respective movies — it might be confusing to dive into the franchise for the first time, especially when the movie continuity doesn't actually follow the release order of the films. That's why we're here.
Fast & Furious in chronological order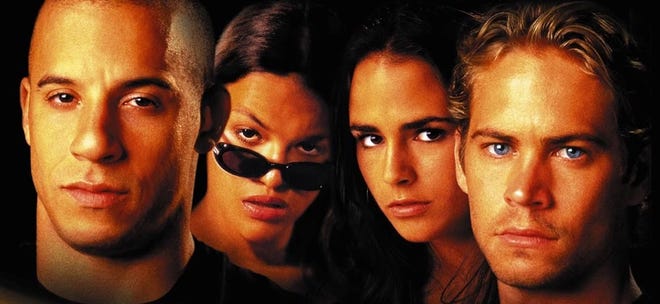 The chronology of the Fast & Furious movies is a strange thing. The franchise stumbled after its first two installments, and seemed almost certainly over after the third, which was to all intents and purposes a stealth reboot of the entire series — only to return some years later with a movie that tied everything together and featured a character killed in the previous movie. It was only after 2013's Fast & Furious 6 that everything properly fell into place, four years and three movies after the franchise roared back into theaters. Confusing? Sure, but only if you're watching these movies for the plot.
Here's how to watch the Fast & Furious movies in chronological order:
Fast & Furious in Release Order
As above, the F&F franchise stalled out after the second movie, had a refit with the third, but didn't achieve full speed until the fourth, which managed to put all the pieces together in the right order to get a green light from audiences. Too many car-related puns? I'm sorry. Anyway, here's how to watch Fast & Furious in release order:
What about the TV show?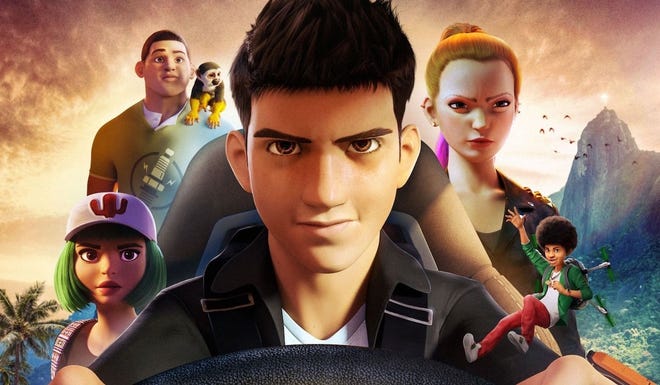 Fast & Furious actually extends beyond just the movie series; in 2019, it was expanded into a television series titled Fast & Furious: Spy Racers — an animated show for Netflix centering around the teenage cousin of Vin Diesel's Dom Toretto, who is recruited by a government agency to infiltrate a racing league that's actually a front for a criminal organization. On the one hand, it sounds absolutely ridiculous when you write out the plot that bluntly. On the other, please compare this to the last few Fast & Furious movies and it sounds remarkably quaint.
Fast & Furious: Spy Racers ran for six seasons, building in scope the entire time; Diesel even made voice cameos in the first, and the final two, seasons of the show. Otherwise, the show's surprisingly unrelated to the movie series, and particularly when it comes to figuring out the continuity of the show and where it falls in the timeline of the movie. In the end, I placed it roughly in terms of when it was released, in part because it definitely falls after Furious 7 — in one of the show's rare call-outs to the movies, it makes references to a stunt from that movie — but otherwise, it can fill the fairly lengthy gap between The Fate of the Furious and F9: The Fast Saga, which roughly coincides with its release date.
If you're wondering, this makes the chronological line-up of the franchise something like this:
That seems like a lot of movies, what are the essential movies if I just want to sample Fast & Furious?
This might be a controversial opinion, but there's definitely an argument to be made for skipping everything made before 2009's Fast & Furious, which is both a stealth reboot for the franchise, and arguably the first movie in the series that makes the decision that spectacle and stunts are more important than logic or real world physics, a choice that I'd suggest is what is behind so much of the joy and success of the Fast & Furious franchise as a whole. The 2009 movie is also, technically, the start of the storyline that has would, increasingly tenuously, wind through the series moving forward. If you're really feeling pressed for time, try this line-up:
Where to watch the Fast & Furious movies and TV show
Just like in life as a Fast & Furious character, this ain't easy. As the franchise is owned by Universal Pictures (who are without a streaming platform of their own), all 14 pieces of the F&F franchise aren't in one eaasily accessible streaming place. You Can still buy each of them on Amazon (besides the Netflix-eclusive Fast & Furious: Spy Racers animated series).
If you want to stream the Fast & Furious movies, here's where you go:
How does the franchise deal with one of their two main characters dying midway through the shoot of one movie?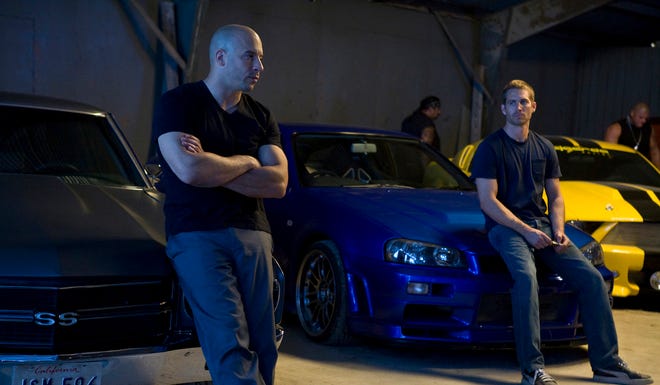 For those who aren't aware, Fast & Furious is, up through Furious 7, Paul Walker is one of the two core leads of the series alongside Vin Diesel; Walker plays Brian O'Conner, a former LAPD officer and FBI agent whose moral code balances out (and occasionally clashes with) that of Diesel's Dom Toretto. That O'Conner is in love with Toretto's sister, Mia, both raises the stakes emotionally and strengthens the franchise's near-obsessive invocation of "family" as the one unbreakable bond that has to be respected at all costs.
Walker, tragically, died in a car accident during production of Furious 7. Thanks to a combination of rewrites, body doubles and pre-existing footage, his character makes it to the end of the movie, where he and Diesel's Dom Toretto have a meta-textual farewell as they drive in opposite directions; since then, Brian has been purposefully left alive by filmmakers, being referred to on multiple occasions as being elsewhere during the main action while continuing to play a supportive role. The character is teased as arriving at the end of F9, but all that's actually seen is his car.
In the wake of O'Conner's departure from the franchise, the Fast & Furious movies pivot to more focus on Toretto and his extended family, which includes — spoiler alert — John Cena as his estranged brother, Jakob. (You won't meet him until F9, however.)
---
Confused on the ending of the most recent Fast and Furious movie? Check out our guide to Fast X's ending.