12 New Shows to Watch this Summer
What if Excalibur chose a queen? That is the question at the center of Cursed, the new Netflix series adapted from the novel by Tom Wheeler with illustrations by Frank Miller.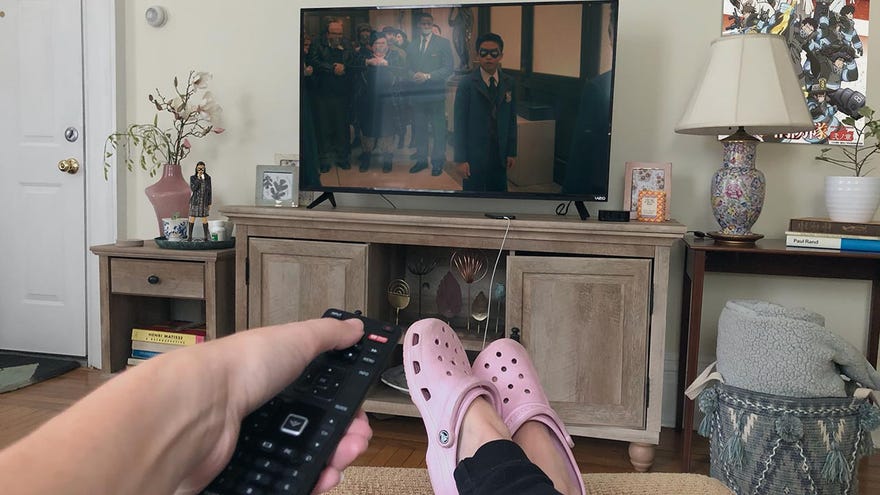 As the days get warmer, there has never been a better time to stay inside and catch up on that ever-growing list of new TV. The trick is knowing where to start. You can return to favorites like The Umbrella Academy, new shows on the block like Lovecraft Country, shows sure to stir up nostalgia like The Baby-Sitters Club, and everything in between.
To ease the scrolling struggle, here are 12 shows to put on your summer 2020 watchlist to beat the heat.
1. SYFY WIRE's The Great Debate (June 18)
1. SYFY WIRE's The Great Debate (June 18)
If you've attended New York Comic Con, you may have had a chance to experience a Great Debate in person. The Great Debate pits actors and comedians against each other to argue over some of the hottest (and funniest) topics in pop culture. Come for the awesome guests like Adam Savage, Aisha Tyler, Orlando Jones, and the cast of Critical Roll and stay to find out whether they think the Bat Signal is awesome or idiotic. Baron Vaughn (Grace and Frankie, Mystery Science Theater 3000) hosts and chooses the geek who reigns supreme.
Where to watch: Thursdays at 11:00 PM EST on SYFY
2. Twilight Zone Season 2 (June 25)
Jordan Peele's Twilight Zone returns for season 2 this summer. Continuing the tradition of the first season and Rod Serling's original, the anthology will continue its examination of society with a healthy dose of sci-fi and fantasy. Guests this season include Morena Baccarin, Kylie Bunbury, Jenna Elfman, Ethan Embry, Topher Grace, Tony Hale, Gillian Jacobs, Chris Meloni, Billy Porter, and Jimmi Simpson - to name a few.
Where to watch: CBS All Access
3. The Baby-Sitters Club (July 3)
80s and 90s kids will remember reading The Baby-Sitter's Club and trying to decide whether they were more of a Kristy or a Claudia. Now the beloved books by Ann M. Martin are getting adapted into a series for Netflix introducing Kristy (Sophie Grace), Mary-Anne (Malia Baker), Claudia (Momona Tamada), Stacey (Shay Rudolph), and Dawn (Xochitl Gomez) to a whole new generation. The show will detail how the five BFFs start the titular Baby-Sitter's Club while also exploring the everyday problems of teens. It's the perfect show for the whole family or those looking to recapture a bit of that childhood magic.
Where to read: The Baby-Sitter's Club by Ann M. Martin
Where to watch: Netflix
4. Fire Force season 2 (July 3)
Anime fans look no further for a show to add to your summer 2020 watchlist. Fire Force, adapted from the manga by Atsushi ?kubo, returns for its second season this July. The story picks up where season 1 left off with members of Special Fire Force Company 8 battling the Infernals – human beings who spontaneously light on fire and cause destruction – and Shinra Kusakabe looking for the truth about his missing family members.
Where to watch: Crunchyroll, Funimation
5. Close Enough (July 9)
If the show Close Enough sounds familiar, it's because the animated series was set for release in 2017. It finally made its way over to HBO Max where it is set to premiere in July. Close Enough features the adventures of a 30-year-old couple, their 5-year-old daughter, and their divorced friends/roommates all living together in Los Angeles. The adult comedy is about growing up, juggling work and kids, and all the absurd things that happen along the way.
Where to watch: HBO Max
6. Little Voice (July 10)
Little Voice is about all the best things in life: music, finding yourself, and New York City. The new series follows 20 something Bess King (Brittany O'Grady) in her struggles to pursue her dreams. Singer/songwriter Sara Bareilles wrote the original music for the show and also serves as an executive producer alongside J.J. Abrams. A musical that's described as "intensely romantic" AND "a love letter to the diverse musicality of New York"? Sign me up.
Where to watch: Apple TV+
7. Brave New World (July 15)
Chances are you read Brave New World by Aldous Huxley in high school. The dystopian classic is now getting the TV treatment as part of NBC's new streaming service Peacock. It tells the story of a seemingly utopian society that has outlawed monogamy, privacy, money, family, and history and how everything changes when a new man enters this society. Boasting a cast that includes Alden Ehrenreich (Solo), Harry Lloyd (Game of Thrones), Demi Moore (Ghost, A Few Good Men), Jessica Brown Findlay (Downton Abbey), and Hannah John-Kamen (Ant-Man and the Wasp), you are definitely going to want to check this one out.
Where to read: Brave New World by Aldous Huxley
Where to watch: Peacock
8. Cursed (July 17)
What if Excalibur chose a queen? That is the question at the center of Cursed, the new Netflix series adapted from the novel by Tom Wheeler with illustrations by Frank Miller. This updated Arthurian legend stars Katherine Langford (13 Reasons Why) as Nimue, the future Lady of the Lake who must go on a quest with a young mercenary named Arthur (Devon Terrell) to return the legendary sword to Merlin.
Where to read: Cursed by Tom Wheeler, with art by Frank Miller
Where to watch: Netflix
9. Wynonna Earp season 4 (July 26)
Wynonna Earp is the little show that could. The fans saved it from cancellation and now it's back for a 4th season. There's no release date yet, but don't let that stop you from watching this wild western that's unlike anything else on TV. If you haven't heard of this show, you're going to want to catch up on Netflix and get in on all the demon killing, whiskey slinging, badass fun.
Where to read: Wynonna Earp: Bad Day at Black Rock by Tim Rozon & Beau Smith with art by Chris Evenhuis
Where to watch: SYFY
10. Muppets Now (July 31)
Everyone's favorite puppets are back in the new Disney+ series Muppets Now. Featuring Kermit the Frog, Miss Piggy, Fozzie Bear, and more, the 6 episode show follows Scooter as he rounds up his Muppet friends to prepare for their streaming debut. With 30-minute episodes adults and kids alike are sure to enjoy this fun-loving unscripted comedy.
Where to watch: Disney+
11. The Umbrella Academy season 2 (July 31)
The Hargreeves siblings are back and this time they're in the past! Season 1 of The Umbrella Academy saw the superpowered siblings survive the apocalypse and disappear to locations unknown. Now, the series returns with Vanya (Ellen Page), Luther (Tom Hopper), Allison (Emmy Raver-Lampman), Klaus (Robert Sheehan), Diego (David Castañeda), Number Five (Aidan Gallagher), and Ben (Ethan Hwang) in 1960's Dallas. However, due to Number Five's teleporting powers they get separated and it's up to him to reunite his siblings. Can't wait to see what hijinks they get up to this time.
Where to read: The Umbrella Academy Volume 1: Apocalypse Suite & The Umbrella Academy Volume 2: Dallas by Gerard Way
Where to watch: Netflix
12. Lovecraft Country (August 16)
The second Jordan Peele show to grace this summer 2020 watchlist is Lovecraft Country. Produced by Peele, J.J. Abrams, and Misha Green, the series combines H.P. Lovecraft inspired monsters with a tale of a road trip through 1950's Jim Crow America. The cast includes the stacked lineup of Michael Kenneth Williams, Courtney B. Vance, Jonathan Majors, and Jurnee Smollett. There's no release date for the series yet, but you can read the novel of the same name by Matt Ruff while you wait.
Where to read: Loveraft Country by Matt Ruff
Where to watch: HBO, HBO Max