Exclusive Sneak Peek at Metaverse & Fan Submitted Questions
Coming to a screen near you June 7-13.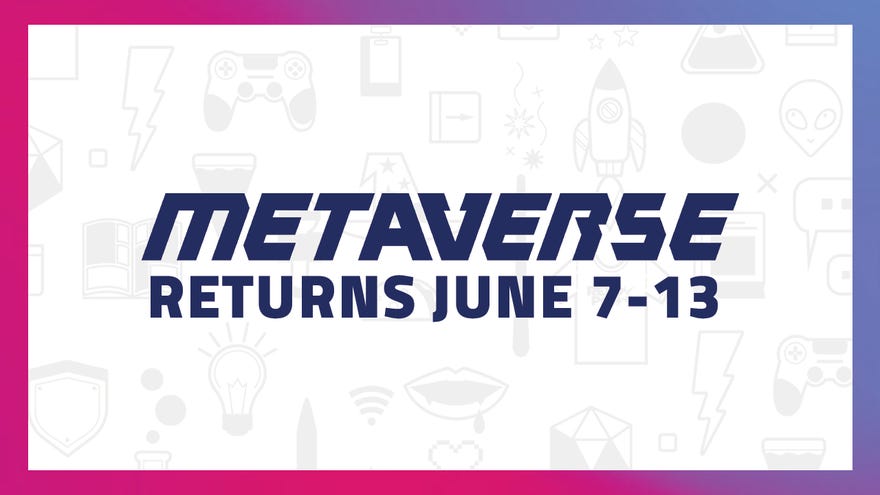 Metaverse returns to your favorite screen on June 7-13, 2021! All of the amazing content that you expect from a physical show will take place safe-at-home-in-your-pajamas. New and exclusive merch, as well as lots of other cool stuff coming your way.
There's a lot happening for Metaverse this June! You can expect to see a variety of panels across your favorite fandoms, the chance to submit questions for panelists and voice actors, as well as paid experiences and new merch. Click any of these links to jump to that section of this page.
Metaverse Panels
The full schedule for Metaverse has been announced! Check out the first wave of panels for Metaverse below. Follow Metaverse on Twitter, Instagram, and Facebook to see when the next wave of panels are announced. Schedule subject to change.
Anime Panels
Sailor Moon Cast Q&A Panel
Calling all Sailor Moon fans! What better way to prepare for the release of the newest Sailor Moon movie - Sailor Moon Eternals - than with a panel including the cast themselves? That's right, cast members are here to fight evil by moonlight and win YOUR love by daylight with a fan-fueled Q&A. Don't miss it!
Dr. Stone Cast Q&A Panel
You asked, and they're here to answer! Join the brains-and-brawns cast of Dr. Stone for a Q&A you don't want to miss.
That Time I Got Reincarnated as a Slime Cast Q&A Panel
Join in on this up-close and personal Q&A as the cast takes on your questions about Season 2, the Slime Diaries spin-off, and even about their personal experiences as voice actors.
Bleach Cast Q&A Panel
Bleach is back! After 8 long years of waiting, Season 17 is slotted to launch this year, and we've got some of your favorite cast members here to cover all the details, without spoilers of course.
Sailor Moon Fan Trivia
Fighting evil by moonlight, winning love by daylight, never running from a real fight! She is the one named Sailor Moon!" - For over 20 years, Sailor Moon has dominated the Magical-Girl world and Anime space. Now it's time to put 20-years' worth of knowledge to the test in an interactive game of fan trivia. Compete against other fans to win prizes!
Among Us with the cast of Dr. Stone
You don't need brains or brawns for this game - just killer-sneaky skills and some luck. Join us for a live game of Among Us with cast members from Dr. Stone! Directions on how to play soon to come.
Bleach Plays Jackbox Games... With You!
Join the cast of Bleach as they go head-to-head in a live stream of Jackbox Games! Play along at home, and even get a chance to play with the cast yourself!
Bleach Watch Party
We're taking it all the way back to the beginning with a watch party of the first 2 episodes of Bleach!
Details on how and when to join the watch party coming soon.
Yasuke Watch Party
New Anime Alert!
We're diving into this new anime, Yasuke – a story about a former Samurai, a magic-wielding little girl, and the conflict that ensues. For fans of the genre, this is giving us total Demon-Slayer/Rurouni Kenshin vibes and we're here for it.
Details on how and when to join the watch party coming soon.
Cosplay Panels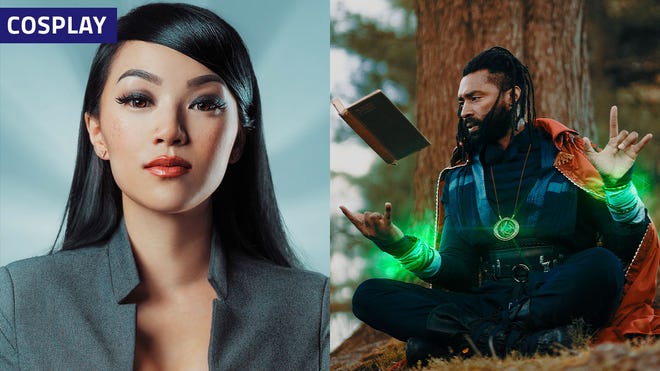 Photography Tips: Simple Photo Editing For Cosplayers
Want to know how to make the most of your cosplay photos through simple editing? Creative photographer and cosplayer Jonathan Belle is on hand to offer his best practices.
Photography Tips: How To Take Self Portraits
Join creative photographer Jonathan Belle for his awesome tips and tricks to make your cosplay photos really shine - even when you need to be your own photographer.
Cosplay Master Class | Armor with VampyBitMe - Six Part Series
Join us for a complete guide to cosplay armor-making with VampyBitMe, from getting started on your project, to which material and to getting that perfect finish.
Part 1: How to Start
Part 2: Materials
Part 3: 101 Armor Patterning
Part 4: Glues and Adhesives
Part 5: Paint and Seal
Part 6: Live Q&A
Comics Panels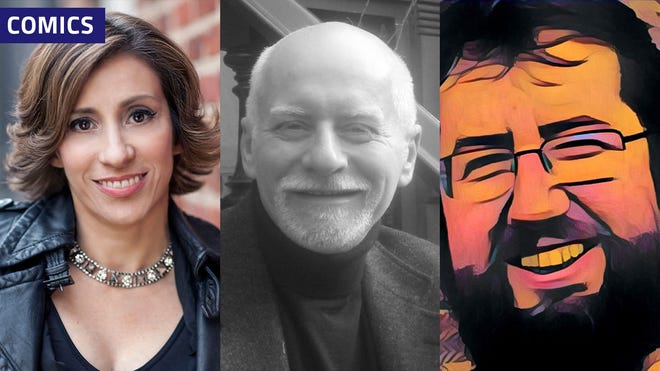 Sketch Duel LIVE
Two comic artists take prompts from fans: Batman riding a water buffalo in space, Spider-Pig hopping on goombas, and illustrate them! Fans decide the winners, and a few lucky fans leave with unique pieces of art and some really good stories.
Comic Workshops with The Kubert School
Join ReedPop and The Kubert School for an upcoming workshop series designed for both aspiring and professional comics creators that will help you hone your craft and crush your goals. For comics pros of any level, these educational workshops have been curated by the best and brightest of industry leaders. Please join us for this unique opportunity to gain powerful advice, master new techniques, and learn from instructors and alumni from The Kubert School.
Archie Comics - Celebrating 80 Years
As the world waits for the return of new episodes of The CW's Riverdale, the folks at Archie Comics continue to celebrate their 80th anniversary with new comic books and much more!
Join a panel filled with talent from across the Archieverse including legendary artist Dan Parent, writer Fred Van Lente, Editor Jamie L. Rotante, and Riverdale: The Ties That Bind author Micol Ostow, as we talk about Everything Archie!
Greatest Stories Never Told
We all have our favorite stories, but have you ever wondered about the ones that didn't make it into the comics? Join superstar creators as they regale us with stories that might have been and other forgotten concepts.
From Panel to Screen
We live in a world where many of your favorite comics have been adapted into TV and film. Join superstar creators as they discuss THEIR favorite comic stories that made it on screen.
Comics Trivia
Test your knowledge about Marvel comics in this live trivia session, hosted by some of your favorite Marvel creators!
Gaming Panels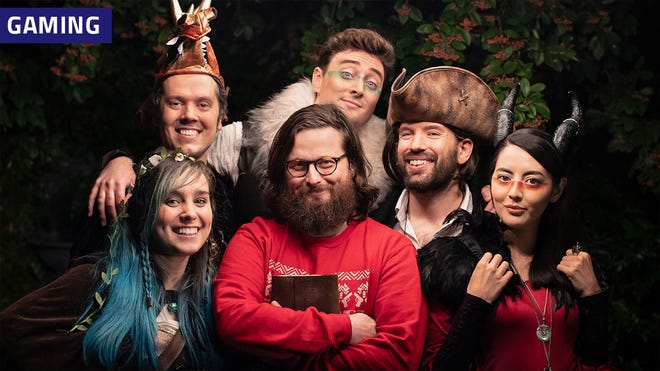 Oxventure in Space! The Oxventurers Guild Plays RPG Lasers & Feelings at Metaverse
Join Corazón, Prudence, Egbert and Merilwen from the Oxventure as they once again find themselves ripped from the realm of Dungeons & Dragons, transmogrified and teleported into the sci-fi setting of RPG Lasers & Feelings for another spacey adventure.
Join us for a LIVE Oxventure Q&A session after the show!
Join the cast from YouTube channels Outside Xbox and Outside Xtra, plus all-powerful game master Johnny Chiodini, for the YouTube premiere of a chaotic science-fiction spin-off session aboard a starship, somehow.
In their usual Oxventures, Jane Douglas is Prudence, a tiefling warlock and Cthulhu stan; Ellen Rose is Merilwen, a wood elf druid with an affinity for animals, Mike Channell's Egbert is a dragonborn paladin with penchant for explosives and Andy Farrant is dread pirate Corazón de Ballena, a human rogue who has always been a fearsome pirate, why wouldn't he have been, there's no secret backstory, stop asking.
Missed the other Oxventures in space? Catch up here, here, and grab some exclusive Oxventure merch here.
The McElroy Live Q&A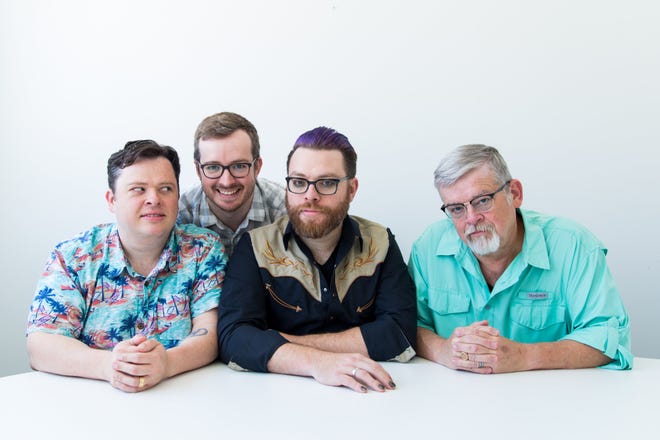 The co-creators of The Adventure Zone have THREE #1 New York Times bestselling graphic novels—The Adventure Zone: Here There Be Gerblins, The Adventure Zone: Murder on the Rockport Limited!, and The Adventure Zone: Petals to the Metal. And if you haven't read them yet, now's the time to catch up, because the fourth book: The Adventure Zone: The Crystal Kingdom is coming out this July! Join co-authors Clint McElroy, Justin McElroy, Travis McElroy and Griffin McElroy, as they answer questions from YOU, the fans, about all things TAZ, MBMBAM, their new podcasting book and more.
Literary Panels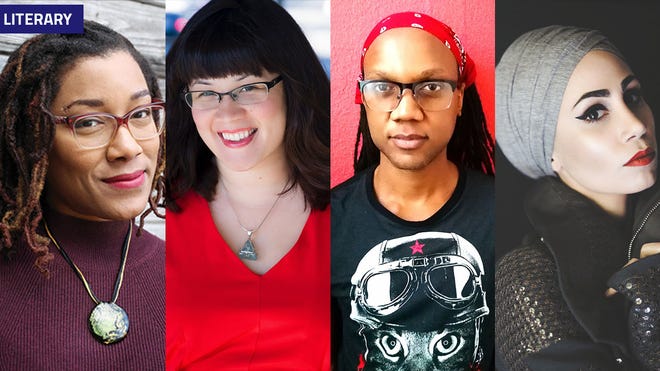 SciFi Authors Spotlight
The draw of technology, futurism, and the final frontier in space are hot on everyone's TBR list. Join authors Andy Weir (Project Hail Mary), Adrian Tchaikovsky (Shards of Earth), Christopher Paolini (To Sleep in a Sea of Stars), and Arkady Martine (A Desolation Called Peace) as they discuss how today is one of the most exciting times to enjoy science fiction. Moderated by Jamie-Lee Nardone.
SciFi Writers vs Real-World Space Trivia
From exploring the human implications of emerging technology, speculating on the ideals of interplanetary life and bending our concepts of reality and possibility, Science Fiction authors have dared to go where other literature cannot. But now, it's time to watch these genre masters test their real-world knowledge in this interactive game of space trivia!
SFF Writing Powerhouses
Bestselling fantasy powerhouses Victoria Aveyard (Realm Breaker), Cassandra Clare (Chain of Iron) and Tracy Deonn (Legendborn) come together to discuss their creative process, the inner workings of creating complex fantasy worlds, and what we can expect next from them.
Tolkien Trivia Deathmatch with Fantasy Writers
20 years ago, Peter Jackson and his merry band of misfits premiered their first motion picture adaption of Tolkien's beloved fantasy world. Show off your Tolkien knowledge amongst fellow fans and authors as we all geek out in celebration of this fantastic occasion!
Exploring Hidden Worlds of Urban Fantasy Stories
Join authors Sarah Kuhn (From Little Tokyo, With Love), Seanan McGuire (When Sorrows Come), Kim Harrison (Million Dollar Demon) and TL Huchu (The Library of the Dead) as they discuss magic, monsters, and the art of creating fantasy worlds that coexist within our own modern day lives. Moderated by Lucy Holland (Sistersong).
ABC's of Fantasy Language Building
From Dothraki to Klingon to Elvish and beyond, a deep-dive into the masters who created popular fantastical vernaculars and an intro into developing your own. David J Peterson (The Art of Language Invention) has created a variety of languages for marquis properties including Game of Thrones, The 100, and the brand new Shadow and Bone. Hafsah Faizal (We Free the Stars) turned to Arabic (which she is fluent in) for the language in the Sands of Arawiya duology. Together these two creators will chat about their inspiration, challenges, and unique approaches to building these worlds of language. Moderated by Emma Hall.
Writing in the Dark
A panel discussion for fans of hair-raising, bone-chilling, nightmare-inducing stories! Explore the expansive world of horror fiction with authors Lena Nguyen (We Have Always Been Here), Clay Mcleod Chapman (Whisper Down the Lane) and Grady Hendrix (The Final Girl Support Group). Tune in for a chance to hear from the pros on what it's like to create fiction injected with terror and dread.
Fierce Thrillers Campfire Stories
Don't miss Angeline Boulley (Firekeeper's Daughter), Goldy Moldavsky (The Mary Shelley Club), Cory Anderson (What Beauty There Is), and Wendy Heard (She's Too Pretty To Burn) as they join together to play a game we like to call "Campfire Stories". They will take turns saying one word (or phrase) at a time to create the ultimate thriller. You might even get the chance to join in and add to the story too! Hosted by Rosie Fletcher, UK Editor at Den Of Geek.
Murder, Mystery, and Magic on the Page
Secrets, suspense, and stories that kill! Authors CJ Tudor (The Burning Girls), Riley Sager (Survive the Night), and James Kennedy (Dare to Know) explore the dark alleyways of their imagination and what it takes to craft stories that'll leave you in suspense and craving more. Moderated by Martyn Waites .
Dissecting Horror with Josh Malerman and Chuck Wendig
Oh the horror! What makes a scary story truly spine-tingling? How do the best horror stories weave a web of tension, dread and terror? Join horror writers Chuck Wendig (The Book of Accidents) and Josh Malerman (Goblin) along with moderator Tricia Narwani (Editor-in-Chief, Del Rey) as they go in-depth on how to tell stories that'll make the hairs on your neck stand up.
Generating Story Ideas - Writing Workshop with Tricia Levenseller
Join national bestselling author, Tricia Levenseller (The Shadows Between Us), for a workshop about the power and process of story ideas! Known for her steamy romances, fantastical worlds, and badass female characters, Tricia finds inspiration everywhere and turns them into bestsellers!
Author Picks: SFF Must-Reads
Is your TBR pile looking a little low? Akemi Dawn Bowman (The Infinity Courts), Rena Barron (Maya and the Return of the Godlings), and J. Elle (Wings of Ebony) want to help! Join us for a roundtable discussion on what these science fiction and fantasy authors love reading to inspire your reading list.
Must-Know Stories from AAPI Voices
Need more TBR recs? Find your new book bestie with these fantastic authors! Join Mae Respicio (How to Win a Slime War), Mika Song (Apple of My Pie), and Boya Sun (5 Worlds series) as they come together to discuss their stories and what they love about writing fiction. Moderated by Lisa Yee (DC Superhero Girls).
Fact v Fiction - Honing your Historical Fiction Writing
Join Sheena Boekweg (A Sisterhood of Secret Ambitions), Amanda McCrina (Traitor: A Novel of World War II), and June Hur (The Forest of Stolen Girls) as they discuss their respective books, how to navigate buried histories, find sources, and the overall creative process of putting the 'story' in history. Moderated by C.B. Lee (A Clash of Steel: A Treasure Island Remix).
Past, Present, Future - The Power of Teen Stories
YA Fiction is profoundly known for bringing us narratives on the grit and grace of teen experiences through epic worldbuilding, stunning stories, and relatable growing pains. Join us for a heartfelt conversation with authors Randi Pink (Angel of Greenwood), Tahereh Mafi (An Emotion of Great Delight), Brittney Morris (The Cost of Knowing), and Namina Forna (The Gilded Ones) as they take us through their written words of self-discovery, unraveling history, and forging ahead your own path. Moderated by Stephen Haskins.
Metaverse Writers' Mixer
Are you struggling through bouts of writer's block, want to take your worldbuilding to the next level, or need general tips on pitching your manuscript? Whatever writing advice you seek, you are warmly invited to join us this Metaverse for a facilitated conversation with established authors. Regardless of where you are in your writing journey, Hafsah Faizal (We Free the Stars) and Tricia Levenseller (Blade of Secrets) want to help!
Aspiring writers can join us Saturday, June 12 at 3:00 PM PT/5:00 PM ET/10:00 PM BST for the chance to connect with other writers, feel inspired, and ask questions!
Twisted Tales - Authors Discuss Fantasy Retellings
Once upon a time, our beloved legends and fairy tales got a fresh take! Join Laura Sebastian (Half Sick of Shadows), Elizabeth Lim (Six Crimson Cranes), Kiersten White (The Camelot Betrayal), and Erin A. Craig (Small Favors) for a bewitching look into these dark and atmospheric retellings. Moderated by Leah Cypress (Thornwood).
Submit Your Questions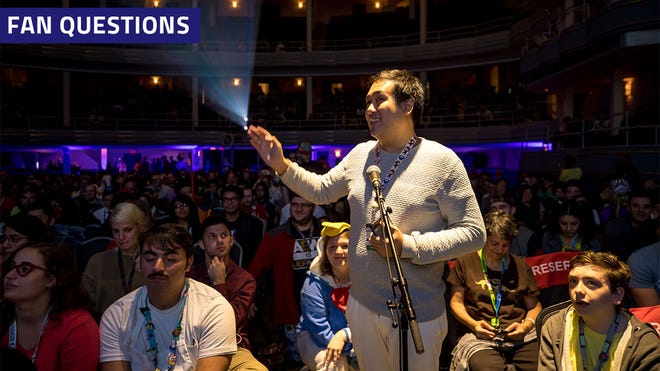 If you miss waiting in line for the mic at a panel at your favorite con, we've got the next best thing. Voice actors and authors will answer your questions, just head over to this link to submit. Questions can be video or text.
The McElroy Live Q&A
Bleach Cast Q&A
Sailor Moon Cast Q&A
That Time I Got Reincarnated as a Slime Q&A
Dr. Stone Q&A
VampyBitMe Cosplay Armor Q&A
Paid Experiences
Hop on a video call with the voice of your favorite character. Get a virtual autograph from a bestselling author. Join a Q&A with a rambunctious group of D&D nerds. All that and more await you in the Metaverse!
The McElroy Boys Autographs
The photo of your choice will be signed by the McElroy Boys; Clint, Travis, Justin, and Griffin! Personalization is available.
Buy Autographs
Generating Story Ideas - Writing Workshop with Tricia Levenseller
Join national bestselling author, Tricia Levenseller, for a workshop about the power and process of story ideas! Known for her steamy romances, fantastical worlds, and badass female characters, Tricia finds inspiration everywhere and turns them into bestsellers!
Each workshop ticket includes a signed bookplate edition of Tricia's new book BLADE OF SECRETS. Books will be fulfilled by The Strand bookstore in NYC and shipped after the event. Open to US residents only. Limited seats available.
Oxventure Live Q&A
Join the cast of D&D crew Oxventure for a Q&A panel at Metaverse! Jane, Andy and Mike from YouTube channel Outside Xbox and Ellen Rose from Outside Xtra, along with dungeon master extraordinaire Johnny Chiodini, will be answering your questions live in this special online panel with hardly any derailing whatsoever.
Metaverse Merch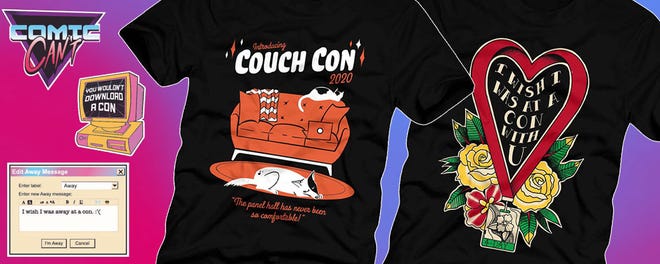 New and exclusive merch is coming soon! Check out our Official Online Store for the latest designs from your favorite cons from home.