Find the Metaverse Panels
Can't wait for NYCC x MCM Metaverse? Get a sneak peek here.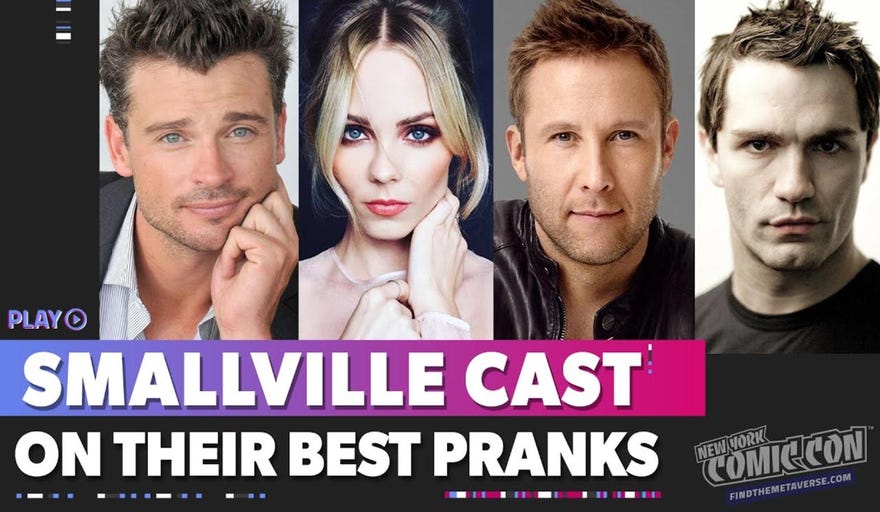 New York Comic Con x MCM Comic Con's Metaverse is coming October 8 - 11, 2020. Before that, we've got exicting sneak peeks, intimate and hilarious moments with celebs, and dastardly challenging moral dilemmas. See the full schedule of Find the Metaverse panels here, and watch them live or on demand by subscribing to New York Comic Con's YouTube Channel.
The Cast Of Smallville Talk About Their Favorite On-Set Pranks
12 PM EST / 5 PM BST September 26th, 2020
Watch this behind-the-scenes video from the cast of Smallville as Tom Welling, Sam Witwer, Laura Vandervoort, and Michael Rosenbaum as they talk about the best on-set prank they ever pulled on a castmate or had pulled on them.
Skybound Presents - Trial by Trolley AFTER DARK
11 AM EST / 4 PM BST September 27th, 2020
A live play of Skybound's Kickstarter smash hit, Trial by Trolley -- A party game of moral dilemmas and trolley murder!
In Trial by Trolley, one player is on an out-of-control trolley speeding toward a fork in the tracks. Everyone else splits into two teams and must use their wits and their cards to convince the Trolley Conductor to spare their lives! Join Skybound, Cyanide + Happiness, and various influencers in the geek and tabletop space as they play the core deck which you can pick up here! And stay tuned for a sneak peak at the upcoming R-Rated expansions, available for pre-order here and here. Don't watch this one with your parents!
Where To Start? Designing For The Tabletop Game Industry
6 PM EST / 11 PM BST September 28th, 2020
Join these four tabletop innovators, responsible for games like Kids on Bikes, Alice is Missing, and so many others as they walk you through getting started in design when it comes to tabletop games.
Romance is a Many-Splendored Thing - Fantasy Edition
12 PM EST / 5 PM BST September 29th, 2020
Romance can provide the driving force of a story, or serve as one of many plot elements. Authors Holly Black (How the King of Elfhame Learned to Hate Stories), Roseanne A. Brown (A Song of Wraiths and Ruin), Lilliam Rivera (Never Look Back), Chloe Neill (The Bright and Breaking Sea), T.J. Klune (The Extraordinaries, The House in the Cerulean Sea), and Sabaa Tahir (A Sky Beyond the Storm)'s worlds and adventures span fairies and feminism, magic on the high seas and on isolated islands, but all have an element of romance at heart. Moderated by Carly Lane (Contributing Editor, SYFY FANGRRLS).
Ask Ashley...Again!
12:30 PM EST / 5:30 PM BST September 30, 2020
Join Ashley Eckstein as she enters the Metaverse again! Ashley will answer fan's burning questions about Star Wars, Her Universe, and more. Plus, tune in for a special announcement!
Telling Tales Between the Stars
10 AM EST / 3 PM BST October 1st, 2020
Explore the outer limits of imagination with Elaine Mongeon and Glen Zipper (Devastation Class),Tochi Onyebuchi (Rebel Sisters), Essa Hansen (Nophek Gloss), Elizabeth Bear (Machine),and Christopher Paolini (To Sleep in aSea of Stars) across a variety of subgenres of science fiction, in conversation with Adron Buske (host, Fictitious).
Who Can You Trust?
5 PM EST / 10 PM BST October 1st, 2020
Authors Jasper Fforde (The Constant Rabbit), Benjamin Oliver (The Loop), David Yoon (Version Zero), Micaiah Johnson (The Space Between Worlds), Kristin Cashore (Winterkeep), Neal Shusterman (Arc of a Scythe), and Rory Power (Burn Our Bodies Down) set a series of deadly events to test the wits of both their characters and readers. They'll discuss their deadly craft with author Alma Katsu (The Deep and The Hunger).
Diamond Select Toys & Gentle Giant Ltd.
10 AM EST / 3 PM BST October 2nd, 2020
Get a rundown on what's coming up from DST and GG Ltd. as they present an overview of toys and collectibles scheduled for the far-flung year of 2021, including Select action figures, Gallery Dioramas, statues, busts, Minimates, Vinimates, D-Formz and more! Includes interviews with the sculptors and designers behind your favorite products! Moderated by marketing supervisor Zach Oat.
Witches & Women Throughout the Ages
5 PM EST / 10 PM BST October 2nd, 2020
We are endlessly fascinated by witches—from Practical Magic to Sabrina the Teenage Witch, from A Discovery of Witches to The Physick Book of Deliverance Dane—and the reason is no mystery: often, witches represent women seizing power for themselves in a world that's suspicious of them, or even hostile. In this 100th anniversary year of the 19th Amendment, join Lily Herman (writer, editor, and digital strategist) talking about the magical women in these authors' books, and the ones that inspired them: Alix E. Harrow (The Once and Future Witches), Constance Sayers (A Witch in Time), Alexis Henderson (The Year of the Witching), Zoraida Córdova (The Brooklyn Brujas series), Sophie Escabasse (Witches of Brooklyn), and Maggie Tokuda-Hall, (The Mermaid, the Witch, and the Sea).
Behind-The-Scenes Q&A with The Cast of Smallville
10 AM EST / 3 PM BST October 3rd, 2020
Watch this behind-the-scenes video from the cast of Smallville as Tom Welling, Sam Witwer, Laura Vandervoort, and Michael Rosenbaum as they show and tell their favorite stolen prop from the set of the show and talk about what their recipes would be if they are making a "Super" Smoothie with supplements that give them powers.
Scholastic Graphix Out Loud
5 PM EST / 10 PM BST October 3rd, 2020
Graphic novels come to life with guided read alouds from your favorite authors and illustrators. Get draw in in to Graphix. Featuring Dav Pilkey (Author and Illustrator of the Dog Man series), Jim Benton (Catwad), Jess Keating (Bunbun & Bonbon), Gale Galligan (Baby-sitters Club Graphix) Chris Grine (Animorphs Graphic Novel), Kevin Sherry (Squidding Around), and Aron Nels Steinke (Mr. Wolf's Class #4).
Making A Man: Violence and Manhood in Comics
11 AM EST / 4 PM BST October 4th, 2020
What makes a man? Strength? What kind? The ability to protect those around you? Or something else? Steve Orlando and Phillip Kennedy Johnson discuss how violence and manhood have become inextricably linked and their upcoming graphic novel KILL A MAN.
Oxventure at NYCC Metaverse: 6 Lessons We Learned Playing Dungeons & Dragons
2 PM EST / 7 PM BST October 5th, 2020
The cast of D&D crew Oxventure are returning to Metaverse on Saturday 10 October with a free Oxventure in Space session followed by a special ticketed Q&A panel.
In the meantime, why not join the Oxventurers as they run through some of the things they've learned in their time playing Dungeons & Dragons including tips for role playing, advice for DMs and how to stop bad dice rolls getting you down.
Is the Pen Mightier Than the Sword?
7 PM EST / 12 AM BST October 5th, 2020
Protagonists wield different weapons to achieve their goals in this fantastic examination of the old adage. Lavie Tidhar (By Force Alone), Kiersten White (The Camelot Betrayal), Tracy Deonn(Legendborn) , A.J. Hackwith (Archive of the Forgotten), Garth Nix (The Left-Handed Booksellers of London), and Mark Oshiro (Each of Us a Desert) arm their protagonists with wit and panache as well, along with bookseller Ali T. Kokmen.