A Letter from our Event Director on the Return to UK Physical Events in 2021
MCM returns to physical events in 2021.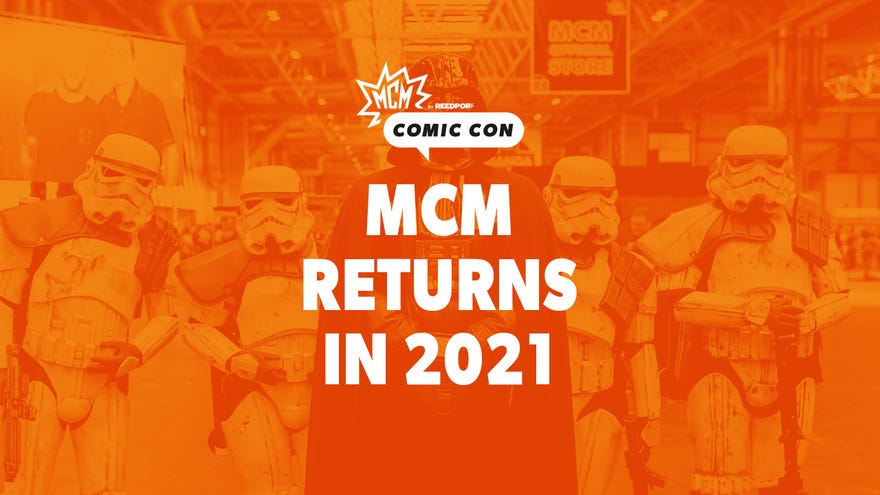 To the MCM community —
There's nothing our team looks forward to more than bringing all of you together under one roof, and so it is with great hope and excitement that I bring you an update on the return of MCM Comic Con to London and Birmingham in 2021.
It's pretty exciting to think about welcoming you back to a convention hall. We've missed the energy of our show floor, the joy of browsing art from our independent creators and all the special little moments you don't get anywhere else. Most of all I miss the confused look on the faces of commuters as all you cosplayers board public transport. It's the best.
With that said, I'm sharing our plans today with this important assurance: our number one priority is the wellbeing and safety of everyone at our shows. Right now, we see a path toward safe, amazing events that are going to look a bit different than we're used to, so that's where we're heading. Keep in mind what we communicate is subject to change as we follow the latest government advice. I encourage you to stay connected with us via our newsletter, Twitter or Facebook accounts while we work on our website, to keep on top of the latest information right up to the shows.
ICYMI, our schedule for 2021 is:
MCM London Comic Con | 22nd-24th October | ExCel London
MCM Birmingham Comic Con | 13th-14th November | NEC Birmingham
I can confirm we won't be returning to Manchester or Glasgow in 2021, but our fans in Scotland and the North West are important to us and we very much hope you can take part in our London or Birmingham shows, either in person or digitally.
To make that happen, here are some of the key safety measures we'll be taking to keep you all safe. All these are obviously subject to change, and we will keep following government and public health guidelines, and keeping you posted.
We will be running all our shows with reduced capacity. With our new safety precautions in place, attendance and tickets will be limited so that we can ensure social distancing. We're working closely with each convention centre and following government guidelines to determine how many people are permitted in the building every day and at a given time.
We are requiring face coverings by law for anyone attending our events, unless you are exempt. They must be worn at all times within our venues. Please see the latest Government advice
We will have increased sanitisation and cleaning with enforced physical distancing throughout the event.
We have also adopted a firm no handshakes, no high-fives, no hugs policy. We're all going to have to get very smooth and cool-looking at either the elbow bump or air high-fives. Please start practising now.
I know there are many more questions than what I've shared here. You're probably wondering what a photo op may look like or how panel seating will work. We'll be sharing more information in the months leading up to our shows, and we are committed to being as transparent as possible.
Our goal remains the same: bring together our community to celebrate the best pop culture has to offer. To ensure you're all a part of that, we'll be running a virtual event alongside all of our physical events through FindtheMetaverse.com. So whether or not you join us in person, you don't have to miss out. Save the date for the next Metaverse event — 7th-13th June — and follow our newly launched social media pages on Facebook, Twitter, and Instagram.
There's so much in the works at ReedPop and we'll have many more announcements for you soon with on-sale dates, guests, panels, and so much more. We promise it will be worth the wait.
Finally, thank you for your continued support in what has been a difficult time for our entire community. Thank you for your patience with us at every turn, and for your understanding as we continue to navigate the future of pop culture events together.
Subscribe to the MCM newsletter here for further updates.
Teresa Heitor
MCM Comic Con Event Director
ReedPop