The Boys Season 2: An Even Wilder Ride
The second season of Amazon Prime's The Boys comes out September 4, and it's gonna be a doozy.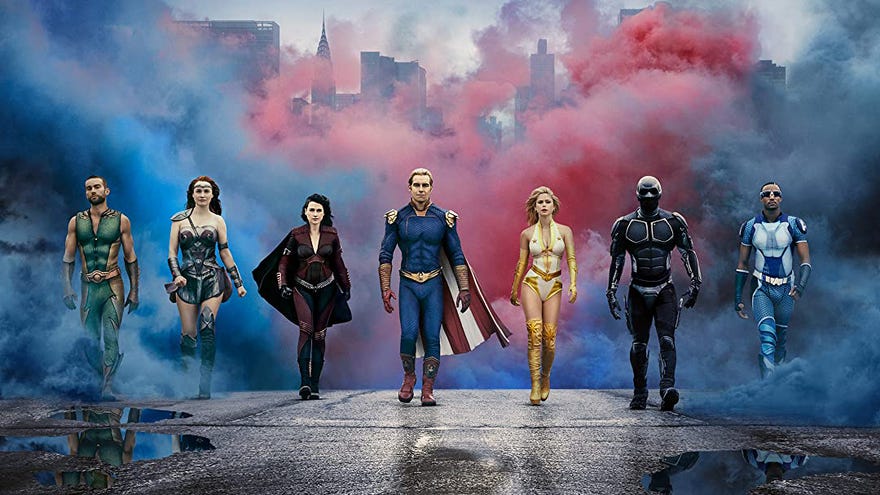 There's no spoilers for season 2 in this article.
Want to get the know the cast of The Boys from an exclusive panel at New York Comic Con? The full cast play Either/Or and answer questions from 2018.
The first 3 episodes of Amazon Prime's The Boys comes out September 4. New episodes will drop every Friday, until October 9.
Never seen The Boys or read the Garth Ennis comic? Here's how I'd explain it to the uninitiated:
The Boys is a gritty, pessimistic take on superhero culture, where powered individuals run rampant under the protection of the mega corporation Vought International.
The titular group the Boys, Billy Butcher (Karl Urban), Frenchie (Tomer Kapon), The Female (Karen Fukuhara), Hughie Campbell (Jack Quaid), and Mother's Milk (Laz Alonso), have all had terrible experiences with supes, and so they are out for revenge.
To be fair, the supes are mostly terrible people. In season 1, the superhero squad the Seven is composed of some of the strongest and most popular supes: Homelander (Antony Starr), Queen Maeve (Dominique McElligott), A-Train (Jessie T. Usher), Black Noir (Nathan Mitchell), The Deep (Chace Crawford), Translucent (Alex Hassell), and Starlight (Erin Moriarty). As the newest member of the Seven, Starlight is still a little starry-eyed, but she quickly learns what it really means to be a member of this supergroup.
The first season saw Hugh coming to terms with what others expected of him, what it meant to be part of the team, and how that conflicted with what he expected of himself. Led by Billy Butcher, the Boys get together to try to take out Homelander, but run into a few snags along the way. And it ends with a dastardly twist.
The second season is shaping up to be even bigger than the first, with new additions Aya Cash as Stormfront and Giancarlo Esposito as … himself?
Season 2 of The Boys
If you've watched enough TV, one thing you start to realize is that the first season often spends a lot of time setting stuff up. Makes sense - plot points don't appear out of nowhere, characters need good introductions and motives. The second season can build on the first, so here's hoping it's way better.
Here are some things I really hope to see in season two of The Boys.
Hughie really finds himself
Season one Hughie was afraid of everything (understandably so), timid, and generally had a hard time accepting what others around him wanted him to do. However, one thing I'll never get tired of is Hughie being surprised when he gets showered in blood. If you were counting, it happens 3 times in the above trailer.
We learn more about Karen Fukuhara's character
Karen Fukuhara's character is The Female, but in the first season, she didn't have a pivotal role. Her and Frenchie have … some kind of connection, and the nuance required to communicate with the audience without speaking will hopefully be on par with Pedro Pascal's Mandalorian.
She was experimented on with Compound V, presumably as one of the first humans to get turned into Supes - a plot line we were introduced to in season one and will continue in the second season.
Mr. Edgar (Giancarlo Esposito) flexing some corporate muscles
Want to set up a character with malicious intent, deep forethought, flawless planning, and great execution? Enter Giancarlo Esposito. Fans of Breaking Bad and The Mandalorian will recognize him immediately, and his role seems to be clear in Vought corporation as well: he's the mastermind behind it all.
Wild surprises
Sure, the trailers for season 1 of The Boys showed some of the gore and the violence that's core to the experience. What it didn't show was the twists and turns that got us there.
The first season was much more than the trailer made it out to be. The trailer was Spice Girls and witty one liners, but the show itself dove into significantly more complex themes around over-capitalization, different stages of grief and loss, and good vs evil vs in between.
I'm excited to see what season 2 has in store for us.
What Should You Do Next?
There's a new episode every week, right up til October 9, which is during NYCC X MCM's Metaverse.
Grab the first Omnibus of the comics here. It's written by Garth Ennis and illustrated by Darick Robertson and Peter Snejbjerg. And yes, it is more gory than the show - and that's saying something.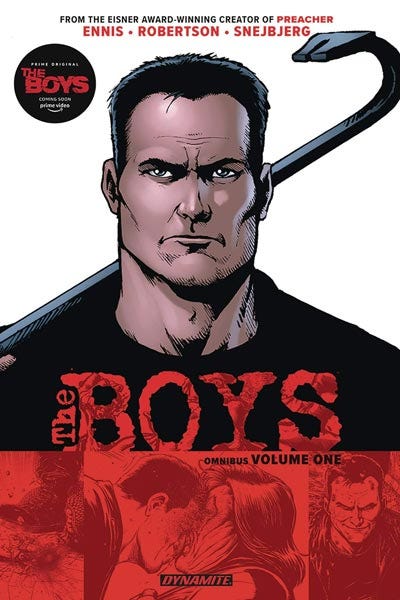 Patient collectors can pre-order Funko POP!s of some characters from The Boys. Here's Homelander with some really cool laser eyes: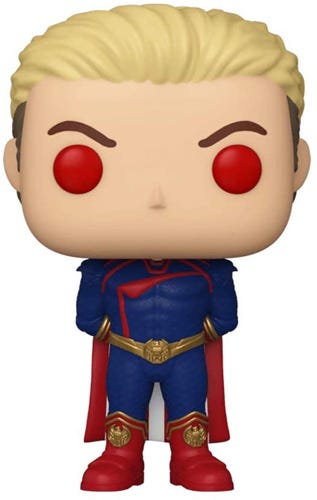 And Billy Butcher, looking like Billy Butcher: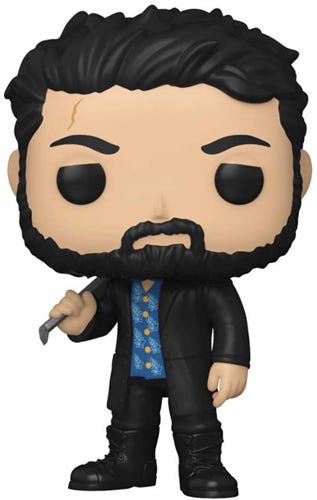 If You Liked The Boys, You'll Love ...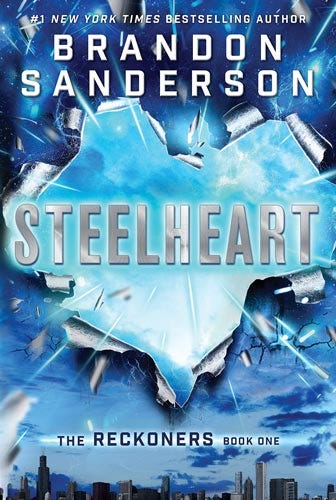 Brandon Sanderson's The Reckoners
I've been a huge fan of Brandon Sanderon's writing since Elantris. His foray into a post-apocalyptic, ruled-by-superpowered-beings world was a treat to read, and follows a similar storyline: unquestionably evil superpowered beings rule the Earth, and a small group of dedicated normies work to take down as many of them as they can.
Pick up the first book on Amazon if you're a fan of the genre or Sanderson's work.
The Boys season 1 is available to stream on Amazon Prime now. Season 2 premieres on September 4.