The Shadow and Bone Trailer is Here from Netflix
It's time to enter Ravka.
Grab your keftas, Grisha! Netflix dropped the first complete trailer for Shadow and Bone and we get our first look at our favorite cast of characters ahead of the series premiere on April 23, 2021.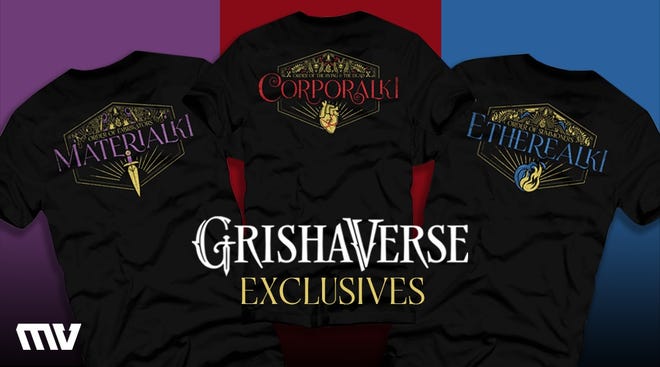 Our Grishaverse shirts are back in stock for an extremely limited time. Choose your order in the Second Army here.
The upcoming fantasy series is an adaptation of the Grisha Trilogy and the Six of Crows duology by Leigh Bardugo. Starting with the first book Shadow and Bone, this TV series will follow Alina Starkov, a map maker and cartographer's assistant who reveals a magical power that could save the world. This fantasy world brings magic to the genre with dangerously intriguing villains, epic love triangles, powerful heroes, and most epically, it's own language created by Game of Thrones and The Witcher language creator David J. Peterson.
The Grishaverse is a world where science and magic collide, and Leigh Bardugo has created numerous stories that take place within this universe. For those of you who haven't read the series yet, we suggest reading them in this order; Shadow and Bone Trilogy, Six of Crows Duology, and then the King of Scars Duology.
Need more Grisha content to hold you over until the show's premiere? Check out this exclusive interview we got at New York Comic Con x MCM Comic Con Metaverse with series author Leigh Bardugo and showrunner Eric Heisserer. We got the inside scoop of their favorite *non spoiler* moments on set!
"I hope it feels like a gift, like a treat, like something that speaks to the same emotions of the books, but also gives readers something completely new and different that doesn't exist on those pages," Bardugo stated in our interview back in October 2020. This trailer is just a small taste of what's to come, and we can't wait to see Alina, the Darkling, and the Crows on our TV screens.
Want more geeky recommendations? Sign up for our newsletter and join our Discord server.