First Ant-Man & the Wasp: Quantumania poster reveals Cassie Lang's costume look (and more Kang!)
The power trio of Ant-Man, the Wasp, and Cassie Lang from Ant-Man & the Wasp: Quantumania
Marvel Studios' big Hall H panel doesn't even take place for another hour, but fans at San Diego Comic-Con already have the chance to get a sneak peek at the future of the MCU.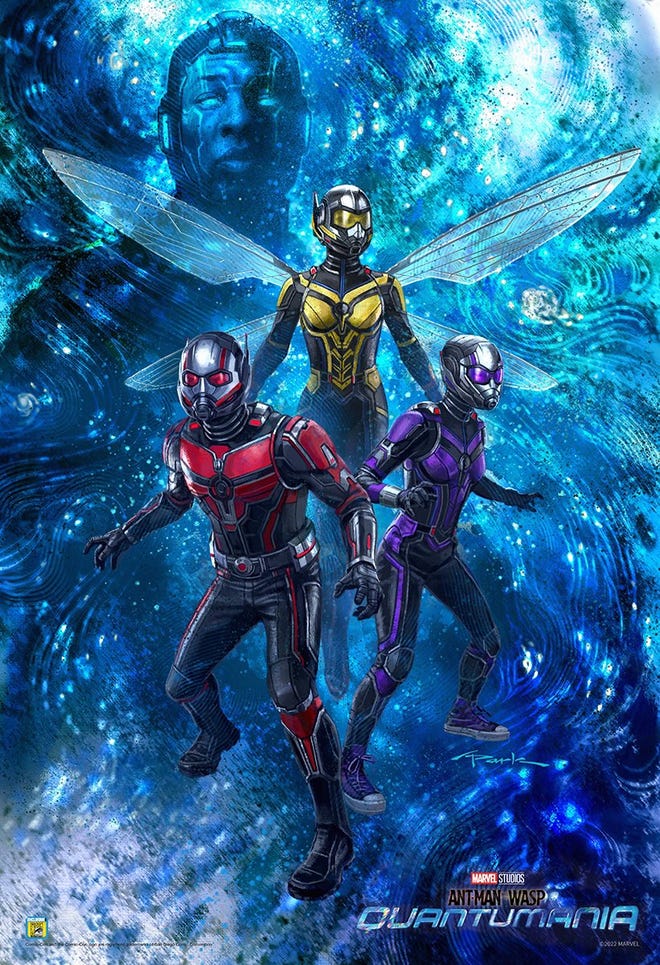 Marvel Studios Director of Visual Development Andy Park, who's exhibiting at the show, shared a poster he'd illustrated for next year's Ant-Man & The Wasp: Quantummania, featuring not just Paul Rudd and Evangeline Lily as the titular heroes, but also the first appearance of Kathryn Newton's Cassie Lang in costume, and Jonathan Majors' Kang as… well, Kang.
MCU fans have already seen Majors onscreen as a version of the character in the season finale of last year's Loki, but the new poster shows a Kang in the background of the image that is easily recognizable as the comic book version of the character.
Plot details about the third Ant-Man movie remain almost entirely unknown at time of writing – something that might change as soon as this afternoon's Hall H Marvel Studios panel – but it is known that the movie will feature Kang, as well as Bill Murray as an additional unknown villain.
Directed by Peyton Reed, Ant-Man & The Wasp: Quantummania is currently scheduled for a February 17, 2023 release.