Florida Man unmasked: Marvel reveals Loki's role behind the headline phenomenon
How the God of Mischief Loki created Florida Man
Loki has pulled a lot of strange tricks over the years. Since his debut in Journey into Mystery #85 (1962), the God of Mischief has turned Thor into a frog, ran for President, and turned New York City into ice cream. All those gags were wild, but Loki #1 (written by Dan Watters and penciled by German Peralta) revealed the God of Mischief's biggest trick yet. Apparently, Loki has been spending a lot of time in Florida, where he has attracted some media attention.
Let's unpack the latest revelation about Loki's misadventures in the Sunshine State.
Warning: Spoilers ahead for Loki #1 (2023)!
Florida Man unmasked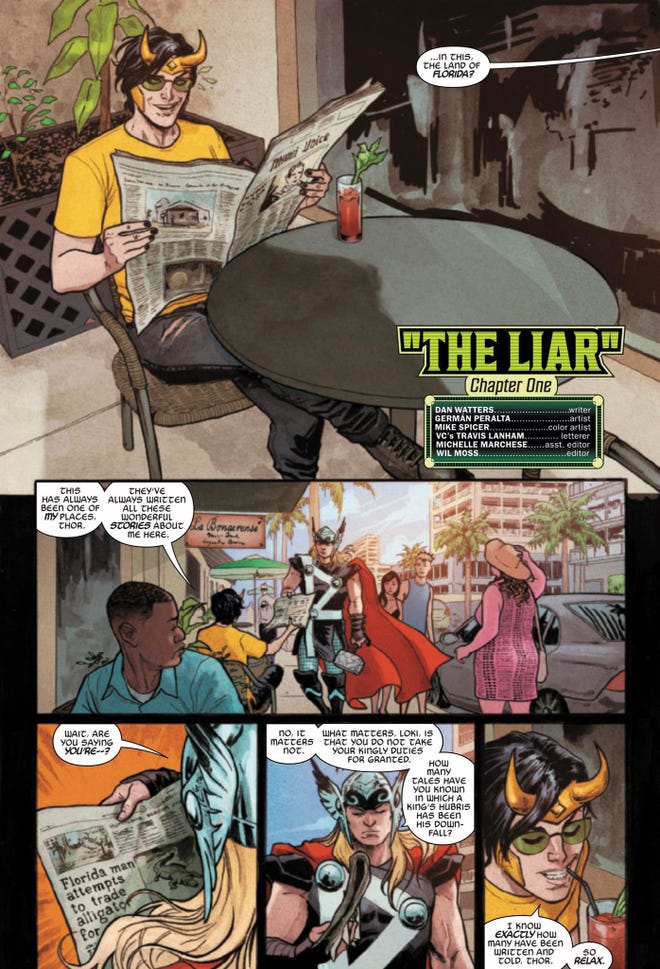 Loki has his hands full. The trickster god is currently the ruler of Jotunheim, where the Frost Giants are always on the brink of civil war. Loki has renounced his mischievous ways and now fancies himself as the God of Stories. To this end, he's introduced books to Jotunheim, teaching the Frost Giants to read. As we can see in Loki #1, that doesn't end well.
The Frost Giants use the information from their new books to steal some of Loki's ancient wartime weapons. Chaos ensues, and it's up to Thor and Loki to clean it up. This all makes for an exciting issue, but to be honest I found the most interesting part to be Loki's offhand revelation about Florida Man.
The issue begins with Thor asking Loki why he's vacationing in Florida when he should be watching over Jotunheim. "This has always been one of my places Thor. They've always written all these wonderful stories about me here," Loki says. He then hands Thor a newspaper, which has the headline "Florida man attempts to trade alligator for – ." Unfortunately, the headline is cut off, so we never learn what Loki wanted to trade the alligator for. Hot sauce? An iPhone? If you've read enough Florida Man headlines, then all of these seem plausible.
Thor quickly changes the subject back to Jotunheim, but my mind was reeling from this offhand comment. Did Loki just imply that he's behind every Florida Man headline? That seems to be the case, and we have every reason to believe him. He might be calling himself the God of Stories now, but this revelation proves that he'll always be the God of Mischief.
Who is Florida Man?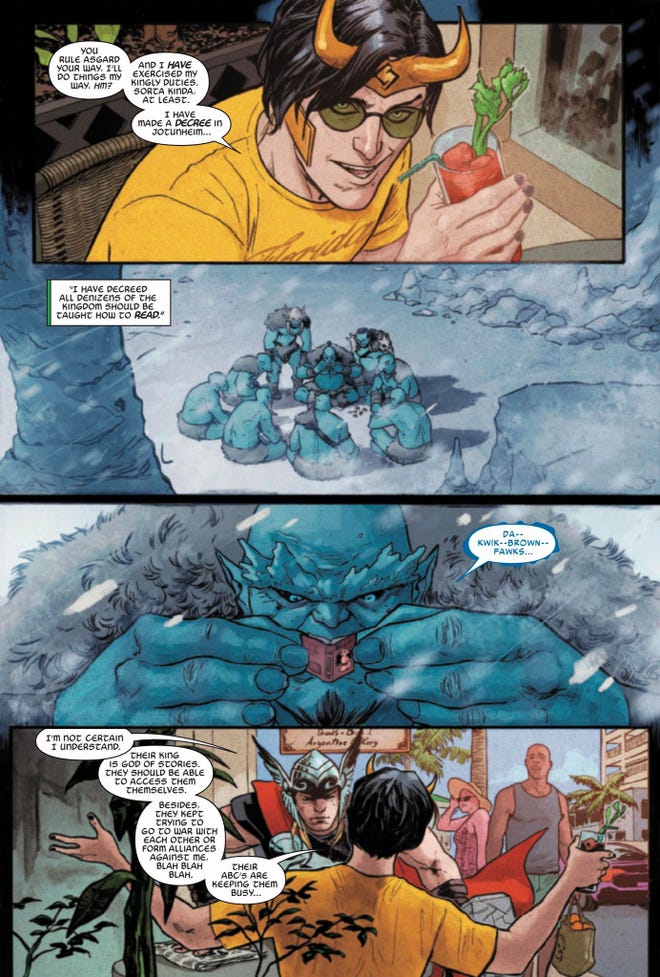 If you aren't familiar with Florida Man, here is a brief explanation. The internet meme started when social media users began to notice a lot of news headlines about strange behavior seemed to come from Florida. For example, 'Florida man arrested for calling 911 after kitten denied entry into strip club,' 'Florida man calls 911 to get a ride to Hooters,' and 'Florida man trapped in unlocked closet for two days.'
Internet users enjoyed the various wacky news stories coming from Florida, and created the fable of Florida Man, the world's strangest superhero. The joke was that a single man (Florida Man) was responsible for every weird news headline. This phenomenon has expanded into a Reddit page, a Netflix series, and more.
Full disclosure, I live in Florida, and it does get pretty weird around here.
By the way, in case you're wondering why all these strange stories seem to be coming from Florida, the Miami New Times theorized that the state's public records laws make it easier for journalists to obtain information about strange arrests. That's an interesting explanation, but I prefer blaming Loki.
In fact, now that we know that Loki is responsible for every Florida Man headline, let's take a brief look at some of the bizarreness he's caused. Remember, Loki has the ability to cast illusions, so he could look like anyone, any gender, and any age.
If Marvel published a series of Loki doing all these things, it would probably become a bestseller and sweep the Eisner Awards. So, the next time you visit Florida and see a crazy man building a fort out of french fries on the interstate, don't worry, that's just Thor's brother Loki.
Loki #1 is written by Dan Watters and penciled by German Peralta and is out this week
---
Give peace a chance: Behind the reinvention of Peacemaker