See all the Funko exclusives at NYCC 2023 (There are quite a few)
No matter what part of pop culture you love, Funko has something for you at NYCC 2023
Funko is coming in strong to New York Comic Con 2023, with a Heavy Metal Halloween planned to share with attendees. The pop culture monolith will be on the show floor at the Javits Center at booth #1000 for the entire four day event, with a host of exclusive products and what the company is describing as "concert-themed giveaways" on offer each and every day. What kinds of exclusive products, you ask? How many, you ask?
Well, we're glad you did.
Below, you can see each and every Funko NYCC 2023 exclusive, grouped via the retail partner they'll be shared with for non-NYCC attendees. (Don't worry; there are some that are only available at the show as well.) Whether you're into manga, anime, superhero movies, or fast food chain mascots — no, really — there is going to be something you'll want in the extensive list below. No, really; there are more than 40 different products in the list. Check it out for yourself.
Show Only
Pop Heavy Metal Halloween #SE Freddy Bones Blacklight
Pop Heavy Metal Halloween #SE Jack Carver GITD
Pop Heavy Metal Halloween #SE Phil D. Graves GITD
Pop Heavy Metal Halloween #SE Rusty Steel GITD
Pop Heavy Metal Halloween #SE Sid Fishious GITD
Bitty Pop Heavy Metal Halloween Freddy Funko
Shared Exclusives with Retailers (Sorted by Retailer)
BoxLunch
Pop Demon Slayer 2-Pack - Makomo & Sabito
Soda The Nightmare Before Christmas - Sandy Claws
Target
Pop Star Wars #647 Darth Maul
Pop Teenage Mutant Ninja Turtles Mutant Mayhem #1390 Ray Fillet
Pop The Toxic Avenger #479 Toxic Avenger GITD
Toy Tokyo
Pop InuYasha #1466 InuYasha
Pop Yu-Gi-Oh #1461 Dark Magician Girl
Gamestop
Pop Guardians of the Galaxy V3 #1289 The High Evolutionary
Pop Justice League #481 Big Barda
Pop X-Men '97 #1304 Goblin Queen
Soda My Hero Academia - Momo Yaoyorozu
For Your Entertainment
Pop Star Trek Universe #1409 Geordi La Forge in Chair
Soda Power Rangers - Lord Zedd
Barnes & Noble/Books-A-Million
Pop Dungeons & Dragons Honor Among Thieves #1465 Owlbear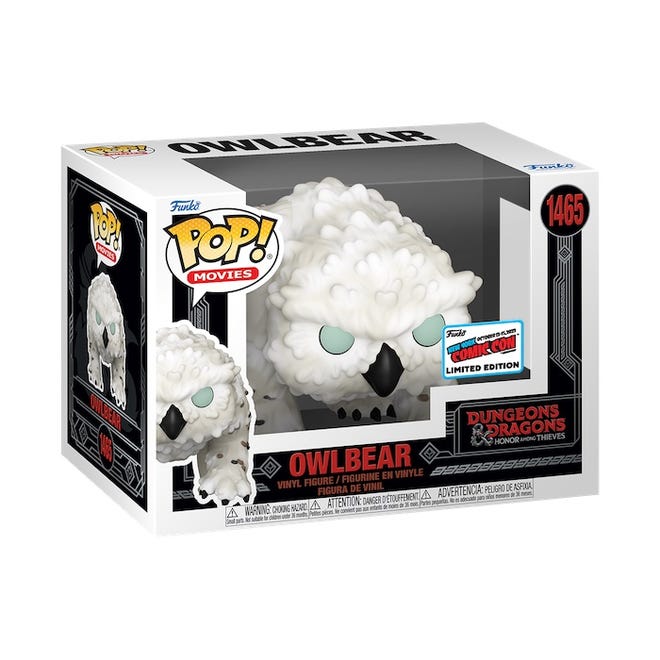 Hot Topic
Pop InuYasha #1462 Shippo on Horse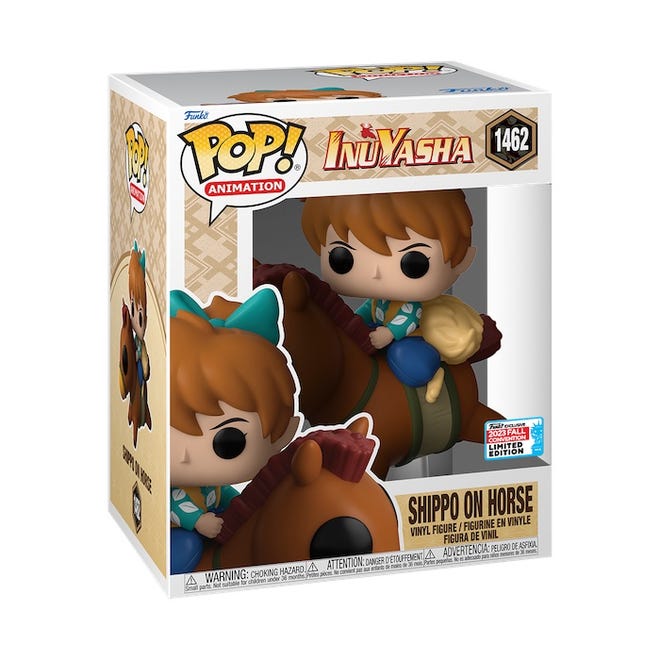 ReedPop
Pop Icons #23 Paulie Pigeon
Pop Icons #54 Pizza Rat
Funko.com
Pop Ad Icons #163 McNugget with Pails
Pop Bleach #1479 Ichigo
Pop Care Bears #1416 No Heart w/ Book
Pop DC Heroes #483 Harley Quinn w/ Mallet
Pop Garfield #37 Garfield w/ Cauldron (Comics)
Pop Ghostbusters Afterlife #1466 Spengler's Spirit
Pop Heavy Metal Halloween #SE Freddy Bones
Pop Indiana Jones #1401 Indiana Jones with Snakes
Pop Insidious The Last Key #1459 Key Demon - Funko eBay
Pop Looney Tunes x Harry Potter #1334 Bugs Bunny Gryffindor
Pop Looney Tunes x Harry Potter #1335 Lola Bunny Ravenclaw
Pop Looney Tunes x Harry Potter #1336 Sylvester Cat Slytherin
Pop Looney Tunes x Harry Potter #1337 Porky Pig Hufflepuff
Pop Marvel Classics #06C - Captain America
Pop Naruto Shippuden #824 Might Guy (Eight Inner Gates) Diamond Bag
Pop One Piece #1459 Monkey D. Luffy (Wanted Poster)
Blockbuster Rewind Scooby-Doo! - Scooby-Doo
Soda Heavy Metal Halloween - Freddy Funko
Soda Lilo & Stitch - Halloween Stitch
Soda The Lost Boys - Alan Frog
Soda The Lost Boys - Edgar Frog
3 Liter Soda Willy Wonka - Willy Wonka
New York Comic Con runs October 12 through October 15 at the Jacob K. Javits Convention Center in New York. You'll be able to recognize the Funko booth at #1000; it'll be the one with all the excited fans standing in a line to get some of the products you can see above.
---
Popverse will be providing wall-to-wall coverage of New York Comic Con 2023, with an all-star crew of writers, editors, and video producers there all four days (and nights), as well as in advance of the show. You can follow along to this coverage as well as the panels we're streaming with our
NYCC Popverse coverage guide
.